Coming from a person who has watched every MCU film in depth and detail, I can strongly say you've missed out on life if you haven't watched Marvel's Infinity Saga. The studios alongside great stories have delivered some of the best quotes. They defined characters and delivered strong messages. It's simply impossible to break down all the memorable quotes they have given us during their runtime of over 40 hours.
From delivering giggles to tears, these ten quotes from across the MCU have managed to live rent-free in our minds from the time they have been said:
"I Become Invisible To The Eye"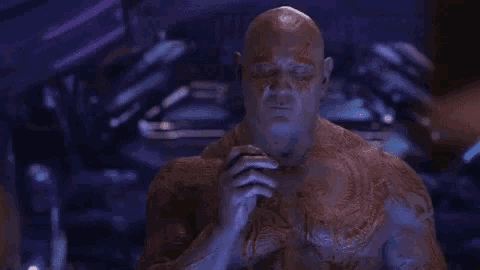 Drax broke the tension between Gamora and Peter Quill when he awkwardly tried to fit in a situation he couldn't escape. In Avengers: Infinity War, Drax became the butt of another joke when he claimed that he can become so still that he gets invisible to the eye.
"This Place Would Look Like A Jackson Pollock Painting."
Jackson Pollock was an American painter whose paintings were a mere expression of tossed paint bottles on a canvas. During one of his initial encounters with Rocket Raccoon, Quill mentions that his spaceship would look like Pollock's painting under a blacklight
"That is America's Ass"
If there's any line that's engraved in our minds after "I love You 300" and "I-Am-Iron Man" from Avengers: Endgame, It's got to be Steve's ass complimenting line. What makes it even more special is the very essence of Cap realizing his weariness over the years.
"I Got Something Kinda Big, But I Can't Hold It Very Long."
Every little dialogue coming out from Scott Lang's mouth was funny. What gets us every time is his attempt to create a distraction in Captain America: Civil War and fooling around. His dialogue is a slightly sexually suggestive line that reads differently out of context. However, it's Paul Rudd's delivery that makes it such a fantastic moment
"I Remember All Of Them."
One of the dialogues delivered by Bucky during the culminating fight of Captain America: Civil War was the line "I remember all of them". During the combat, Tony asks Bucky if he remembers killing his parents as the Winter Soldier to which Bucky replies with this. The dialogue lends out a character arc for Bucky that he embarks upon in Falcon And The Winter Soldier.
"I'm With You Until The End Of The Line"
Bucky had a hard time getting his mind reset and becoming the old good friend of Steve that he was. The duo always told each other "I'm with you until the end of the line." However, the line held a lot more significance when it was delivered by Steve while refusing to fight his brainwashed friend.
"Loki, I Thought The World Of You."

The very essence of their brotherhood ran on quarrels. Thor and Loki would fight each other verbally and physically quite often. But they could kill Gods to save each other. That scene hit our heart when Thor confessed his love for Loki in the elevator in Thor: Ragnarok. 
"I Love You 3000"
Engraved in our hearts is the final dialogue of Robert Downey Jr. in Avengers: Endgame. More than a dialogue, "I love You 3000" has become an emotion. The plethora of love that Tony expressed for his family with this dialogue touches our hearts every time.
"I'm Not From Earth; I'm From Missouri."
Peter Quill might be excellent at combat but he evidently lacked school education. During his feud on Titan with Tony, Strange, and Peter Parker, Quill tells them where exactly he hails from and how he's not an earthling. Well we all can suck at Geography sometimes but definitely not more than Quill.
"What Is Grief, If Not Love Persevering?"
The most touching quote of the MCU comes from the Vision Residence. Essentially what this means is that we grieve because we still have love inside of us. We might feel the pain and grief of losing an individual from our life. However, going through that pain is what will heal us and teach us to love once again.
Which quotes from the MCU live rent-free in your mind? Tell us in the comment section below!
Follow us for more updates on entertainment and celebrities on Facebook, Twitter, Instagram, and Letterboxd