Any content that is made for the people to watch on a TV set that is podcast via satellite, over-the-air, cable, or internet, which does not involve breaking news, trailers, or ads is known as a Television Series.
All these TV shows are more frequently organized to be live-streamed well ahead of time.
They appear on several electronic devices as well as other TV listings.
These streaming services often make it even easier to watch them anywhere at any point in time.
A Television Series is usually released in the form of episodes that follows a story-telling.
Thus they are divided into series and several seasons.
With time, some individual channels and OTT's have been broadcasting several fantastic TV shows.
They are; Netflix, Amazon Prime Video, Disney Plus, HBO Max, ABC, FOX, NBC, The CW, and BBC.
So these platforms net-cast some of the most astonishing TV series that is loved by fans worldwide.
With these excellent series comes some of the best moments that are instantly loved by fans worldwide.
That fans cannot stop thinking about it as they leave a special memory in the minds of the fans.
So we at FandomWire have decided to compile some extraordinary TV moments from this week that fans loved and cannot stop thinking about.
Sounds interesting…
Let's pop into it!
*Beware Massive Spoilers Ahead…
#17 I May Destroy You centered on a flashback to Arabella and Terry at school as they helped their friend Ryan after he's wrongfully accused of sexually assaulting Theo.
#16 I May Destroy You, in present day, Arabella reconnected with Theo and opened up in a group therapy session.
#15 The Zoey 101 cast reunited in a sketch on All That this week that focused on the cast dealing with Thelma Stump, who was blocking a door to the sound stage.
#14 P-Valley premiered on Starz this week. The new series follows the lives of strip club dancers in Mississippi — it has only been one episode, and Uncle Clifford is already one of the best new characters on TV.
#13 On Stargirl, Barbara shockingly walked in on Courtney wielding the Cosmic Staff while she was arguing with Pat about whether to tell Barbara about Stargirl.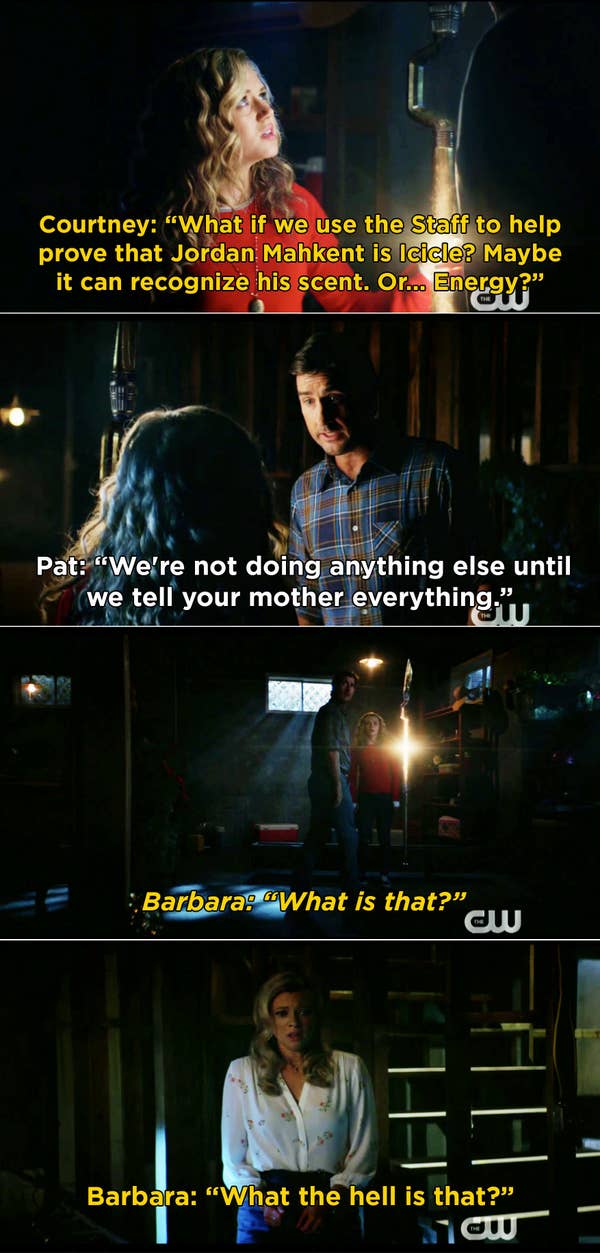 #12 On The Bold Type Season 4 finale, Sutton started to spiral following Richard's departure and she ended up going home and sleeping with her high school boyfriend, Billy.
#11 The 30 Rock cast reunited for a special that focused on Kenneth wanting to revive TGS for NBC's new streaming platform, Peacock — basically, the special was just a reallllly long Peacock ad.
#10 On Agents of S.H.I.E.L.D., some of Yo-Yo's backstory was finally revealed when she told May about accidentally getting her uncle killed.
#9 Also on Agents of S.H.I.E.L.D., Jiaying reappeared this week and we learned that Daisy actually has a half sister named Kora.
#8 Little Voice premiered on AppleTV+ this week. Created by Sara Bareilles and Jessie Nelson, the series follows Bess, an aspiring songwriter who is struggling to break out of her shell and discover her voice.
#7 On The 100, we learned why Hope was absent from meeting Clarke last week, when it was revealed that Hope was punished for not letting go of her relationships and becoming a Bardoan warrior.
#6 Also on The 100, back on Sanctum, Sheidheda revealed himself and ultimately murdered all of the Primes' followers.
#5 Brave New World started streaming on Peacock this week. Based on Aldous Huxley's novel, the series shows a utopian society that is ultimately disrupted after John arrives from the Savage Lands.
#4 On the Hightown season finale, Frankie was released from prison after Renee revealed her relationship with Ray and it led to him getting fired — this came moments after Jackie and Ray finally had evidence against Frankie and Osito.
#3 The Capture started streaming on Peacock. The show puts a spotlight on what happens when power is abused, especially when it comes to video surveillance and facial recognition.
#2 On Perry Mason, despite warnings from the other members of her church, Sister Alice announced that she will make sure Charlie Dodson comes back to life on Easter Sunday.
#1 And Last But Definitely Not The Least David Schwimmer returned to TV this week in Intelligence on Peacock. This workplace comedy follows Jerry, an NSA agent from the US who is tasked with helping inept computer analyst Joseph.
Source: Nora Dominick