Some memories of our lives are so beautiful that we feel like preserving them for eternity. Tattoos are more than just symbols and pictures. After working on a movie for months or maybe years actors tend to get attached to a few of their favorite roles. While many stars resolve to take home memorabilia from the set to hold on to for life, some have more permanent ideas on how they want to remember their films or TV shows. Getting inked in the memory of our beautiful experiences is honestly a great idea.
Scroll below to see our list of celebrities who decided that a tattoo would be the best way to keep a connection with the movies that were so important to them.
1. In order to celebrate his Netflix show A Series of Unfortunate Events getting renewed for a second season, Neil Patrick Harris got his ankle inked with the Volunteer Fire Department (V.F.D.) symbol from the series.
2. The cast of Supernatural got matching ink to celebrate their time on the show. Jeffery Dean Morgan revealed that he and his Supernatural sons Jensen Ackles and Jared Padalecki got matching tattoos at his wedding in 2019.
3. China Anne McClain, Thomas Doherty, Dylan Playfair, and some of the dancers from the Descendants films all got anchors to commemorate Uma's pirate crew after wrapping production. 
4. To honor her time in the Academy Award-nominated film A Star Is Born, Lady Gaga got a rose tattooed on her back. Not only did Lady Gaga sing "La Vie en Rose" in the movie, which led to Jackson and Allie meeting, but Bradley Cooper said that he saw Lady Gaga perform "La Vie en Rose" at a fundraiser and that's when he knew that he wanted her to star in A Star Is Born.
5. Five of the original Avengers cast members got matching inks after wrapping Avengers: Infinity War and Endgame, which marked the end of a lot of their journeys in the MCU. (Mark Ruffalo opted out due to his fear of needles)
In an interview with Entertainment Weekly, Robert Downey Jr. said that it was Scarlett Johannson's brilliant idea. "She and [Chris] Evans did it in New York," he added. "Then their New York guy, Josh Lord, who is amazing, flew out to LA, he did me, did [Jeremy] Renner, and then we just bullied [Chris] Hemsworth into doing it, and he got it. And each one of us drew a line on the artist with his own tattoo gun and it was a total massacre. Each of us contributed to giving the tattoo artist the sixth tattoo that he designed for us."
6. After wrapping the eighth and final season of Game of Thrones, Emilia Clarke honored her time as Daenerys by getting a tattoo of three small dragons on her wrist.
7. Longtime besties Maisie Williams and Sophie Turner got matching peach-colored tattoos that read "07.08.09.", the lucky date that they were both cast on the show. 
8. Sophie Turner also got a direwolf sigil and "the pack survives," words from the family maxim, on her arm after wrapping the shoots of the final season of Game Of Thrones.
9. The Suicide Squad cast tattooed "SKWAD" on each other after finishing the film in 2015. Actors Margot Robbie, Cara Delevingne, and Will Smith took turns wielding the tattoo guns. 
10. Tom Holland got inked with a tattoo of a spider on the sole of his foot. "I've always wanted to have the symbol of Spider-Man on my body but never thought it'd really happen," said Tom.
11. In an interview with GQ, Bryan Cranston revealed that he and castmate Aaron Paul both got Breaking Bad tattoos on the last day of filming. Apparently, one of the set decorators on Breaking Bad was a tattoo artist and he had the idea to give anyone from the production a tattoo if they wanted one.
12. Sophie Turner also got a small fire tattooed on her index finger after wrapping the shoots of X-Men: The Dark Phoenix. Her character Jean Grey in the film had powers of being able to ignite fires and manipulate them.
13. Selena Gomez who serves as the executive producer on Netflix's 13 Reasons Why alongside her show's stars, Alisha Boe and Tommy Dorfman, paid tribute to the popular series, as well as mental health awareness, with matching semi-colon tattoos
14. Rosie Huntington-Whiteley, Abbey Lee Kershaw, Zoë Kravitz, Courtney Eaton and Riley Keough, who played the wives of dystopian tyrant Immortan Joe in Mad Max: Fury Road, got matching tattoos to admire their work on the film. "We all got the same tattoo — three little dots and a triangle," Eaton told Vanity Fair.
15. 9 members from the star-studded cast of the movie franchise Lord Of The Rings, before wrapping up the final film got the word "nine" in the Rings' elvish language tattooed on different parts of their bodies.
16. Kaley Cuoco and Zosia Mamet who worked together in the comedy-drama series

The Flight Attendant honored their role by getting matching paper airplane tattoos.
17. After binding the show's seven-year run, Pretty Little Liars stars Shay Mitchell, Ashley Benson, Troian Bellisario, Lucy Hale, Janel Parrish, and Sasha Pieterse had a tattoo artist inscribe their characters first initials on their pointer fingers. Janel Parrish posted this picture with the caption "We got the Shhhhhhh immortalized," which is a nod to Aria's iconic "Shhhh" moment in the Pretty Little Liars opening credits.
18. Katherine McNamara that after the first season, she and her castmates got matching angel rune tattoos to honor their time on the show. Katherine told Seventeen, "It's the first tattoo that Shadowhunters usually get in their training. It's a symbol of strength and means 'blessing,' and this show has meant all of those things to me."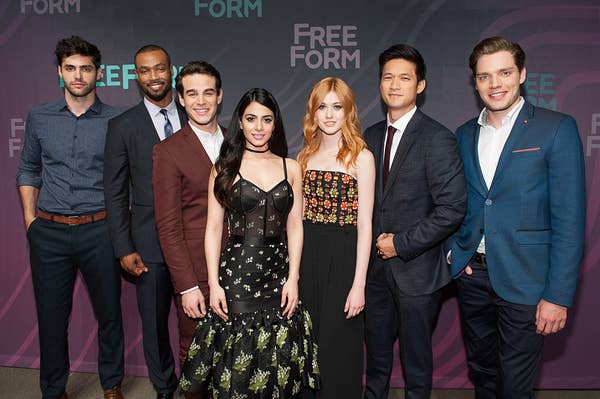 19. Carrie Fisher got herself a galaxy tattoo on her ankle because she loved the moon and stars, and to honor her role as Princess Leia, the ultimate space princess of the Star Wars films. Years later her daughter, Billie Lourd got a similar tattoo done in 2017 to honor her. 
20. Amanda Seyfried and her Mamma Mia! costars got the word "minge" inked on their feet to honor their friendship and the film. However, Seyfried told on the Late Night with Seth Meyers that the artwork doesn't quite translate well when the actress goes overseas. "In England, it means vagina. But in the U.S., which is where I spend most of my time, it just doesn't mean anything, so we commemorated our friendship with 'minge' tattoos."
Follow us for more updates on entertainment and celebrities on Facebook, Twitter, Instagram, and Letterboxd
Source: People