With its nail-biting plotline, Squid Game has completely enthralled audiences. The South Korean thriller has recently become Netflix's most viewed series. The story consistently incorporates new elements that have viewers on the edge of their seats. So it's no surprise the finale episode was one of the most satisfying in television history.
Of course, viewers couldn't resist tweeting about their favorite and not-so-favorite moments in the show. So here are some Squid Games tweets that will either have you squirming with laughter or crying in your pillow tonight.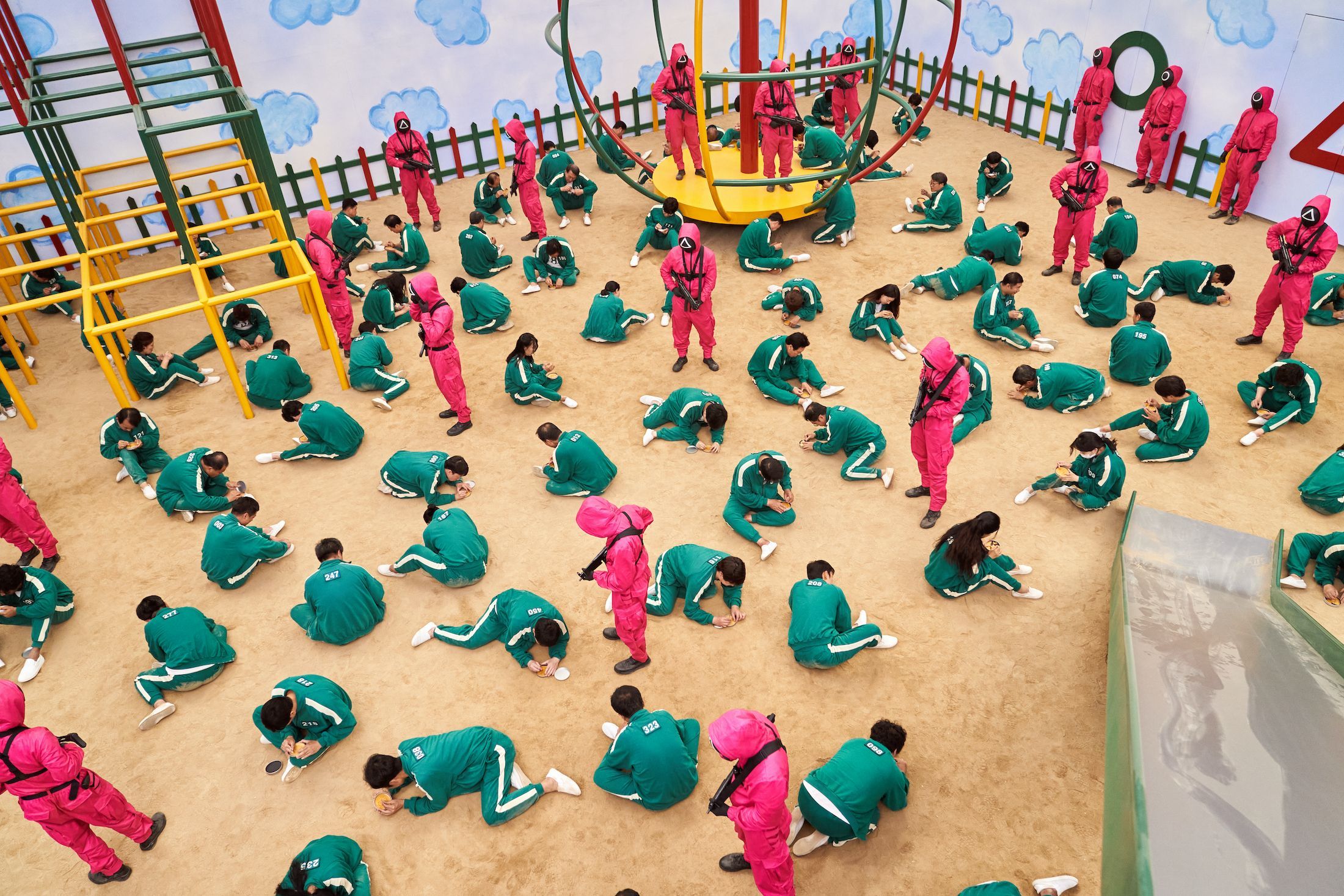 Spoilers ahead: Proceed with caution!
1. Oh, Il-Nam really played us all.
Everyone wanting their tears back after the last episode: pic.twitter.com/NSVxrtTX21

— Real House Wine of Denver (@Grocerystore_ho) October 4, 2021
2. Squid Game: The show with the most horrifying betrayal in cinematic history.
When I got to the last episode of #SquidGame after feeling sorry for player 001 the whole season. pic.twitter.com/guTpXSl8rH

— QUEEN DJ (@CYNTHIA_DJMVP) October 1, 2021
3. Pictorial representation of the season finale:
squid game ending: pic.twitter.com/PmHdTIgCJn

— ✿ᴰʳnibby⁷⭐️ (@ZoroMins) September 27, 2021
4. Same thoughts, girl!
just finished squid game and all im thinking is you better get ur ass back on that plane seong gi-hun #SquidGames pic.twitter.com/II8jIrE2xU

— lilly ????⁉️ (@luuvrgrrl) September 29, 2021
5. No one:
    The Squid Game Fandom:
That ending. That twist. That hair. What a series. #SquidGame pic.twitter.com/M1PtDCb1Tk

— Becca 'Mask Up' Magnus ???? (@beccamagnus) October 7, 2021
6. True Story!
me when Gi-hun turns away from the plane #SquidGame pic.twitter.com/w0mZqX7RFm

— BEANS ADDICT @ GENSHIN IMPACT (@peachyflan) October 1, 2021
7. This is so painfully accurate!
Me watching the beginning vs ending of squid game. #SquidGame pic.twitter.com/ALmSCeX9ME

— Footballfan23578 (@Footbal82765042) October 10, 2021
8. Same context, actually.
Me start watching #SquidGame
Vs.
Me after watching it (; pic.twitter.com/3vrCI7oVXu

— آية (@its_scintilla) September 28, 2021
9. What watching the season finale felt like:
I just finished #SquidGame and I'm literally sat here like: pic.twitter.com/QKT1H61bed

— Georgie The Forester???????? (@GeorgieLillian) October 3, 2021
10. Pretty much the entire fandom hates Sang-woo at this point.
Me when Sangwoo died in Squid game#squidgamenetflix pic.twitter.com/tk7FmFJSh4

— Def's_ pussy fairy SOMO:FUME (@Killa_beom) October 4, 2021
11. Oh Il-nam, king of hurting feelings.
When 'Old Man' died i shed a lil tear. When i got to that last episode i was HEATED!! ???????????????????????? #SquidGame pic.twitter.com/Ga1WxftvJT

— Big Nick Energy (@An80sBabyy) September 28, 2021
12. Oh Il-nam trying to fit in like:
oh il-nam ???? #SquidGame pic.twitter.com/PvucSChCWx

— ???? spook(ta)y venus ???? (@venusquinntrap) October 9, 2021
13.
Just finished #SquidGame and all I have to say is Il-nam pic.twitter.com/fIq0BNj5pW

— Marco | Rahim Hive (@dreamsinorbit) October 8, 2021
14. If the show did one thing, it made me emotionally numb!
Me during Episode 6 vs Me during Episode 9#SquidGame pic.twitter.com/MEnomSO0O9

— Damian ???? (@gomezkid24) September 30, 2021
15. If you didn't figure already, we HATE the old man.
How I feel about that old man on Squid game #SquidGame pic.twitter.com/jW5ddBUcht

— i_amroyaltyy ???????? (@i_amroyaltyy) October 6, 2021
16. There are countless posts about people expressing Squid Game finale, here's one of them
out of context #SquidGame finale pic.twitter.com/oICxLH4NrS

— liam ???? (@liamjhul) October 6, 2021
17. No one knew about Gi-hun's Lavagirl obsession.
Of all the shocking twists and turns in #SquidGame, that final hairstyle is downright inexplicable.

— The Haunting of Phil House (@Philip_Ellis) October 11, 2021
18. The man took care of everyone except his own daughter.
#squidgamenetflix #SquidGame
Father of the year award goes to: pic.twitter.com/VPWFPWORlw

— Kival (@KivalK5201) October 3, 2021
19. Here is a picture compilation of the season finale:
#SquidGame finale spoilers without context pic.twitter.com/r6dRI4pjHo

— Manx (@ThanksToManx) October 6, 2021
20. This show is probably why we're all gonna need therapy, just saying.
Just finished the last episode of #SquidGame and pic.twitter.com/irVLHLpZgr

— Riddhi Chakraborty ????️‍???? (@thisisridz) September 27, 2021
Check out our YouTube channel here: