Why do you think some stars are paired in different movies, over and over again? It's this indescribable spark between them which we like to call 'chemistry' that makes them appear super compatible. Give it a thought, how do you know a couple has good chemistry? Is it when there's a starry cast with your favorite actor? Or when there's a strong storyline? Chemistry doesn't even need to be romantic; you can even feel it with someone you don't particularly like. And it's not necessarily about appearances, because chemistry can exist between two people who are wildly dissimilar in beauty.
No matter what genre you're watching, it's the chemistry between the two leads which makes or breaks the audience's attention. Needless to say, a rom-com is only as good as the chemistry between the two leads.
Scroll down to enjoy this compilation of stars throughout the ages whose on-screen chemistry is simply undeniable.
Ryan Gosling and Emma Stone as Jacob and Hannah in Crazy, Stupid, Love (2011)
Gosling and Stone are some of the finest examples of wonderful chemistry in modern-day cinema. The duo has starred in three movies together to date: 2016's La La Land, 2013's Gangster Squad, and 2011's Crazy, Stupid, Love.
Sandra Bullock and Bill Pullman as Lucy and Jack in While You Were Sleeping (1995)
One of Sandra Bullock's flick from her early years, While You Were Sleeping had the audience rooting for the duo from the first minute of the film
Salma Hayek and Matthew Perry as Isabel and Alex in Fools Rush In (1997)
Despite playing a couple with zero mutual likings, Matthew Perry and Salma Hayek had sizzling chemistry which made us root for them since the start
Cate Blanchett and Rooney Mara as Carol and Therese in Carol (2015)
The couple formed an instant connection and fell in love in the movie. It's hard to believe that the two aren't together in real life.
Jodie Turner-Smith and Daniel Kaluuya as Queen and Slim in Queen & Slim (2019)
Director Melina Matsoukas said she immediately knew Jodie Turner-Smith was the right person to play the female lead opposite Daniel Kaluuya as soon as the pair met.
Adam Sandler and Drew Barrymore as Robbie and Julia in The Wedding Singer (1998)
Drew Barrymore and Adam Sandler had the best onscreen chemistry back in the 90s. Drew's giggly innocence and her knack for comedic timing paired with Adam's shy earnestness and over-the-top antics made them so undeniably lovable.
Sanaa Lathan and Omar Epps as Monica and Quincy in Love & Basketball (2000)
The chemistry between Sanaa Lathan and Omar Epps was so good that post the movie, fans ended up assuming that the two were actually a thing in real life.
Jennifer Lopez and Jon Seda as Selena and Chris in Selena (1997)
JLo and Seda portrayed a bond that made you believe they truly were falling for each other in Selena.
Anjelica Huston and Raul Julia as Morticia and Gomez in The Addams Family (1991)
The characters fit together like puzzle pieces, and Anjelica Huston and Raul Julia flowed so well in their roles that almost nothing could stop the rhythm.
Lana Condor and Noah Centineo as Lara Jean and Peter Kavinsky in To All the Boys I've Loved Before (2018)
Throughout the three parts that have come out, their chemistry shines the brightest. They have improvised countless times and the cuts have made it to the film. TATBILB would not have been the same without Lana Condor and Noah Centineo.
Gina Rodriguez and LaKeith Stanfield as Jenny and Nate in Someone Great (2019)
The duo had it so genuine that you almost end up wanting more of their screen time.
Antonio Banderas and Catherine Zeta-Jones as Zorro and Elena in The Mask of Zorro (1998)
Jones and Banderas shared a tingling rel life chemistry in The Mask Of Zorro for which they were critcally acclaimed. They have shared screen thrice in their careers.
Will Smith and Eva Mendes as Hitch and Sara in Hitch (2005)
A huge part of why Hitch remains so popular among Will Smith's fans is his chemistry with Eva Mendes.
Tom Hanks and Meg Ryan as Sam and Annie in Sleepless in Seattle (1993)
We could never stop rooting for Ryan and Hanks who have appeared together in 1990's "Joe vs. the Volcano," 1998's "You've Got Mail" and 2015's "Ithaca." However, nothing beats their on-screen romance in Sleepless In Seattle. 
Romola Garai and Diego Luna as Katey and Javier in Dirty Dancing 2: Havana Nights (2004)
While the film wasn't as great as its prequel, Romola and Diego certainly had better chemistry than Jennifer Grey and Patrick Swayze.
Heath Ledger and Jake Gyllenhaal as Ennis and Jack in Brokeback Mountain (2005)
What do you get when you put two straight guys together and give them a script that calls from some hot and steamy lovemaking? The answer is the award-winning film Brokeback Mountain. 
Michael B. Jordan and Tessa Thompson as Adonis and Bianca in Creed (2015)
Since the first Creed film, Michael B. Jordan and Tessa Thompson have portrayed an undeniable chemistry as an on-screen couple. Their chemistry only grew better after the small jump between 2015's Creed and 2018's sequel as the two share a close friendship off-screen too.
Tom Holland and Zendaya as Peter Parker and MJ in Spider-Man: Far From Home (2019)
Tom Holland and Zendaya have an electric amount of chemistry in the Spider-Man franchise. They are just SO CUTE together. They're literally the embodiment of awkward puppy-love.
Issa Rae and Kumail Nanjiani as Leilani and Jibran in The Lovebirds (2020)
The Lovebirds works simply due to the chemistry of Kumail Nanjiani and Issa Rae. They felt like that couple who are meant to be together because no one could communicate with them the way they communicated with each other.
Gugu Mbatha-Raw and Nate Parker as Noni and Kaz in Beyond the Lights (2014)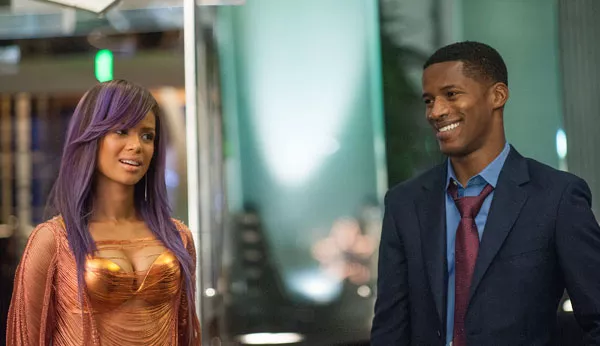 Pure, honest, and raw. Gugu and Parker had such a natural and irresistable chemistry. They seemed like a romantic couple who made themselves look good for each other, not for an audience.
Queen Latifah and LL Cool J as Georgia and Sean in Last Holiday (2006)
Last Holiday has this unmistakble chemistry between Queen Latifah and Sean Matthews (LL Cool J). The chemistry between them is so well-earned, it's almost a shame the movie is rated PG13.
Josh O'Connor and Alec Secăreanu as Johnny and Gheorghe in God's Own Country (2017)
To prep up for the role, Alec and Josh spent time alone on a farm before shooting to create a real sense of isolation, and as the characters were getting to know each other, so were the actors.
Nicole Kidman and Ewan McGregor as Satine and Christian in Moulin Rouge! (2001)
Nicole Kidman and Ewan McGregor's romance in the musical Moulin Rouge! might have been all make-believe but one thing that was super genuine was their chemistry.
Which on-screen couple do you think has the most undeniable chemistry? Share with us in the comment section below!
Follow us for more entertainment coverage on Facebook, Twitter, Instagram, and Letterboxd.
Source: BuzzFeed