Movies and shows' location is the next best thing we see on the screens, after the stunning actors. The picturesque locations add a great deal to the plot and help the audience connect better with the film's or show's mood better. Some locations are also often symbolic representations of certain characters or certain parts of the story. However, it isn't always possible for the filmmakers/show makers to actually go to the location and shoot. So they often create it artificially, thanks to technological advances. Here's a list of movies and shows that filmed on location and those that didn't. You'll be amazed to know the latter ones.
1.
Sex and The City
 was set in NYC, and they also shot it there. All of the series' six seasons' shooting took place in NYC; some of the most iconic ones were The Plaza Hotel and the New York Library.
2.
FRIENDS 
was set in NYC, and it also made us believe so, but in reality, they never filmed there. Instead, they shot it in California, where the Warner Bros Studio underwent a transformation.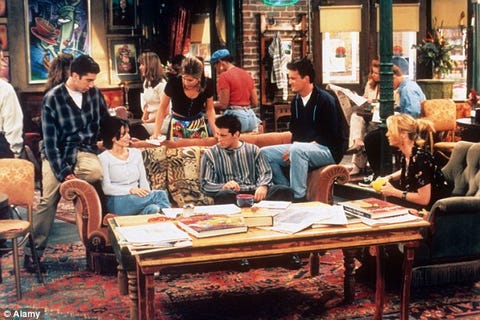 3.
Downton Abbey 
has one of the most picturesque locations on the screen, and isn't it such a treat to the eyes? The series was shot in different locations in England, right where it was supposed to be.
4.
Mary Poppins 
also showed us to be happening in England, but instead, the makers shot it in the Disney Studios. The backdrops that were used as backgrounds in the film were matte paintings created by Artist Peter Ellenshaw.
5. All three
Chicago 
films from the series were shot exactly where the films are about. The first one in the series, 
Chicago Fire, 
was initiated in 2012.
6. But a Broadway musical-based film,
Chicago, 
wasn't shot in Chicago. Instead, it was filmed in Toronto.
7.
The Shallows 
starring Blake Lively, portrayed her life as a surfer and also her struggles. Although there were a few shots filmed in a tank, most were in Wales and Australia.
8. One of the installments of the
Die Hard 
series
, A Good Day To Die Hard, 
showed the setting to be in Russia, but they didn't shoot it there. Instead, it actually took place in Hungary.
9. Angelina Jolie's search for artifacts in
Lara Croft- Tomb Raider 
showed to be happening in a Cambodian tomb. And the filming also took place in a Cambodian temple.
10. The scenes in
Good Will Hunting 
were set in Boston but were filmed in Toronto. And also, the scenes that showed MIT and Harvard in the movie were actually shot in a Toronto university. 
Were you surprised after finding out about the movies and shows that filmed on locations so different than where they were set in? Let us know.