Are you a fan of the hit anime show Cowboy bebop just like us? Then here are a few recommendations to get you going until the live-action Cowboy Bebop Netflix series debuts.
Space Dandy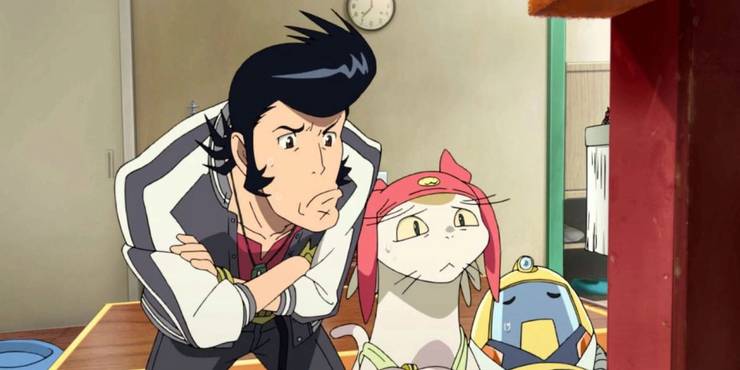 Many fans confirm that Space Dandy is directly influenced by the design and stories of Cowboy bebop. In fact, we would even go out on a limb to say that Space Dandy is a less-serious version of Cowboy Bebop. Take the series premise for example – Dandy is a freelance bounty hunter who travels the universe on his ship. His crew members are the robotic QT and the feline alien Meow. The story also varies from one episode to another.
Afro Samurai
Genre-blending is not just the forte of Cowboy Bebop. Many other legendary anime series like Afro Samurai have beautifully executed this concept. The setting is a feudal era Japan but with hyper-futuristic elements. There is steam-punk as well as cyber-punk. Afro is the world's second greatest warrior in search of his father's killer and the current greatest warrior in the world. Samuel L Jackson's voice is just the cherry on top.
Hero Mask
People who are not into the mystery thriller genre will never discover that a show like Hero Mask is such a hidden gem. At first, you will say that it looks like a generic whodunnit story arc. But as you dive deeper, Hero Mask leaves you stunned and gasping for air. A string of murders in a city lead to SSC agent James Blood and Crown prosecutor Sarah Sinclair to uncover a deeper conspiracy around the new bio-mask technology.
Trigun
If you are into charismatic jack of all trades kind of main characters, then you will definitely fall in love with Trigun. Trigun is about an outlaw gunman called Vash The Stampede, a man running away from his past. Like Spike Spiegel, he too has many secrets to hide. Like Cowboy Bebop, the show is a blend of many genres. Western and sci-fi themes are blended to form an iconic anime series. Like Spike, when Vash gets serious – you better run for cover.
SSSS.Gridman
Yuta Hibiki is an amnesiac high schooler who comes into contact with Hyper Agent Grdiman via an old computer. The story then follows Yuta as he merges with Grdiman to become a huge robot that battles kaijus. Every time a Kaiju is defeated, the people's memories are reset and they do not remember anything about the incident. SSSS.Gridman has a sense of suspense and mystery to it found in only a few good anime shows like Cowboy bebop.
Bungo Stray Dogs
Cowboy Bebop is more than just a space drama with futuristic elements. It is also a crime thriller leaning very closely to the noir genre. Bungo Stray Dogs is a pioneer in that department. It is funky and quirky as heck, just like Cowboy bebop. But it is also so much more. The show is about a detective agency where each member has unique powers and abilities. Each episode manages to focus on a single character and what is their part and role in the agency. This show gives off a pretty good Bebop vibe. This show already has three seasons with another season coming in. There is also a spinoff TV series arriving in 2021.