Liam Neeson is a Northern Irish American actor who has ruled the film industry for the past four decades by giving blockbuster films. From comedy to romance to action, Liam has worked in literally every genre. He has played some powerful roles which left a mark on the audience. From the British Academy Film Award to Tony Awards, he has received some of the most prestigious awards. Take a look at the list of 6 Greatest Liam Neeson movies ranked.
6. Darkman (1990)
An ode to Universal monster movies, Darkman is a weird and tragic film directed by Sam Raimi. It follows a dark storyline where Liam is seen playing the role of Peyton Westlake, a scientist who was brutally attacked and was left disfigured to die. Further in the story, he undergoes treatment to cure his burned injuries, but unfortunately, it fails. The movie received tons of positive reviews from critics and audiences alike.
5. Ordinary Love (2019)
This romantic drama film seems to be an ordinary melodramatic story on the surface, but it has some elements that will definitely surprise you. It's about the hardships of a couple when one of them is diagnosed with breast cancer. Liam Neeson plays Tom and has beautifully portrayed the role of a man who constantly balances his emotions and his relationship with his partner, Joan, played by Lesley Manville. Ordinary Love is a must-watch movie that will make you cry for sure!
4. Taken (Franchise)
This action-thriller movie directed by Pierre Morel is known as one of the best movies of Liam Neeson with one of his most quotable lines "I will look for you, find you…and I will kill you". Liam played the role of Bryan Mills, a man who is trained with many skills and is a former CIA operative whose daughter is kidnapped while she is on a solo vacation.
3. Silence (2016)
An epic historical drama movie released in 2016, Silence is Martin Scorsese's most underappreciated movie of recent years. Liam plays the role of a Portuguese Jesuit priest and this film is proof that, after all these years of acting, Liam still hasn't lost his acting skills. His character will make you question things like faith, courage, and sacrifice.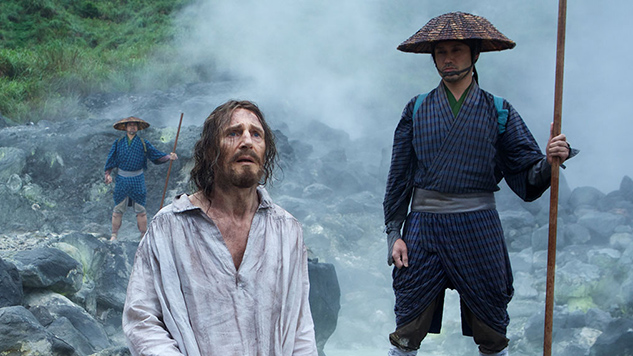 2. Batman Begins (2005)
Christopher Nolan's debut movie about Batman introduced us to Liam Neeson as Ra's Al Ghul. Liam has an intimidating screen presence, and every time he comes on the big screen, he can even intimidate young actors like Bruce Wayne. Liam's performance as Ra's Al Ghul was iconic throughout the film. Not only comic book fans but critics also loved the movie.
1. Schindler's List (1993)
This movie is number one in the list of greatest Liam Neeson movies for a reason. Schindler's List made Liam Neeson a star. The film is based on the real story of Oskar Schindler, a German industrialist who rescued more than a thousand Polish-Jewish refugees from the Holocaust and helped them by providing them jobs in his factories during World War 2. So, it was a hard character to play, but Liam played it gracefully. Moreover, Liam was nominated for an Oscar in the Best Actor in a Leading Role category.
Liam Neeson has had a very interesting career, don't you think? How would you rate his movies? In the meantime, don't forget to check our amazing YouTube channel!