Hollywood's most popular power couple Brad Pitt and Angelina Jolie broke the hearts of millions of fans when they announced they were splitting up back in 2016. The famous exes met on the set of Mr. & Mrs. Smith, and Jolie admitted to Vogue that while it wasn't love at first sight, she and Pitt just made a really good team. 
At the time, Jolie was single and Pitt was married to Jennifer Aniston, though the pair eventually split in 2005. In the years to come, the Mr. & Mrs. Smith co-actors eventually confirmed their relationship and started making public appearances together. They announced their engagement in 2012 and tied the knot two years later.
Also Read: "Brad Loved Angelina and He Still Cares About Her"- Brad Pitt's True Feelings for Angelina Jolie After the Ugly Legal Battles Revealed
Brad Pitt and Angeline Jolie's Messy Divorce
Surrounded by their closest friends and family, including their six children, Angelina Jolie and Brad Pitt got married on August 23rd, 2014.  The private wedding ceremony took place in the chapel of Château Miraval, the family's estate in the French village of Correns.
The Salt actress admitted to Vogue, that their romance was never love at first sight.
 "Because of the film, we ended up being brought together to do all these crazy things, and I think we found this strange friendship and partnership that kind of just suddenly happened," Jolie told the publication in 2007.
After the couple got married in 2014, they announced their divorce only two years later in 2016. Angelina Jolie was the one who filed for their divorce, citing irreconcilable differences. The actress requested physical custody of their six children, with visitation for Pitt. The news came as a shock to fans, and it seemed like the industry itself was splitting up.  
The Fight Club actor spoke up about the divorce and asked that the press respect the space of Jolie and their kids. 
 "I am very saddened by this, but what matters most now is the well-being of our kids. I kindly ask the press to give them the space they deserve during this challenging time."
After three years of negotiation, the actors were both declared to be legally single in 2019. However, their divorce proceedings are yet to meet a conclusion.
Related: Angelina Jolie Has Banned Her Children From Meeting Ex-husband Brad Pitt's New Girlfriend Inés de Ramón?
Brad Pitt's New Romance 
Brad Pitt and Ines de Ramon have been rumored to be an item since November 2022, when they were spotted at a Bono concert in Los Angeles with Cindy Crawford and Rande Gerber. At the time, sources confirmed that they were just friends.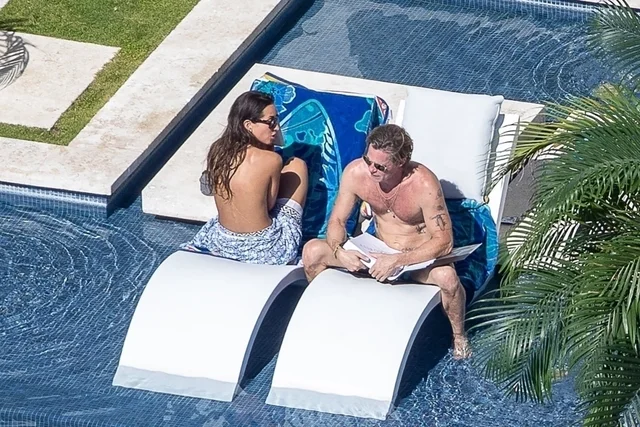 By the end of 2022, things changed. The couple confirmed their relationship, and in January they vacationed together in Cabo San Lucas, Mexico. 
A source told ET that the Babylon star loves how "chill" de Ramon is, and the new couple is a "great match" and the pair is "excited about where things are headed."
Recently, Pitt sold his mansion where he spent a lot of time with Jolie and their children over the years. TMZ reported that the actor will be moving to Carmel, California. At the moment, he doesn't have any plans to buy a new home, nor does he plan to live with his girlfriend Ines de Ramon.  
Also Read: "One time a ghost was sitting downstairs": Brad Pitt Bought $40 Million Haunted House and He Was Surprisingly Excited About It
Source: Marca