Ambulance is a high octane adrenaline rush. One that's stuck in fifth gear and, much like the bus from Speed, refuses to slow down even for a moment. Director Michael Bay continues his legacy of absurd and ridiculous action films, but Ambulance feels especially over the top. It abandons all expectations of realism very early on, and instead leans into the mantra of more bullets, more explosions and more swooping drone shots. The filmmaker, who's best known for launching the Bad Boys and Transformers franchises, isn't one for subtlety. And trust me, you find an ounce of it within Ambulance's 2 hour and 16 minutes. However, if you're willing to open your mind (or turn it off) you're likely to find the experience to entirely exhilarating.
Danny (Jake Gyllenhaal) and Will (Yahya Abdul-Mateen II) are estranged brothers, forced to reconnect when Will is desperate for money and asking Danny for a loan. Will, a former Marine, needs cash and he needs it quickly. His wife is sick and the experimental surgery required to save her life is expensive. There are vague allusion to the families history and to the checkered past of Will and Danny's father. Danny offers Will the chance to earn the money he needs and more. All they have to do is rob a bank. What could go wrong? Well, as you would expect, a lot. The heist turns sour and Will and Danny find themselves pursued by police after hijacking an Ambulance with an injured cop and and an EMT (Eiza Gonzalez) on board.
Ambulance, adapted from a 2005 Danish film of the same name, succeeds in its absurdity primarily due to the dedication and chemistry of its lead cast. Gyllenhaal and Abdul-Mateen outshine even the brightest of fiery explosions. Without their charisma the film would likely fail. Audiences need to relate with these characters. To cheer for them. And that can be a difficult ask considering they're pretty bad dudes, leaving a trail of chaos and destruction in their wake. While the injured officer spends the majority of his time unconscious, EMT Cam is wide awake and along for the ride. She's dedicated, skilled and determined to do her job. And Gonzalez manages to stand shoulder to shoulder with Gyllenhaal and Abdul-Mateen; she's never outperformed and holds her own in the whirlwind of nonsense.
Despite the absurdity of Ambulance, Michael Bay takes the entire thing far too seriously. A booming score, empowering speeches and family drama force the film dangerously close to the melodramatic. But Ambulance exists solely for the action. Prior to seeing the film I wondered how the story of a car chase could remain engaging for nearly 2 hours and 20 minutes. The answer? More car crashes than you can count. Seriously, somebody needs to try and count the amount of police cruisers we see flip, fly and explode. The editing, in typical Michael Bay fashion, is jumbled and messy. The quick cuts and spinning angles are enough to give an audience motion sickness. But those camera tricks have been a staple of the Michael Bay actioner since Bad Boys in 1995.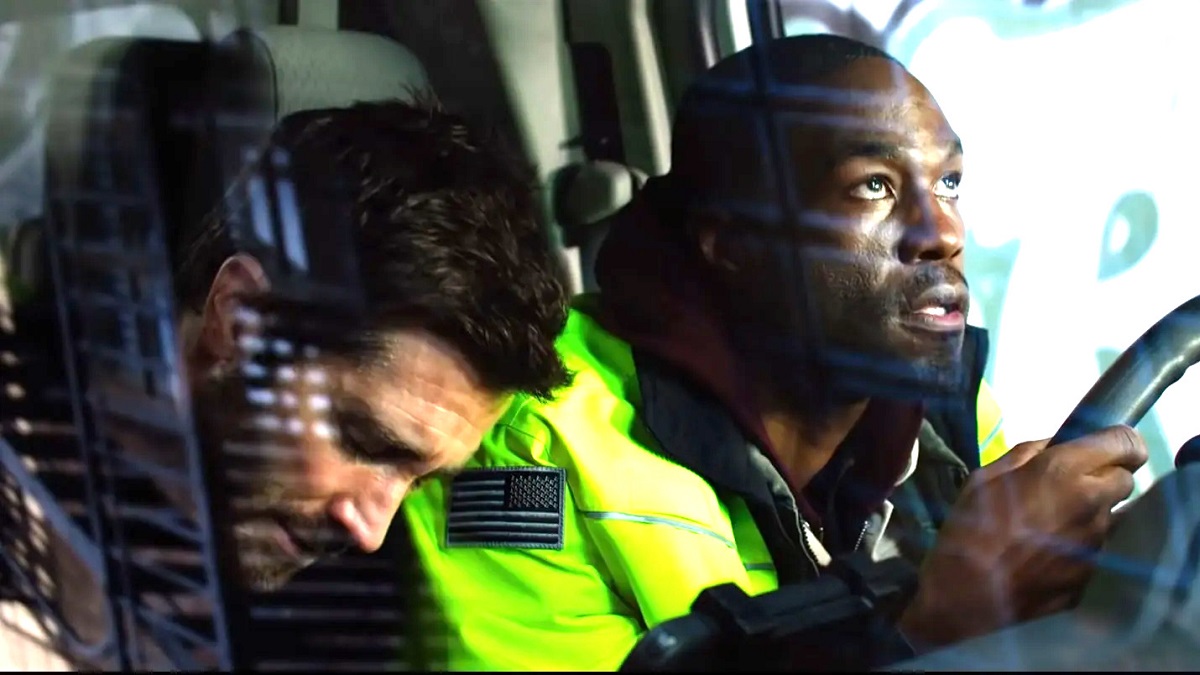 Ambulance is a movie that knows exactly what it is. It's Michael Bay pushing the boundaries of how much action he can squeeze onto the screen at one time. The story, as limited as it is, exists for the sole purpose of furthering the action and upping the ante along the way. Sure, it's a lot of style over substance, but in this instance, that works. Not since The Rock, has a Michael Bay movie been this much fun. 7/10
Follow us for more entertainment coverage on Facebook, Twitter, Instagram, and YouTube.