In 1969 the Apollo 11 mission made history. Neil Armstrong and Buzz Aldrin became the first two humans to step foot on the moon's surface, and in that moments, the boundaries and limitations of mankind were forever shifted. Apollo 10 1/2: A Space Age Childhood takes audiences back to one of the greatest moments in our nation's history, and explores those events through the eyes and imagination of a 10 year old boy.
The story of Apollo 10 1/2 unfolds through the narration of Stanly as an adult (Jack Black) recounting his time as a child (Milo Coy) living near NASA in Houston. The space race is in full swing. Moon mania has swept the nation. But while the world eagerly awaits man's first steps on the moon, Stanley is living his best life as a child of the 60's. A time of pinball machines, kickball and lots of yellow fabric.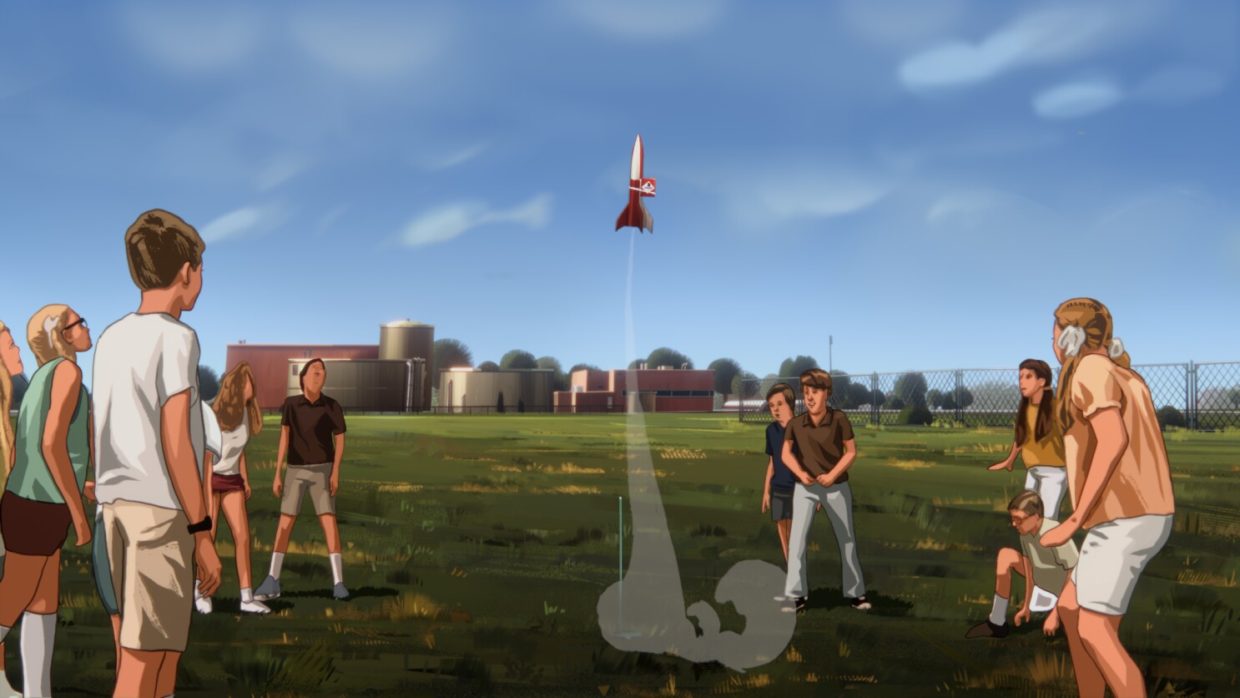 Apollo 10 1/2 is writer and director Richard Linklater's third foray into animation. If you've seen Waking Life or A Scanner Darkly you're likely familiar with the unique style of animation that Linklater brings to his projects. The imagery is vibrant. There's a glossy sheen to it, like an oil painted comic book. I had the pleasure of speaking with Richard Linklater about the movie, which released on Netflix last week. During that discussion the filmmaker revealed to me that he had original intended for the movie to be live action. However, he decided that animation was the best way to explore the imagination and imagery of the story. A decision that works to the film's benefit in my opinion.
Imagination plays a major role in Apollo 10 1/2. Inspired by Linklater's own childhood fantasies, Stanley places himself in the role of an astronaut making the fateful trip out of Earth's orbit. The film perfectly weaves these moments of fantasy and adventure into the mundane day to day life of adolescence. Training for a NASA space mission and taking out the trash as it leaks across the linoleum lined kitchen floor are each given the same level of attention. The contrast between the real world and the world of Stanley's imagination are stark. Yet, the story allows them to play out side by side without ever clashing.
It's a nostalgic rocket ride to the past that strikes a cord, even for those who weren't alive in 1969. As a child of the 80's and 90's I still connected with the story, and with Stanley. It's a deeply personal film. One that is largely based on Linklater's own childhood and experiences growing up near NASA in the 60's. Like a time capsule that's just been unearthed and shared with us. And Jack Black (School of Rock) helps to sell the story through his energetic and heartfelt narration. Jack Black and Richard Linklater have worked together before. Bernie and School or Rock prove that the two are a perfect professional match, and Apollo 10 1/2 solidifies it even further.
Richard Linklater is a master of story telling, but he shines his best when exploring pivotal moments in a character's life; Apollo 10 1/2 does exactly that. The moon landing is a crowning achievement in our nations history, and for those lucky enough to experience it in real time, its an event they'll never forget. Beautiful imagery and excellent writing make Apollo 10 1/2 a coming of age story like no other. It's truly out of this world. 9/10
Follow us for more entertainment coverage on Facebook, Twitter, Instagram, and YouTube.