The House That Screamed
Arrow Video Release Date of 03/07/23
The Plot
The following description is taken directly from Arrow Video's website:
Thérèse (Cristina Galbó) is the latest arrival at the boarding school for wayward girls run under the stern, authoritarian eye of Mme Fourneau (Lilli Palmer). As the newcomer becomes accustomed to the strict routines, the whip-hand hierarchies among the girls and their furtive extra-curricular methods of release from within the forbidding walls of institutional life, she learns that several of her fellow students have recently vanished mysteriously. Meanwhile, tensions grow within this isolated hothouse environment as Mme Fourneau's callow but curious 15-year-old son Louis (John Moulder-Brown) ignores his mother's strict orders not to get close to the "tainted" ladies under her ward.
The Critique
The House That Screamed is built upon a concrete base of inescapable tension. It's unsettling in a way that modern films rarely are, and it achieves this tone with the apparent knowledge that its toying with its audience. Originally released in 1969, The House That Screamed existed before the vast majority of horror tropes and clichés had cemented themselves into the genre. It avoids the paint by numbers repetition of the many films that would follow it and stands out for its incredibly unique choices. From its beautifully operatic depiction of violence to its psychosexual depictions, this is a film that escapes convention and stands tall as a gothic cult classic.
The film's setting of an all girls boarding school makes a comparison to Dario Argento's horror masterpiece, Suspiria, unavoidable. However, despite the two films' many similarities, The House That Screamed stands out for it's consistently dreary imagery, avoiding the glitz, glamour and color that Suspiria would be known for in the following decade and years to come.
Is It Worth The Purchase?
Yes… It's a beautiful transfer of an underappreciated horror classic with original cover artwork and ample supplements
Visit Arrow Video's Site Here: https://www.arrowvideo.com/
Black Sunday
Arrow Video Release Date of 03/28/23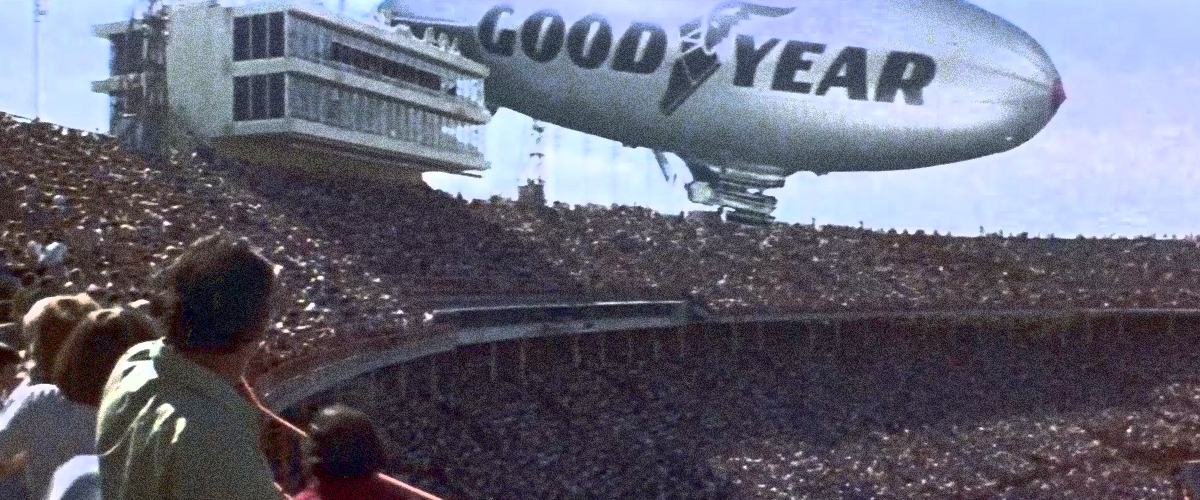 The Plot
The following description is taken directly from Arrow Video's website:
IT COULD BE TOMORROW!
Throughout the 1970s, a wave of daring disaster movies gripped cinemagoers with their combination of bravura spectacle and "ripped from the headlines" plotlines. Among these, John Frankenheimer's (The Manchurian Candidate, Ronin) Black Sunday endures to this day as among the cream of the crop.
Robert Shaw (Jaws, The Taking of Pelham One Two Three) stars as Major Kabakov, an Israeli agent attempting to avert a terrorist atrocity on US soil. The weapon: a blimp laced with explosives and piloted by Michael Lander (Bruce Dern, Silent Running), a troubled Vietnam vet driven to strike back against the nation he believes has betrayed him. The target: the Orange Bowl stadium, Miami. What follows is a nail-biting race against time culminating in a spectacular aerial climax that will determine the fate of 80,000 spectators.
Adapted from the best-selling debut novel by Thomas Harris (The Silence of the Lambs) and featuring virtuoso performances by a cast headlined by Dern, Shaw and Marthe Keller (Marathon Man), Black Sunday is a nerve-shredding, best-in-class suspense thriller from a filmmaker at the top of his game.
The Critique
How had I NEVER seen this movie? What a masterclass of tension, suspence and character building. This one was my favorite. A true 70's classic that stands the test of time. From the performances to the heart racing climax, there are so many high points of praise for this film that I don't really know where to begin. Despite its admittedly long runtime, Bloody Sunday is a film that feels instantly re-watchable. In fact, I'm ready to watch it again already.
Is It Worth The Purchase?
Yeah, go ahead and buy this one. You won't regret it.
Knockabout
Arrow Video Release Date of 03/28/23
The Plot
The following description is taken directly from Arrow Video's website:
Having established himself as Hong Kong's premier action choreographer throughout the 1970s, Sammo Hung ended the decade by directing a non-stop assault of kung fu classics for Golden Harvest, starting with the brutal Iron-Fisted Monk. But it would be his 1979 directorial effort that would finally give his Peking Opera brother-in-arms, acrobatic ace Yuen Biao, his first chance at leading man status: Knockabout!
Brothers and partners-in-crime, Yipao (Biao) and Taipao (Warriors Two's "Beardy" Leung Kar-Yan), have made an up-and-down career out of being hustlers, conning everyone from bank tellers to casino dealers. One day, they push their luck with the wrong man, martial arts master Chia Wu Dao (legendary Shaw Brothers fight choreographer Lau Kar-Wing), but convince him to reluctantly become their teacher in hand-to-hand combat. But upon learning Chia's dangerous true nature, Yipao turns to another master: a portly blinking beggar (Hung) trained in the ways of the monkey fist. Will this new skill defeat Chia's secret snake style?
Combining Hung's hard-hitting choreography with the Mo Lei Tau style of humor that was increasing in popularity at the time, Knockabout is a thrill-a-minute action spectacular that would pave the way for later masterpieces such as Hung and Biao's subsequent collaboration, the Wing Chun tour-de-force The Prodigal Son.
The Critique
There is something so incredibly charming about the goofiness of Knockabout. It's a classic mixture of silly humor and martial arts that culminate into a perfect blend of physical entertainment. It's reminiscent of a Saturday morning cartoon. This was my first time viewing Knockabout, which is surprising since Kung-Fu is one of my favorite genres. I watched the film twice, once in its original Cantonese and once with the DVD and once with the English DVD dub. The voice over work on this Arrow Video release is extremely well done and fits with the tone of the film, making for a great viewing experience whether you choose subtitles or dub.
This was the most fun of the three March releases I'm reviewing. Partly because I'm a sucker for martial arts movies, but also because it's the easiest and most entertaining watch. It's a new favorite of mine that will surely become part of my frequently watched rotation of films, right alongside Iron Monkey and Kung Fu Hustle.
Is It Worth The Purchase?
Absolutely… A must see (and own) for any self-respecting fan of the genre.
Follow us for more entertainment coverage on Facebook, Twitter, Instagram, and YouTube.