Ever since Buffy: The Vampire Slayer made a grand entry in 1997, the supernatural-fantasy genre hasn't been the same. This show is iconic, trendsetting, and timeless, and today we have brought you such moments that perfectly justify all the adjectives and more used for the show.
The Angelic Demon
The demon with the angelic face, Angel, goes from a doting boyfriend to a bloodsucking demon when the curse from his soul is lifted. He yells out for Buffy, and we didn't have a clue what was happening. That confusion mildly clears up when he sucks a passerby dry. This scene's tension building up is epic, making the scene pause-worthy.
Pause-Worthy Rating: 7/10
Buffy's Musical Agony
We saw Buffy dying to save her sister in Season 5, which was just a regular Tuesday for her. This time her departure felt permanent, yet we saw her literally digging herself out of her grave in Season 6 opener. And after that, she seemed to follow a downward rabbit hole of depression, PTSD, and bad life decisions. Everything comes to a head in the iconic musical episode, where Buffy sings, "I think I was in Heaven" with which she blames her friends for ripping her out of a peaceful paradise. The song is pause-worthy as hell(no pun intended)!
Pause-Worthy Rating: 7.5/10
The Unforgettable Graduation of 1999
Filled with deplorable creatures, Sunnydale is unlike other towns situated above Hellmouth. These creatures have seeped into humanity and have even assumed disguises of politicians. So, when most high schoolers throw their caps during graduation, they had to face a mayor-turned-snake demon who was weirdly waiting for the '99 graduation for his moment.
Pause-Worthy Rating: 8/10
Buffy Raining Down Hell-Fire on the Judge
Buffy is not your average "slayer" from the 20th century. Instead, she is a badass hunter from the 21st century who doesn't shy away from using a rocket launcher on her enemies! This is really the first and last time Buffy takes down a creature, The Judge, hell-bent on taking over the world, with high-tech weaponry, and that makes this scene so much more satisfying.
Pause-Worthy Rating: 8.5/10
Halfrek's Heavy Past
Kali Rocha first comes in Buffy in Season 5 as Cecily Adams, working as a catalyst responsible for Spike's downfall. Two seasons later, Rocha appears again, only now as Anya's demon friend Halfrek. Her demon makeup hid her face well, so fans had to pause the scene to see if they're really the same? There have been some theories about it!
Pause-Worthy Rating: 9/10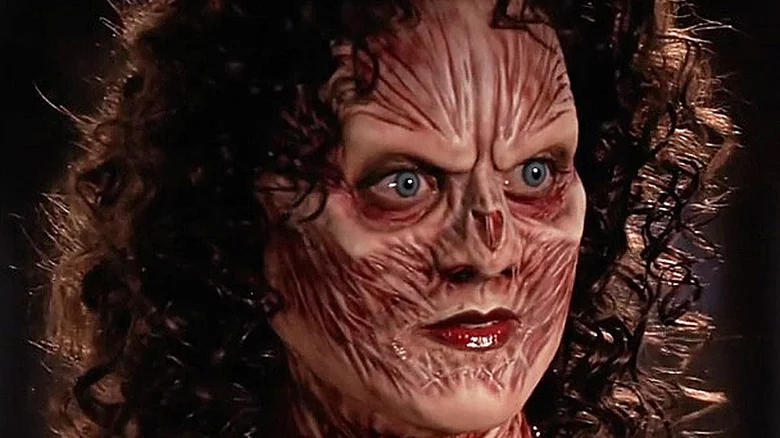 Buffy Killing Angel
Angelus plans to drag the world into chaos by awakening the demon Acathla with his blood. However, just as the door to Acathla starts to open, Willow uses magic to restore Angel's soul. Unfortunately, Buffy has no choice but to use Angel to close the gates to save the world. So when Angel is happy and confused to see his girlfriend, Buffy kisses him, tells to close his eyes, and stabs him. This was a brutal scene to watch.
Pause-Worthy Rating: 9.5/10
The Emotional Rollercoaster of a Finale
The series finale is a lot to take in and requires multiple pauses to get through. We see Spike getting the redemption he so deserved. During this, Buffy tells him what he's always yearned to hear: "I love you." But somehow, Spike replies, "No, you don't. But thanks for saying it." Moreover, after the destruction of Hellmouth, we also see Sunnydale getting destroyed. It's a confusing but fitting ending to the series.
Pause-Worthy Rating: 10/10
Don't forget to check our YouTube channel!
Was this Article helpful?
Thanks for your feedback!