One of the many classic DC characters to get recognition over the years is none other than Deathstroke. Slade Wilson is a mercenary for hire, and fans love him for his ruthlessness and unique fighting style. There are days where he has done good things, some villainous things, and some simply unexplainable. Regardless, he's a fitting DC character and today, we'll rank some of his badass comic book moments. Check it out!
1. Saving The Human Race
This was the time when Deathstroke was at his best and the lowest level of selfishness. In Deathstroke the Terminator Annual Vol 1 #3, the world is taken over by a genetically created race called the Genetix. Wilson is hellbent on hunting them down as he is one of the few humans left alive. During this journey, he comes across a group of people and he tries to save them with everything he has.
2. Defeated JL
Who wants to go up against the Justice League? Well, you might think of someone with one too many superpowers. But no. Wilson is one of the few DC characters to enjoy that moment. He stabbed Flash, broke Green Lantern's fingers, and made Zattana throw up. The big three weren't there, but it was Green Arrow's sneak attack that ultimately saved the day.
3. Killed Atom
Being a mercenary for hire, we sometimes have to see him go after our favorite superheroes simply for money. One such day it was Atom as Slade was hired by Dwarfstar. He went up against him with his team, the evil teen Titans, and delivered his body to Dwarfstar in a matchbox, This sides well with his ruthless persona and how simply he would just kill anyone for money.
4. Fought Alongside JL
Dark Nights: Metal was a recent DC crossover event that introduced a dark multiverse in existence with the regular one. Batman's research revealed that there are seven different versions of him with different superpowers. The dark dimension also has a dragon named Barbatos who plans to drag Earth into the dark multiverse. This called for extra hands which included Deathstroke working alongside Aquaman to extract Nth metal from Earth's core.
5. Fought A TITAN!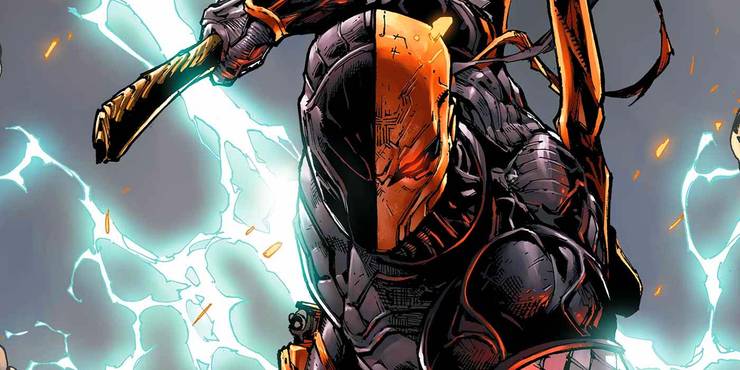 In Slade's recent comic run, he takes on a contract from Hephaestus to take down Lapetus, who is a Greek Titan gone mad. He was given a powerful sword called the Godkiller which would do the trick. But in his journey, he faced Superman and Wonder Woman and they fought as well despite him telling them that he doesn't want any chaos. Regardless, all three team up, and Deathstroke heroically strikes the final blow.