Disneyland is enough to get all the attention it needs to get but combine it with Avengers; I know you're going nowhere now. Yes, you're reading it right. Disneyland's newest Adventure Theme Park in California is the center of attraction for all the kids (and grown-ups). Now that the COVID pandemic is getting in control; such attractions are indeed a relief. It's good to know how things are slowly going back to normal, and there's no better way than Disneyland's Avengers Campus to make you feel like coming back to life. 
Disneyland's Avengers Campus opened last Friday and has become the talk of the town because of its new Spiderman adventure: Web-Slingers, Pym Test Kitchen, Doctor Strange's sanctum, and so many more. Let's look into everything you need to know before taking your kids to Disneyland's Avengers Campus.
1. Let's start with the most-talked-about adventure- Spider-Man's Web-Slingers. The adventure ride begins with the most exciting part- Tom Holland's hologram and his spider-bot.
2. I am sure many of us, as kids, tried shooting webs from our wrists. This is the place it's going to come true. You'll get a pair of 3-D glasses and will have to shoot spider-bots.
3. The Avengers' headquarters is there at the theme park's center, and the impressive planes we see in the movies and there in the park too, parked, of course. In addition to that, you'll see at least one of the superheroes on the balcony, and he/she will greet you too.
4. Pym Test Kitchen will get you all excited for all the yummy feasts. Why? Because it ain't any ordinary kitchen serving ordinary feasts. The scientists working with Pym are there in the kitchen too and produce food using shrinking and magnifying technology, like a huge chicken patty or a giant meatball and tiny sandwich buns.
5. The innovation doesn't just end with food. The drinks are even more thoughtful and innovative. There are a few alcoholic drinks in the dining area for adults and have the most interesting names: X-Periment, Molecular Meltdown, Particle Fizz, and Honey Buzz.
6. Doctor Strange's kids-friendly performance at the Ancient Sanctum in Disneyland's Avengers Campus is more exciting than it sounds.
7. Star Lord and Gamora's dance party at Guardians of the Galaxy- Mission: Breakout ride's entrance: We are pretty sure kids, and adults are going to have a good dance off together.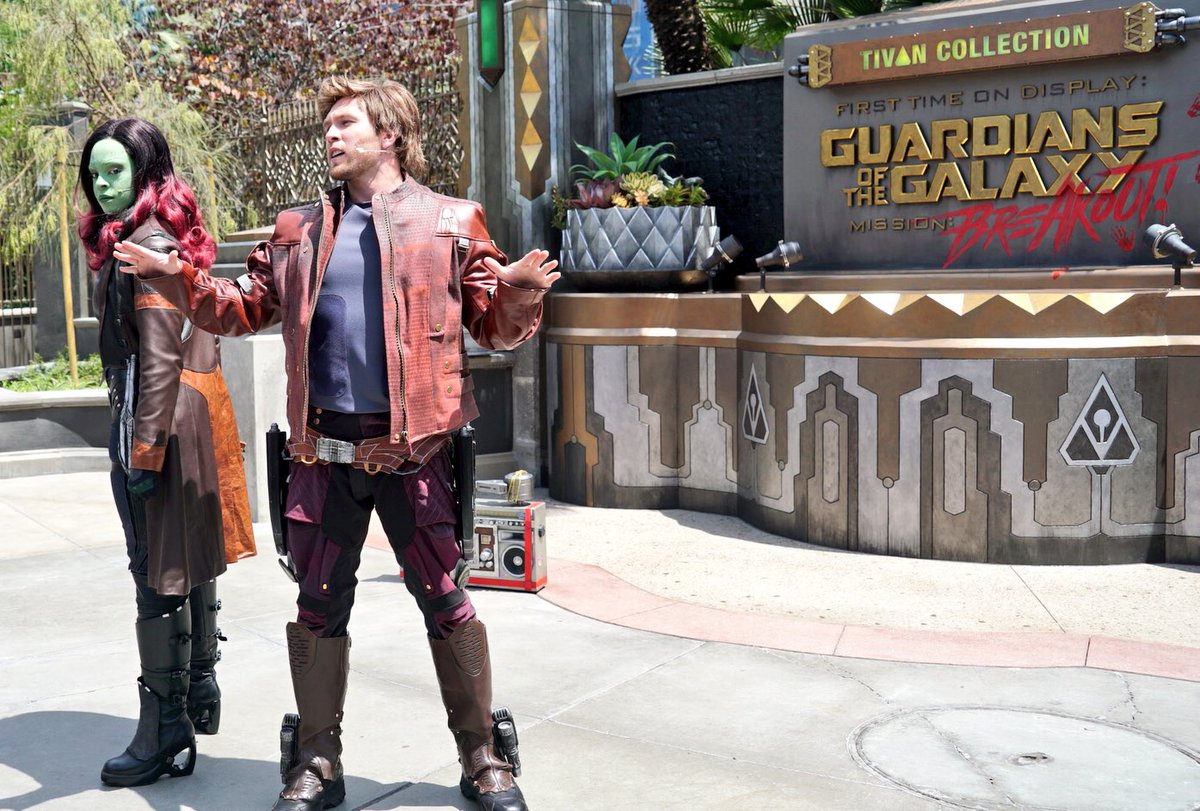 8. Shawarma Palace. There is a food stall called
Shawarma Palace
, which is for the "heroes on the go." You know, if you know.
9. All the Avengers will visit you at different places in the park, Spider-Man at WEB Building, Black Widow, Black Panther, and Captain America at the Avengers' Headquarters, Doctor Strange at the Sanctum, and Ant-Man and The Wasp at the Pym Test Kitchen.