In Doctor Strange 2, Benedict Cumberbatch reprised his role as Stephen Strange/Doctor Strange, but this time, Strange was in jeopardy as he struggled with the ramifications of assisting Tom Holland's Spider-Man in Spider-Man No Way Home. When the second teaser for Doctor Strange in the Multiverse of Madness debuted, there was already a lot of excitement and intrigue about what the multiverse-hopping film would involve. Fans have spent hours examining the clip for new clues — they discovered Captain Carter's shield and maybe Deadpool — and they also noticed that there were dinosaurs in it.
Things are about to get seriously Strange. Empire joins #DoctorStrange In The Multiverse Of Madness for a world-exclusive issue, talking to Benedict Cumberbatch, Sam Raimi, Elizabeth Olsen and more, with brand new images. On sale Thurs 17 March

READ MORE: https://t.co/5Lnt9zttlI pic.twitter.com/RtWlOk6fWi

— Empire Magazine (@empiremagazine) March 11, 2022
A shot of Stephen Strange / Doctor Strange (Benedict Cumberbatch) and America Chavez (Xochitl Gomez) falling through a forest-filled environment was briefly shown in the teaser. Fans think that the territory that Doctor Strange and America Chavez are going through is Savage Land, a place that the X-Men were familiar with in the comics. Later Empire Magazine released two covers featuring the film and the fans were thrilled to see a T-Rex crashing through the universe on the cover of one issue.
Doctor Strange 2 hints at Savage Land
One of the most talked-about scenes in the teaser for Multiverse of Madness was Strange and America Chavez plunging into a prehistoric landscape. However, X-Men fans are anticipating their big day in the sun and are swinging for the fences with the dinosaur-infested territory that the Mutants have visited several times.
For almost a year, there have been rumors that Marvel wants to make a "Jurassic Park-style" Marvel film. Of course, this would take place in Savage Land, but with the X-Men expected to join the MCU shortly, it's more than likely a Marvel film set there. If Doctor Strange 2 hints at the existence of the location, it could easily be the first of many visits to the prehistoric life refuge, adding yet another layer of fun to the Marvel world. Many mutants and superheroes have visited the Savage Land, thus it would be an excellent opportunity to expand the MCU.
What is Savage Land?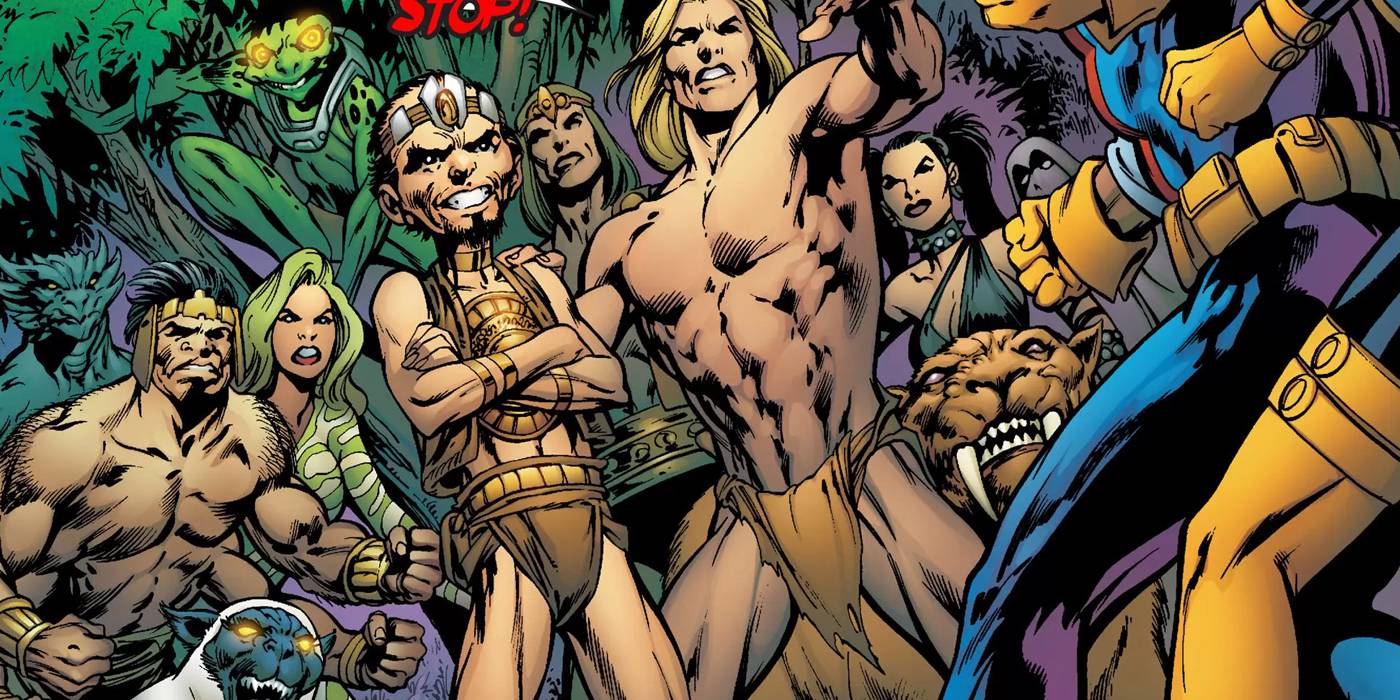 The Savage Land is a tropical prehistoric realm buried beneath Antarctica in comic books, initially appearing in 1941's Marvel Mystery Comics #22, and popularised in 1965's X-Men #10. It is a well-known region inside the Marvel world, containing a variety of tribes of humans and dinosaurs, including the fan-favorite superhero Ka-Zar. It was originally established by a disciple of the Beyonders. Many members of the X-Men team, including Magneto, have lived there for a period of time in the X-Men comics. Here's a quick rundown of how the Savage Land was discovered:
Early in his supervillain career, the mutant Magneto created a headquarters in the Savage Land, a tropical jungle existing within Antarctica. Finding mutations that occurred easily in this land due to high levels of radiation, Magneto assembled various natives from tribes all over the Savage Land
While it's uncertain whether or not the area in Multiverse of Madness is the Savage Land, it fits that category artistically and would be a new approach for the film to display the diversity of worlds found in Marvel comics. However, it's unclear if this version of the Savage Land would exist inside the main MCU world or in a separate corner of the cosmos.
Was this Article helpful?
Thanks for your feedback!