Back in July, Marvel Studios president Kevin Feige revealed that Fantastic Four would be the start of Phase 6 in the aforementioned Multiverse Saga. With the looming presence of D23 on the horizon, all eyes are on the mouse house to reveal who will be playing the first family in the Marvel Cinematic Universe.  A few days ago, WandaVision and Always Sunny in Philadelphia director, Matt Shakman, was named the choice director to helm the MCU's upcoming Fantastic Four adaptation after Jon Watts of Spider-Man fame dropped out.
As each day passes, everyone has taken to social media to give their casting to the core members: Mr. Fantastic, Invisible Woman, Human Torch, and The Thing. John Krasinski's Reed Richards cameo appearance for Doctor Strange in the Multiverse of Madness was short and a bit fan service-y, but it remains to be seen if he'll return or not. Jurassic World actress and The Mandalorian director Bryce Dallas Howard has had her name tossed into the mix, but that was nothing more than a rumor. As fans debate who should play Johnny Storm, there's one casting that has flown under the radar. By which I'm referring to the idol of millions, the ever-loving, blue-eyed Thing aka Ben Grimm.
Throughout the FF's movie history, there have been 3 actors that played the fan-favorite rocky hero. While most audiences have come to appreciate Michael Chiklis, one actor has recently thrown his hat in the ring a few times and quite honestly it's a choice we'd be down for.
Gotham Actor Wants To Play The Thing
Drew Powell who played both Solomon Grundy and Butch Gilzean on Gotham has taken to Twitter to campaign to play the role of Ben Grimm/The Thing for the MCU's Fantastic Four on a couple of occasions. Most recently, Powell posted a GIF version of the cover of Fantastic Four #51 from June 1966, which features The Thing front and center in the image.
— Drew Powell (@thedrewpowell) August 26, 2022
Last year, he posted wearing a Thing t-shirt that has his signature catchphrase.
What time is it? 🗿🪨💪#TheThing #BenGrimm #Marvel #MCU #TheEverlovinBlueEyedThing #FantasticFour #itsclobberintime pic.twitter.com/Dro3582GxM

— Drew Powell (@thedrewpowell) July 21, 2021
A Thing or Two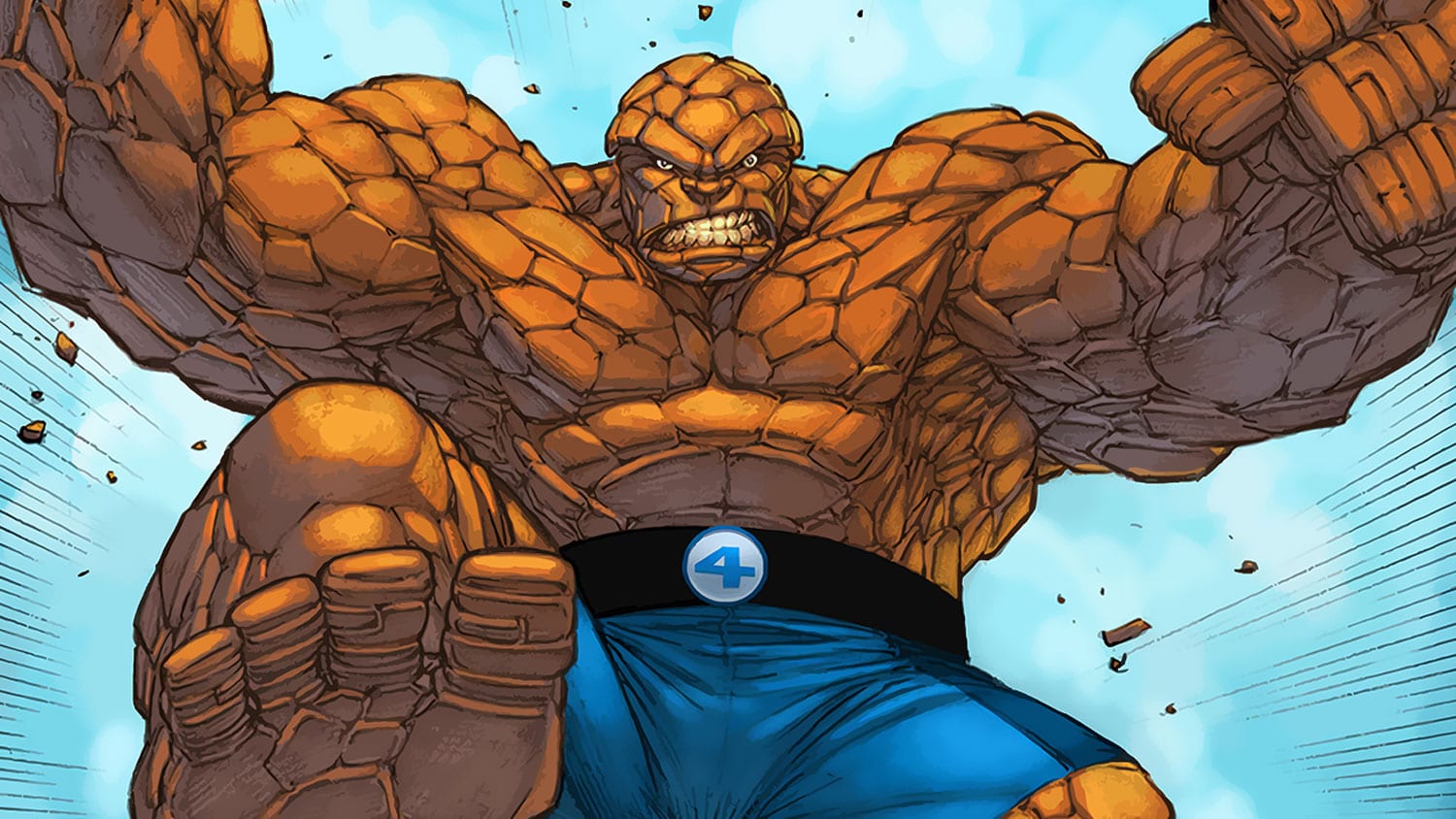 Powell isn't the only actor who has campaigned to play The Thing over the past couple of years. Fantastic Beasts and The Walking Dead star Dan Fogler shared a post from early August pushing for him to play the Thing by saying::
Made my day all the way to yancy street. Thanks for thinking of me folks. Dream role. #fogler4theTHING https://t.co/1WAz7rKgHz

— Dan Fogler (@mrdanfogler) August 9, 2022
Numbers star David Krumholtz campaigned for himself to play The Thing. It's worth mentioning that Krumholtz is of Jewish heritage much like Ben Grimm is in the comics. However, the post on Instagram was deleted. Some fans online think other Jewish actors like The Haunting of Hill House star Oliver-Jackson Cohen or Hamilton's Daveed Diggs would be perfect for the role.
The Fantastic Four is set to debut in theaters on November 8, 2024, and while we're still more than two years away, fans are staying hopeful that Feige will announce who will be the MCU's Thing after a long and extensive search.
Tell us in the comments below who you think should The Thing be. Do you believe that Drew Powell would make a great Thing?
Follow us for more entertainment coverage on Facebook, Twitter, Instagram, and YouTube.
Source: The Direct