So far in 2022, Marvel Studios has introduced fans to a couple of brand new heroes, Moon Knight and Ms. Marvel, and unleashed a maddening multiversal adventure in the second Doctor Strange outing. Now in less than 2 weeks, Taika Waititi makes his triumphant comeback with the first 4th solo sequel, Thor: Love and Thunder. The movie's world premiere took place on Thursday night and the first online Thor: Love and Thunder reactions are finally out in the open.
How does the next Phase 4 entry stack up? Is Love and Thunder a Ragnarok 2.0, just as good, or is it better than Ragnarok? Well, general consensus is looking pretty positive. Critics have praised the film's quirky humor though some of the jokes don't land, the emotional stakes, and unique visuals. As for the cast, Christian Bale's Gorr the God Butcher is being called one of the best MCU villains to date, Chris Hemsworth, Tessa Thompson, and Taika Waititi all shine, and after being sidelined in the first two Thor movies, Natalie Portman is a certified scene-stealer! Check out the Thor: Love and Thunder reactions down below!
First Thor: Love and Thunder Reactions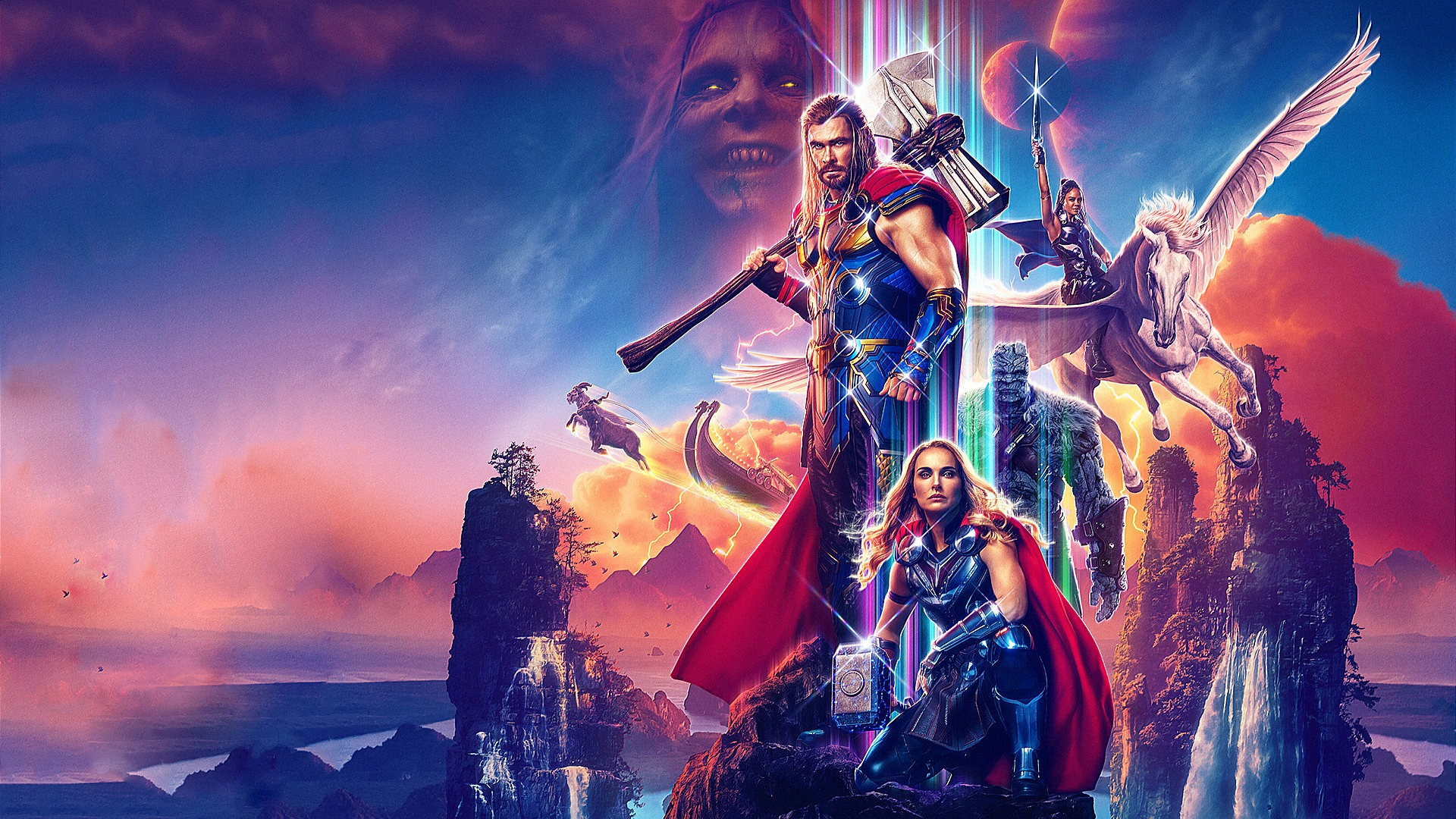 Joshua Ryan – FandomWire & Cinema Stubs
#ThorLoveAndThunder is what you'd expect from Taika Waititi. Full of heart, great music and tons of comedy. Bale is fantastic as #Gorr , but it's Natalie Portman who steals the show. When she wields Mjölnir she IS the Mighty #Thor . Another solid entry in the #MCU. pic.twitter.com/KallwLdBl5

— Joshua Ryan (@MrMovieGuy86) June 24, 2022
Erik Davis – Fandango
Also, these two are the absolute best in this film. Give us a spin-off with just the adventures of Valkyrie and Mighty Thor! #ThorLoveAndThunder pic.twitter.com/0bRtGBhTge

— Erik Davis (@ErikDavis) June 24, 2022
There are lots of fun little details in #ThorLoverAndThunder, so keep your eyes open. It's more emotional than #ThorRagnarok, but both films have a really great sense of humor & the best side characters (the goats!). Also, the post-credits stuff is major so don't go anywhere. pic.twitter.com/tcUGSlV2kh

— Erik Davis (@ErikDavis) June 24, 2022
Richard Nebens – The Direct
#ThorLoveAndThunder is predictably hilarious yet unexpectedly personal and heartfelt. Christian Bale and Natalie Portman's performances truly shine while Waititi delivers an emotional story. I think this may be my favorite Thor movie. pic.twitter.com/i7BpmQHvQ1

— Richard Nebens – The Direct (@RichardNebens) June 24, 2022
Rachel Leishman – The Mary Sue
holy shit. #ThorLoveandThunder is the perfect blend of taika at his best with comedy and a punch to the gut all in one. i left this movie emotionally satisfied while also sobbing and just perfection. we stan a dad rock soundtrack. in the words of my new favorite characters: AHH pic.twitter.com/MytduVq89h

— it was rachatha all along (@RachelLeishman) June 24, 2022
Andrew J. Salazar – Discussing Film
#ThorLoveAndThunder gets better when it's not trying to desperately recapture the magic of Ragnarok. Most of the humor doesn't land as well as it did the first time, but Chris Hemsworth, Natalie Portman, & Christian Bale do the best with it.

More coming soon to @DiscussingFilm pic.twitter.com/2jkZD8TJAi

— Andrew J. Salazar (@AndrewJ626) June 24, 2022
Caitlin Tyrrell – The Illuminerdi
#ThorLoveAndThunder surpasses all expectations balancing absolutely bombastic insanity with moving character driven stories. Christian Bale is top tier and Natalie Portman is truly outstanding. Waititi may have just delivered the MCU's best movie of Phase 4 #ThorLoveAndThunder pic.twitter.com/HDePEKKS8P

— Caitlin Tyrrell (@caitlin_tyrrell) June 24, 2022
Lyra Hale – Fangirlish
#ThorLoveAndThunder is the GREATEST movie Marvel has made so far! I'm not joking. I haven't laughed that hard since Ragnarok and I feel invested in Marvel again in a way that I haven't since Endgame. Also, bring tissues. The journey is *chefs kiss* from start to finish!❤️ pic.twitter.com/bJYVxCJoQS

— Lyra Hale 🔜 SDCC (@TheAltSource) June 24, 2022
Simon Thompson – Forbes
#ThorLoveAndThunder is a vivid and vibrant blast that delivers. Hemsworth's Thor remains a jewel in Marvel's crown. Bale's Gorr is a killer boogeyman blending the campy and the creepy. Portman's Foster and Thompson's Valkyrie are a top notch pairing. Crowe's Zeus is *chef's kiss* pic.twitter.com/PDb5SZRWOo

— Simon Thompson (@ShowbizSimon) June 24, 2022
Courtney Howard – Variety
There's a lot of unhinged, unrestrained, completely out-of-the-box lunacy in #ThorLoveAndThunder that I'm still shocked they snuck in/ got away with. And BLESS UP that they did. It counterbalances grounded heartrending storylines too.

— Courtney Howard (@Lulamaybelle) June 24, 2022
Jacob Kleinman – Rolling Stone
I saw #ThorLoveAndThunder. It can't quite match the visual or comedy bombast of Ragnarok, but Taika Waititi makes up for it with an emotionally mature Marvel movie. It's also very funny (Natalie's got jokes) and features one of the most stunning visual sequences in MCU history.

— Jake (@jacobkleinman) June 24, 2022
Thor: Love and Thunder Synopsis
"Thor (Chris Hemsworth) is on a journey, unlike anything he's ever faced – a quest for inner peace. But his retirement is interrupted by a galactic killer known as Gorr the God Butcher (Christian Bale), who seeks the extinction of the gods. To combat the threat, Thor enlists the help of King Valkyrie (Tessa Thompson), Korg (Taika Waititi), and ex-girlfriend Jane Foster (Natalie Portman), who – to Thor's surprise – inexplicably wields his magical hammer, Mjolnir, as the Mighty Thor. Together, they embark upon a harrowing cosmic adventure to uncover the mystery of the God Butcher's vengeance and stop him before it's too late. Directed by Waititi ("Thor: Ragnarok," "Jojo Rabbit") and produced by Kevin Feige and Brad Winderbaum."
Do these Thor: Love and Thunder reactions get you hyped? Which character are you excited to see the most? Let us know in the comments below!
Follow us for more entertainment coverage on Facebook, Twitter, Instagram, and YouTube.