Now a vital part of CGI film-making, motion capture performances are getting more and more attention these days. We list out the greatest motion capture performances of all time.
Benedict Cumberbatch – Smaug in 'The Hobbit'
It is not easy for a motion capture artist to get out of the shadow of Andy Serkis in the same movie. The Hobbit had two great motion capture performances. One was Andy Serkis' Gollum. The other was definitely the fearsome and terrifying dragon – Smaug. Benedict Cumberbatch put his heart and soul into the CGI character. The result was a looming and horrifying presence that makes the rest of the Hobbit villains look like wusses.
Zoe Saldana – Neytiri in 'Avatar'
James Cameron has dabbled in some high value CGI productions in the past. He outdid his earlier works with Avatar. Zoe Saldana, who portrayed the Na'Vi huntress and female lead of the movie – Neytiri, had her entire performance recorded in motion-capture suits. Saldana was way too convincing as an alien warrior from another planet. For a moment, we almost forget that the movie is basically a modern retelling of Pocahontas. Saldana was THAT good!!
Bill Nighy – Davy Jones in 'Pirates of the Caribbean: Dead Man's Chest'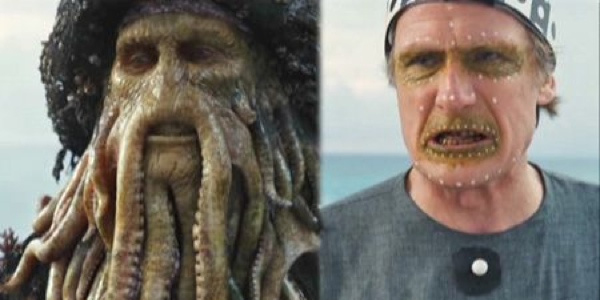 Now here is an actor who has never gotten the recognition he truly deserves. people need to talk more about Bill Nighy because the guy is an all around perfectionist. Even when he was of such an advanced age of 57, Nighy nailed the role of the tentacled, CGI heavy Davy Jones. Back in 2006, the idea of motion capture performances was still in its nascent stages. Back then even Andy Serkis was not as renowned in this field. Bill Nighy's Davy Jones , at times, even outshone Johnny Depp's Jack Sparrow.
Toby Kebbell – Koba in 'Dawn of the Planet of the Apes'
The new Planet of the Apes trilogy had some epic motion capture performances. Andy Serkis delivered a class act as Caeser. But Toby Kebbell's Koba was no less of a great performance either. Unlike Serkis' Caeser, Kebbell is not that accommodating when it comes to humans. He holds a huge grudge against them and would go to any lengths to make them pay for what they did to him. That scene where Koba pretends to be a simple minded primate in front of two armed guards, stealing their rifle and killing them as he changes his facial expressions into a psychopath's, says it all.
Andy Serkis – Gollum in 'The Lord of the Rings: The Two Towers'
This list is about the greatest motion capture performances. And no such list would be complete without the one mo-cap role that started it all. Andy Serkis and the graphic artists at Weta Digital had to work day and night to bring Gollum to the big screens. Back then, Serkis was forced to wear a skin-tight suit on sets and act as Gollum. He would later have to wear a CGI mo-cap suit for a second time and enact the same scenes in front of a green screen. The level of dedication Serkis had for his motion capture performances is the reason why he is called the greatest Cyber-Thespian to ever exist.
Andy Serkis – Caeser in 'War for the Planet of the Apes'
And at the top of this list, we have the greatest and brightest of all motion capture artists. Serkis calls himself a Cyber-Thespian, an actor who is proficient in wearing CGI suits and giving out motion capture performances. Serkis helped carve a niche with his recent roles. His role of Gollum will always be the highpoint of his life. But it was his performance as the Ape chief – Caeser, that led him to give a career best. Here is a character who conveys so much with just his expressions and gestures, literally uttering the least amount of words.