Black Panther: Wakanda Forever is finally out and the fans have quickly grown attached to Namor even though he stands to be the movie's antagonist. The success of the movie brought about a rise in the fame of both Shuri's interpretation of the Black Panther as well as Namor and his love for his people.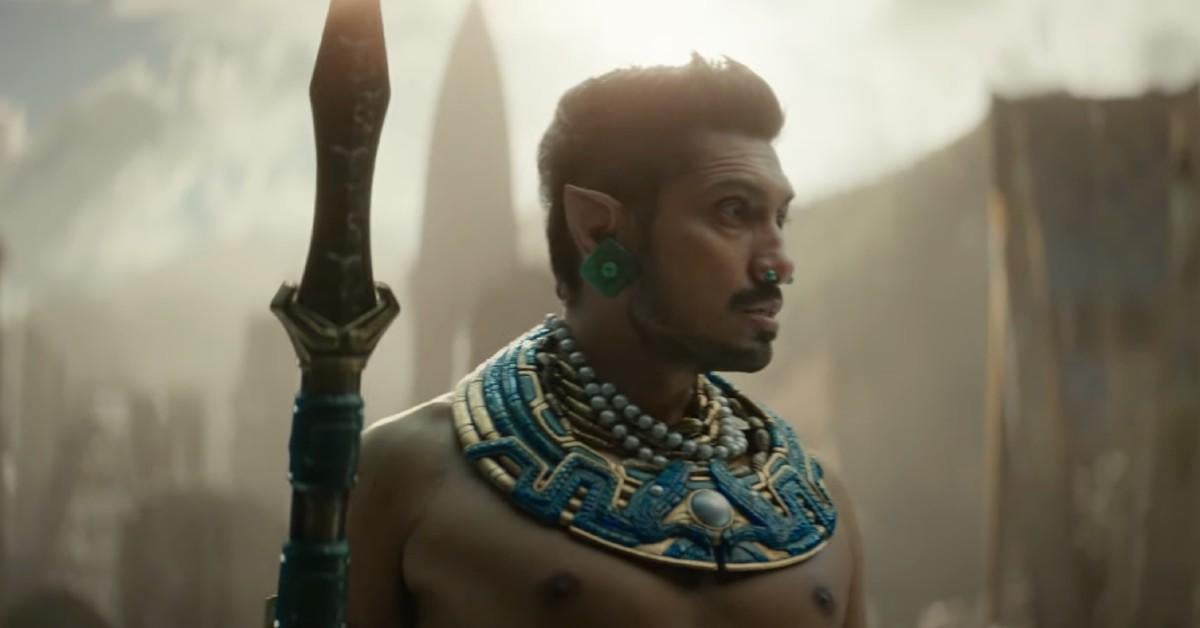 The movie set a whole new power dynamic by introducing two new individuals with superhuman abilities. Fans who at first boasted about how the first mutant could defeat Aquaman with ease are now being attacked on social media with the same debate being risen, this time stating that the outcome of such a fight could lead to the Talokanian ruler losing instead.
Also Read: "It took him 15 years to see Namor becoming a better anti-hero": The Rock Gets Blasted By Fans After Struggling Black Adam, Claim Tenoch Huerta Outshone Him in Black Panther 2
Namor Was Brutally Defeated By Shuri In Black Panther: Wakanda Forever
Namor and Shuri had an epic battle at the end of Black Panther: Wakanda Forever which led to the ultimate retreat of the Talokanian army and Namor's acceptance of defeat from the newest Black Panther. The entire movie focused on Shuri's journey of healing and accepting herself and the kind of Black Panther she sees herself as. This also evolves with Namor putting his trust in the Wakandan princess, however, that does not go according to plan.
Once the Talokanians infiltrate Wakanda, the nation endures a tragic loss with the death of Queen Ramonda. This proves to be the last straw for Shuri and the team then establishes a plan to defeat Namor once and for all, with her intention to kill him. Although she decides against going through with that idea, Shuri was easily able to drag Namor away from any water access and defeated him with ease as she just got the powers from the heart-shaped herb.
Also Read: 'Atlantis looks flashy. Talokan was made after research with historians': DC Fans Trolling Black Panther 2's Talokan Having Unfinished CGI Get Trolled Back With Unrealistic Atlantis Physics
Namor And Aquaman's Power Battle Reaches The Fans In A New Level
To see someone who just received their powers defeat The Submariner with ease, fans question whether or not Tenoch Huerta's anti-hero could defeat Jason Momoa's Aquaman in a battle of the superheroes. While some fans pointed out the weaknesses shown by Namor, many were supporting the battle and how Shuri managed to outsmart the character who had still almost won.
A severely weakend Namor though fam

— NOTEZ EMG (@NOTEZRNB) November 14, 2022
The namor and shuri rumble was really weak to me bc it didn't really feel earned to have shuri magically be at his level and just pull the win from sheer will power after never seeing her win a fight physically. Also how did the wakadans at all lose to the water people?

— Mr.Shake-Man (@AggressiveJuice) November 14, 2022
They dead ass spent a whole scene dampening his powers before their fight in a literal desert island which keeps his powers weakened due to the lack of hydration. Did you not watch the movie??

— James | Meta Comics (Reading Immortal Hulk) (@ComicsMeta) November 14, 2022
You could have just said "I'm proud of openly admitting I didn't pay attention to the movie".

— Black Adam Wasn't A Game Changer, But It Was Good (@NeverSu64836697) November 14, 2022
Aquaman and Namor both are strong contenders, which leads to many fans debating without a solid conclusion. However, many question Shuri's sudden mastery in hand-to-hand combat and how a technology enthusiast was suddenly an amazing Black Panther. This split between fans does not end as they came to believe that Aquaman could easily defeat the character without even so twitching.
Black Panther: Wakanda Forever is now available to watch in theatres.
Also Read: "He's got to be relatively arrogant": Black Panther 2 Director Reveals It Was Difficult to Top Jason Momoa's Aquaman With Namor Despite Being Older Than His DC Counterpart
Source: Twitter
Was this Article helpful?
Thanks for your feedback!