There's no denying the fact that Hocus Pocus (1993) was not received well by both the critics and the audience. But let's not overlook another fact that it was rediscovered by people and has now become a cult classic. For Americans born in the '80s, it has become a ritual to watch this movie every Halloween. Hence, there's a spike in the sale of home videos. The movie is about the Sanderson sisters who were resurrected by a teenager on Halloween night. To conclude, the movie was a combination of comedy and horror. After two decades, they announced the sequel. It is slated to be released in 2022. Recently, Disney released an image showing the Sanderson Sisters. Check it out:
Hocus Pocus 2: First Official Image Welcomes Sanderson Sisters In The Best Way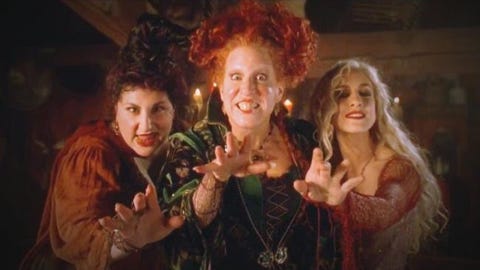 After two decades we will finally get to see the Sanderson sisters together. Disney released an image of the trio, who we can say is the heart of the movie. They looked just the way they should! Many images from the sets have been released. But this one is portraying the protagonists and lets us know that they haven't changed much from the original. The trio is played by Sarah Jessica Parker as Sarah Sanderson, Bette Midler as Winifred Sanderson, and Kathy Najimy as Mary Sanderson. Check out the full-size image below:
The image shows the trio reuniting. They are back in their classic costumes and wigs. Looking at them gives a feeling that nothing has changed for them in years. However, the background looks simple and gives no elaborate details. But after looking at this image, it is a relief that they haven't changed much about the trio. They seem to do justice to the original movie in this sense. Moreover, this will enable in maintaining the vibe of the original one.
Not much detail is known about the plot. We never know if the sequel is on the same grounds as the original or is stemming out in the other direction. That time will tell. Nonetheless, the Sanderson sisters are being treated well. If the performance and storyline are also good, then this movie will be a treat to the die-hand Hocus Pocus fans!
Was this Article helpful?
Thanks for your feedback!