Jackie Chan is one of the most well-known action actors and stuntmen in the film industry. Since "Snake in the Eagle's Shadow", the star has been performing his own stunts. In 1978, the hit movie established him as an action star in Hollywood. The actor's long career filled with action and stunts has made him a household name today.
Also Read: Jackie Chan Wanted To Be Like Tom Cruise Who Has Grossed $8.4 Billion From His 38 Movies: "I want to have one audience like Tom Cruise"
Notorious for performing all his stunts himself, the Rush Hour star has an extensive catalog of broken bones to prove it.
Though his stunts are what differentiated him from other actors, some of these stunts were life-threatening. During the filming of Drunken Master (1978) suffered injuries from the stunts that almost caused him to lose his eyesight.
Jackie Chan's Most Dangerous Stunt
During an interview with Yahoo, Chan spoke about his time during the filming of Armour of God (1986). While shooting in Yugoslavia, there was a scene involving alcohol. Jackie Chain claimed that he did most of his stunts sober, however, the script required the actor to open a can of beer and leap onto a tree from a ledge.
Chan delivered perfectly in the first take itself but was convinced he could do better. He insisted on a second take, which was not as successful as the first. The jump sent Jackie Chan plummeting down the tree, falling on his back, and cracking his skull.
Related: After Rejecting Everything Everywhere All at Once, Jackie Chan Makes Triumphant Comeback in $1.35B Franchise? Chris Tucker Promises Rush Hour 4 on "Whole other level"
"In the morning, I was drinking a beer in the movie," Chan shared with Yahoo Entertainment during a Role Recall interview. "On this day, I'd probably be drinking water," he explained, but since the movie scene required filming the fizz-pop of a beer can, the actor cracked open one too many beers right before performing his stunt. "Then I jumped through a tree."
The actor crashed into a rock and cracked his skull.
"My whole body was numb," he revealed. He was bleeding from his ear and had to be immediately rushed to surgery.
Jackie Chan Snapped Back As if Nothing Happened
Despite his near-fatal injury during the filming of the first installment, Chan recovered and returned to film the sequel, and a series of many other films. The actor didn't let the injury affect his career at all. Armour of God: Operation Condor came out in 1991.
Also read: Top 10 Jackie Chan Movies – Ranked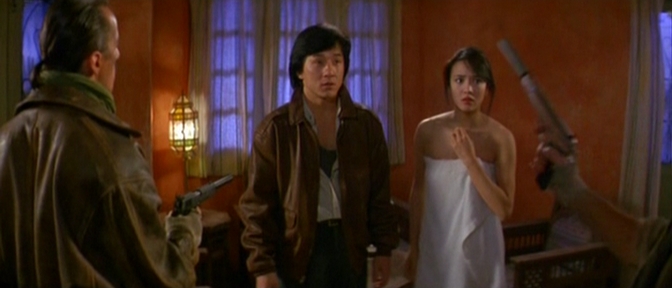 Jackie Chan continues as Condor, a professional fortune hunter trying to get rich by recovering exotic artifacts. His ex-girlfriend is kidnapped by a cult of malevolent monks and must embark on an adventure to rescue her and find a mysterious treasure before it is too late.
At age 67, the actor and stuntman is still performing his own stunts in movies. He was last seen in The Foreigner, in which he plays a London restauranteur named Ngoc Minh Quan who is trying to avenge the death of his daughter.
Source: Yahoo! News