Dave Bautista is one of the professional WWE athletes turned Hollywood superstars, and Bautista is a very accomplished one at that. He has starred in multiple blockbuster movies over the years and he has especially been recognized for his role as Drax the Destroyer in MCU's Guardians of the Galaxy franchise.
Recently, Dave Bautista has shared that his role as Drax was indeed a fan favorite but it took quite a toll on him to portray the Destroyer over the years as not only did it take the makeup artists hours to do his makeup, he had to stay still for all that period and it has been a tiring job for the 54-year-old.
Also read: "Don't know if I want Drax to be my legacy": Marvel Star Dave Bautista Calls Drax a "Silly Performance"
Dave Bautista's Gruesome Time With the Makeup Artists
Dave Bautista in an interview shared that though he had a good time playing Drax the Destroyer in the MCU movies, it was not all sunshine and rainbows as he also had to deal with the makeup process for his shots that used to take hours to complete. Bautista also shared that he will always be grateful to MCU for providing him with such a wonderful opportunity, to star in the multi-billion-dollar franchise, but he is also grateful that his role as Drax was over with the upcoming Guardians of the Galaxy movie.
"I'm so grateful for Drax. I love him, but there's a relief [that it's over]. It wasn't all pleasant. It was hard playing that role. The makeup process was beating me down. And I just don't know if I want Drax to be my legacy"
Also read: "I will never forget and I'm forever grateful": Guardians of the Galaxy Vol 3 Star Dave Bautista Gets Emotional Talking About One of the Biggest Moments of His Career
Moreover, the Glass Onion: A Knives Out Mystery actor has relayed his feelings that he has dropped all ideas of him starring in any superhero movies, which also includes his plans of starring in the DC universe potentially as Bane. Dave Bautista previously wanted to play the character Bane and was very enthusiastic about it, though his recent statement says otherwise. The actor also shared that he has taken an interest in pursuing non-superhero roles as he wants to expand his acting skills.
Guardians of the Galaxy Vol. 3 Will Be the Franchise's Last
Dave Bautista in his interview conveyed that with the third installation of the franchise, he is finally done with MCU and is getting ready to explore his options in this vast industry. Guardians of the Galaxy Vol. 3 will have many heartbreaking scenes along with many secrets unveiled as they travel the galaxy, searching for unsolved mysteries and troubled distress calls. The movie will dive deep into the Guardians' lives before they came together and the movie is rumored to be a tear-jerker.
Dave Bautista shared,
"It's very emotional. It's emotional, it's dark, and it's deep and it's inspiring. I think this is going to be a special. Obviously, I haven't seen it and I always feel like that every time.  I thought Guardians was going to be the best, or Guardians 2 was going to be the best.

And after reading the script and after being on this film and filming it, it's just so much better. I think unlike a lot of franchises, we're leaving with our best. We haven't been watered down as we've gone along, but I think we're leaving with our best film."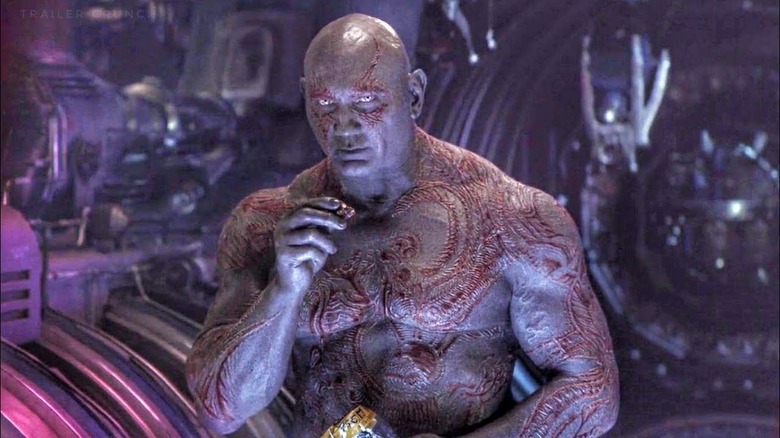 James Gunn
has never been a fan of holding back, in every movie he does, he gives his best, be it the script, the scenarios, the acting, and many other things and for the threequel, Gunn did the same. Ever since the script writing of the first
Guardians of the Galaxy
movie, Gunn has planned to dive into Rocket's life and show his side of the story, which the third movie will be all about. There are some scenes from the trailer that backs the claim of cutting off one or two characters from the team. Many and many are eagerly waiting for its release as it will be the second movie from Phase 5 and many have high expectations from it.
Guardians of the Galaxy Vol.3 is set to premiere on 5 May 2023.