Robert Downey Jr. is a name that almost all of the people in the world have come to know and revere as Iron Man. Being the trailblazer in kicking off the most significant film franchise in the world, Downey Jr. has found fame, wealth, and respect through his endeavors. His sheer talent for portraying dynamic characters like Sherlock Holmes, Tony Stark, Dr. Dolittle and so many more made him the cream of the crop when it came to Hollywood blockbusters. His fame made him a good face to work for many brands and businesses further solidified him as one of the be-all, end-all stars in the film industry for the generations to come.
But, this star-studded life was not given to him on a silver platter his life has been one of absolute hardships and challenges that would break a man from the inside out.
With all that has happened with him on his journey to reach the pinnacle of the entertainment industry, one particular experience is one he was also very well known for. This was when Robert Downey Jr. was sentenced to life in prison.
Why Did Robert Downey Jr Go To Jail?
Robert Downey Jr., best known for playing Tony Stark in the Marvel Cinematic Universe, was not always the man that people know now. In April 1996, Robert Downey Jr. was pulled over while driving along Sunset Boulevard at high speeds for having possession of illicit substances like heroin, cocaine, and an unloaded 357 Magnum revolver. A month later, under the influence of a controlled substance, he broke into a neighbor's house and slept in one of their bedrooms. He received a three-year probation term and had to consent to mandatory drug testing. He failed one of the court-ordered drug tests, and in 1997 was given a six-month jail sentence in Los Angeles County. After battling multiple drug addictions and poor decision-making abilities during the coming years, the Iron Man actor received a prison sentence in 1999.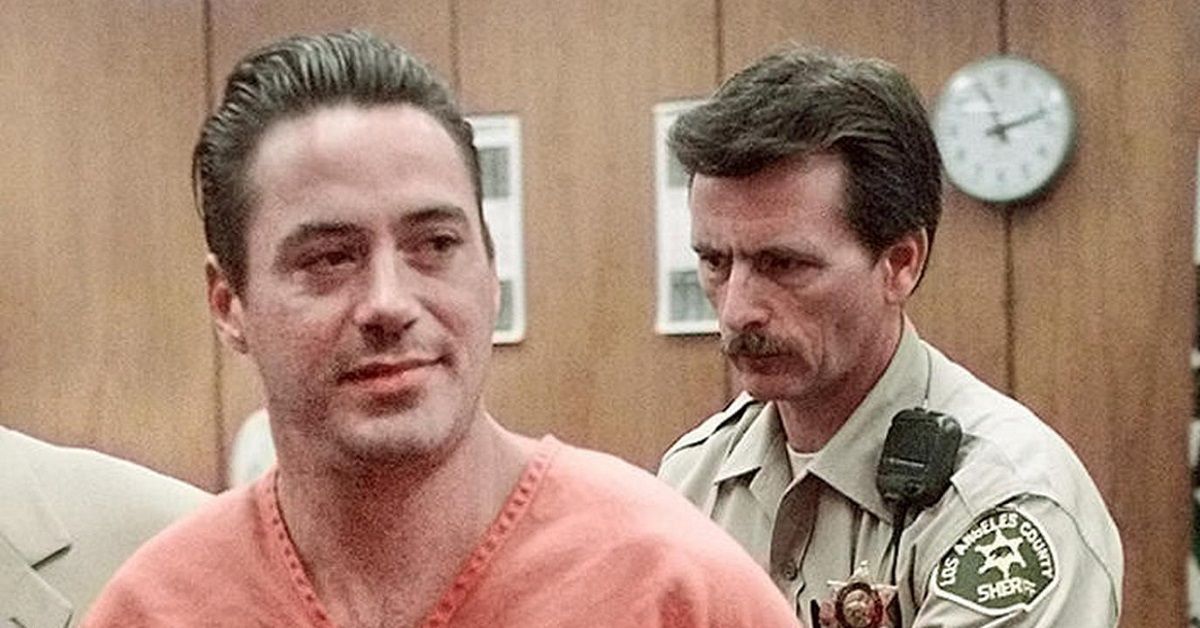 You may also like: From $500K to 75 Million, Robert Downey Jr's Earning From Avengers: Endgame Dwarfs Chris Evans and Mark Ruffalo's Salary
His 1999 arrest was the result of RDJ failing another court-mandated drug test and despite his lawyer's appeals, he was sentenced to three years in prison, which adversely affected all the gigs that he was to be a part of. He was sentenced to California Substance Abuse Treatment Facility and State Prison in Corcoran, California.
All these times that RDJ was condemned were the result of the drug abuse problems that he had faced during his younger days. Robert Downey Jr. has stated that he was introduced to drugs by his father Robert John Downey who was also a drug addict when he was just 8 years old. Since then, RDJ had been a serious abuser of illicit substances, until 2001, when he went into rehab for the last time. While in prison, he said that he deserved the sentence that was given to him, because he had done things that were wrong, and the time in prison gave him a chance to think about all of it, comprehend his decisions, and finally do something about it.
You may also like: 'Instructors did things that are considered illegal nowadays': Robert Downey Jr Revealed He Practices 'Traditional Wing Chun' – Kung Fu Legend Ip Man's Fighting Style
The Return Of Robert Downey Jr.
Robert Downey Jr. admitted that he had had enough of this life, and decided to do something about it. After facing another court-ordered rehab treatment in 2001, he decided to take it very seriously this time. Since 2003, RDJ has been clean without any problems of substance abuse whatsoever. After his glory days in the 1980s and early 1990s, he was forever immortalized as Iron Man in the Marvel Studios film of the same name. And from then on, he went on to become one of the best in the business. From Iron Man, he went on to appear in almost all of the films that the MCU had lined up till Avengers: Endgame, Where he played Tony Stark for the last time.
Iron Man proved to be the success story that would reinstate him as the industry's finest talent, and even skyrocketing his career to greater heights. He was inducted into Time magazine's 100 most influential people in the world in 2008, and Forbes ranked him as Hollywood's highest-paid actor from 2013 to 2015.
The story of Robert Downey Jr. is one of the immeasurable hardships, struggles, and battling the demons that held him down, but it is also a story of a man that overcame all of those challenges to become the undisputed legend that the world knows him for.
You may also like: 'You need an environment of respect': Robert Downey Jr Revealed Jon Favreau Improvised Everything in Iron Man, Left a Lot of People 'Frustrated'
Source: Everything Comedy