When I was a kid, one of the first jobs I ever wanted as an adult was to be a paleontologist. This became an even bigger dream when my parents introduced me to Jurassic Park. The Jurassic Park franchise is definitely a Top Five franchise for me (for one of my best friends, it's number #1). While the series has certainly had its highs and lows, there's something about those dinosaurs and that world that continues to appeal to all generations. The most recent film in the franchise, Jurassic World: Dominion, took a big bite out of the box office with a $143M opening weekend. In honor of that achievement, we decided to look back and rank the films from worst to best:
6. Jurassic World: Fallen Kingdom (FX or VOD)
 Is this the worst movie ever made? Absolutely not, but it pales in comparison to the original in every way. Much like The Lost World before it, Fallen Kingdom is a weaker sequel to Jurassic World and retreads some of the same story beats as well. The dinosaur auction alone is entirely ridiculous, with billionaires bidding on literal dinosaurs with prices that are pocket change to them. There are some fun horror elements thrown in as well, along with the return of Jeff Goldblum and a heartbreaking farewell to the Brachiosaurus. Those elements aren't enough to bring this film up higher on the list.
5. Jurassic Park III (HBO Max)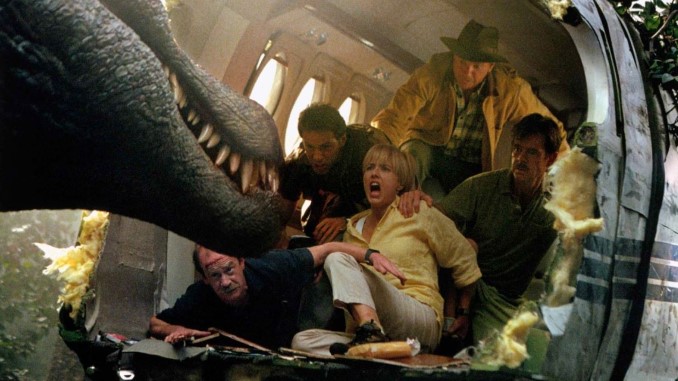 This is absolutely a guilty pleasure movie for me, talking raptor and all! It's like a big budget B-movie that's a quick 90 minute commitment to see some crazy dinosaur action. I had a poster for this film in my bedroom (obviously the Spinosaurus, who steals the show along with the Pterosaurs) and it was the first Jurassic Park film I saw in theaters, so it will always hold a special place in my heart, even if it's not a great movie.
4. The Lost World: Jurassic Park (HBO Max)
Even a decent Spielberg movie is still a fun time, and The Lost World definitely proves that. Seeing Jeff Goldblum take center stage is always a delight, and Dr. Malcolm certainly gets put through the ringer in this one; he even gets to deal with the raptors this time! Julianne Moore and Vince Vaughn are nice additions to the ensemble cast, as well as getting to see Sir Richard Attenborough back one more time as Dr. Hammond. The dinosaurs still look great but it just doesn't have the same spark as the original.
3. Jurassic World Dominion (Theaters)
It took seeing the movie twice to put it about The Lost World for me, but I definitely had a great time with Dominion. It does a good job of giving the Jurassic Park and Jurassic World characters time to shine, both individually and together. The MVP of the film though is Bryce Dallas Howard, who has the best character arc from Jurassic World to Dominion. She is absolutely committed and you can tell that from her performance. We get a nice callback with our villain, but we don't get enough time with them and we lose focus on the dinosaurs by focusing on something else (keeping it spoiler free if you haven't seen it yet). It's definitely worth watching in theaters, so if you haven't seen it yet you should!
2. Jurassic World (FX or VOD)
Does it lean heavily on nostalgia by letting us see what John Hammond envisioned from the beginning? Absolutely, but it does it beautifully. It's truly a thrill to see what Jurassic Park envisioned up and running on such a massive scale and a wonderful variety of dinosaurs. The visuals are great throughout and the new characters we meet are interesting, from Chris Pratt's raptor wrangler to Bryce Dallas Howard as a business woman who definitely means business. It also gives us a connection to the original by bringing back B.D. Wong as Dr. Henry Wu. It's no Jurassic Park, but it definitely delivers on that dream.
1. Jurassic Park (HBO Max)
The one that started it all is the one that reigns supreme; a masterpiece in every sense of the word. Spielberg takes what he did with Jaws that was so effective and applies it to the dinosaurs perfectly. I finally got the chance to see it in theaters in a double feature with Jurassic World: Dominion, and it was even better on the big screen. There's real tension and terror in not seeing the dinosaurs and the payoff when we do is still satisfying. The effects still hold up as well and you couldn't ask for a better cast of characters for this film. If you for some reason still haven't seen Jurassic Park, you need to fix that now!
Follow us for more entertainment coverage on Facebook, Twitter, Instagram, and YouTube.