Back in May, Zack Snyder confirmed that HBO Max had agreed to finance and release his version of the Justice League, or more commonly known as the Snyder Cut. After the tragic death of his daughter, Zack Snyder had stepped down from the movie, which made Warner Bros. hire director Joss Whedon resulting in a critical and commercial disaster.
Related: Snyder Cut: You Probably Missed This Subtle Joker Easter Egg
As a result of artistic differences, Justice League was an absolute mess marred with horrible CGI, a wisecracking Batman, and a forgettable plot. However, Zack Snyder's set photos on Vero soon gained traction among the fans of his previous movies. After taking it to Twitter, the campaign #ReleaseTheSnyderCut was also shared by actors Ben Affleck, Henry Cavill, Gal Gadot, Jason Momoa, and Ray Fisher which prompted HBO Max to pick up the unfinished project.
Related: Aquaman Animated Miniseries Coming To HBO Max
Earlier this year, Zack Snyder had confirmed that his Snyder Cut will mostly feature the unused footages with minimal reshoots. However, his Justice League is staying true to the original claim of being drastically different from Joss Whedon's cut by adding new footages with reports of re-shoots making the rounds.
NEWS
After the news of Ben Affleck and Jared Leto returning for a few re-shoots were confirmed days ago, another major character is set to have a larger role in the upcoming Justice League Snyder Cut. Aquaman star Amber Heard is reportedly returning for filming additional footage as Queen Mera in Zack Snyder's Justice League. Joining Affleck, Leto, and Fisher, Amber Heard is all set to join the cast for filming, according to The Hollywood Reporter.
Related: Aquaman 2: This Popular Star Might Replace Amber Heard!
What Does This Mean For Amber Heard?
In the Joss Whedon version of Justice League, Amber Heard's Mera had a minor role to play. In an underwater scene, Mera was tasked with protecting one of the three Mother Boxes placed on Earth. In the scene, Steppenwolf appears and defeats her. Soon after, Aquaman comes to her rescue but fails to protect the Mother Box from Steppenwolf.
Related: Justice League: Snyder Filming New Scenes With Affleck, Gadot, Fisher
Apart from a short fighting sequence and an admonishing speech to Arthur Curry, Amber Heard's Mera sans the iconic red hair did not have any significant role in Justice League. Despite being a powerful ally and the commander of the Atlantean Guard, Mera was pushed to a minor role in the movie.
However, Amber Heard's on-going legal battle with former partner Johnny Depp has cast doubts over her return as Queen Mera in the DC Extended Universe. Earlier, it was rumored that Amber Heard might be replaced by another popular actress in the upcoming Aquaman 2.
The news of Amber Heard returning as Mera for the Snyder Cut is exciting news for fans of the red-haired badass. Having trained under Queen Atlanna herself, Mera is one of the most powerful Atlanteans. As it has already been established that Darkseid and his army were defeated earlier by the alliance made of Atlanteans, Amazonians, Humans, and other extra-terrestrial beings, Mera might be more than just a supporting character in the movie.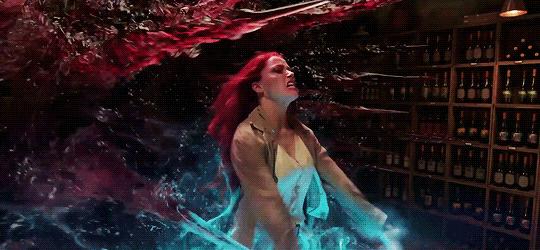 As the movie is set before Aquaman in the DCEU timeline, a more fleshed out Mera will surely help in creating the much-needed depth for the relationship between her and Aquaman. Also, more underwater fighting sequences, for sure!
Zack Snyder's Justice League is set to release in early 2021 exclusively on HBO Max.