Life is likely to take one through several twists and turns, and one might end up doing the opposite of what they had planned to do simply owing to the curious vagaries of the society we live in. Such a case is perhaps stuntman Chad Stahelski's, who started out as a stunt double, then a martial arts trainer, and has finally ended up directing movies himself.
Read More: Blade Reboot Faces Major Setback as Director Bassam Tariq Departs, Fans Believes John Wick Director Chad Stahelski is the Next Best Choice
Stahelski is best known for his incredible success with the John Wick franchise. He started out as a stunt double for Keanu Reeves, who plays the eponymous assassin John Wick, and has now gone to direct the last installment of the popular franchise. As it turns out, however, the stuntman-turned-director might have some disappointing news in store for fans of the franchise.
Chad Stahelski talks about the future of John Wick franchise
In an interaction with The Hollywood Reporter, Chad Stahelski talked about how careful he is with his casting, and how the $586 million John Wick franchise started out with the creatives choosing to spend more on casting and different locations than simply bigger explosions.
"…we watched the other franchises that threw money at just paying everybody more or on a couple bigger explosions. It's great for the trailer, but there's no meat on the bone. Then we decided to spend what extra money we got to go shoot in three or four countries and be very careful in our casting." said Stahelski.
The product is evident in the immediate success of the film series.
Know More: After the Success of The Last of Us, John Wick Director Chad Stahelski Wants To Do a 'Ghost of Tsushima' Movie: "Would be my favorite film to do"
Stahelski had some more news, a little of which was disappointing. When asked about a fifth title in the John Wick franchise, Stahelski said he and lead actor Keanu Reeves had decided to give it 'a rest'.
"In our minds, Keanu and I are done for the moment. We're going to give John Wick a rest. I'm sure the studio has a plan. If everyone loves it and it goes kooky, then we'll take a quiet minute… Keanu and I will take the long trip to Tokyo, we'll sit in the Imperial Hotel Scotch Bar and go, "What do you think?" We'll have a couple 20-year-old whiskies and write some ideas on napkins. If those ideas stick, maybe we'll make a movie." said the director.
Fans will be hanging on to every word of all those associated with the film franchise from hereon, and understandably so.
"Real firearms not necessary": director Chad Stahelski
Stahelski is one of the fittest directors going around, owing to his history with physical stunts. After having discussed stunts and how actors like Reeves and Tom Cruise do a lot of their own stunts, Stahelski took a moment to talk about weapons and firearms used in the movies and on sets. Training with nunchucks and the like requires a lot of mental strength, according to the director, which most actors he has worked with possess aplenty.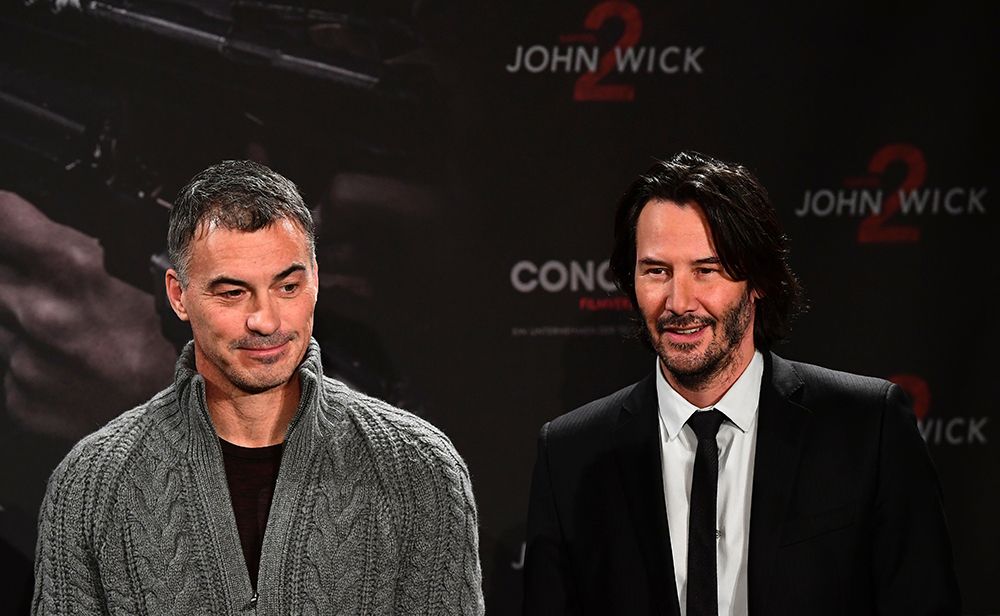 Read More: Director Chad Stahelski Defends John Wick 4 Having The 'Longest runtime': "We have a little bit of world-building"
A recent incident of Alec Baldwin's firearm going off on set by accident which caused a cinematographer's death was in the back of the mind as Stahelski went on to talk about how unnecessary real firearms are on set these days with the advent of CGI and technology.
"…let's just talk about firearms. Back in the day, when it all started, they came up with blanks… the concussive force coming out at the end of the barrel would be enough to shatter your skull. Accidents like that did happen and people died because of it. But in the past 10 years, they've come out with electronic guns, plug guns where it is impossible for anything to come out of the barrel and total CG…my feeling is that there's no reason to have a live firearm on set. We can create cities and spaceships and Godzilla and… we have the technology to do the same with firearms… for prop houses, armorers or supply houses to switch over… it would cost certain people a great deal of money to switch over." 
Stahelski's opinions on firearms and their use on set come with the backdrop of much use of firearms shown in the John Wick franchise itself, highlighting how action films and sequences can be made very well without the need for real firearms.
John Wick: Chapter 4 will hit theatres on 24th March, 2023.
Source: The Hollywood Reporter