Money may be a necessity for us common folks. But for these celebs, it's just a means to an end. They have so much and spend so much, money's almost a hindrance to them.
Victoria Beckham – Golden iPhone – $34,000
Former Spice Girl Victoria Beckham is known as a style icon. No ordinary phone would do. She had an iPhone custom made by Stuart Hughes with 150 grams of 24 Karat gold. She also has a gold plated iPad she regularly flaunts.
Lady Gaga – Ghost Detector – $50,000
Lady Gaga has the voice of an angel. But she is one weird lady. And that's why we love her. Gaga is a firm believer in the supernatural. She bought an electromagnetic field detector used by professional paranormal investigators. The price of the Ghost Detector was a little north of 50,000 dollars.
Justin Bieber – Batmobile – $100,000
We all love Batman. But looks like Justin Bieber loves Batman a little too much. A few years ago, Bieber bought a customized Batmobile, complete with the Batman logo, matte black finish and suicide doors. And he happily shelled out a 100,000 dollars for it.
Beyoncé – Leggings – $100,000
While her husband is off spending a quarter million dollars on booze (more on that in a bit). Beyoncé bought a pair of gold lined leggings for the 2007 BET awards. Nothing but the very best for her.
Miley Cyrus – Dog Car – $125,000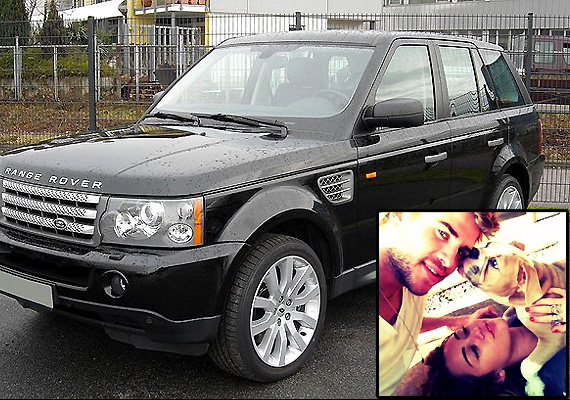 Happy, Bean, Floyd, Mary Jane, and Penny Lane – you wish you were one of these dogs. Miley Cyrus is so concerned about her dogs' welfare that she popped 125,000 dollars for a Range Rover to personally transport them.
Ashton Kutcher – Ticket To Space – $200,000
It remains unclear when he will get to face the final frontier. But Kutcher has a seat reserved in Virgin Galactic's Spaceship Two.
Jay-Z – Champagne Bill – $250,000
During the promotion of his new album – Watch The Throne – in Miami, Jay-Z ordered numerous bottles of an expensive champagne called Ace of Spades. The lucky waiters that day walked away with a 50,000 dollar tip.
Nicolas Cage – Dinosaur Skull – $276,000
We were all once obsessed with dinosaurs when we were kids. Nicolas Cage, the Oscar winning actor never outgrew that obsession. He outbid Leonardo DiCaprio for a T-Rex skull being auctioned. The paleontologist that sold him the skull later pleaded guilty of illegal smuggling of fossils from Asia.
Kim Kardashian – Gold Plated Toilets – $750,000
Kam Kardashian is one attention hungry woman. And she makes loads of money off of it. A while ago, she dropped another hard hitting 'look how poor you are' bomb. She and her husband Kanye west bought a couple of gold plated toilets for 750,000 dollars.
Celine Dion – Humidifier – $2 Million
Known for her extravagant lifestyle when it comes to her beauty routines, Celine Dion made heads turn when she bought a humidifier for a stupendous sum of 2 Million dollars. We hope it can pump enough humidity to make the Long Island beach pale in comparison.
Mike Tyson – Tigers – $2.4 Million
This is an example of super dumb investments. Mike Tyson had it all. His boxing career helped him amass more than 300 Million dollars in his bank account. And where did he spend it on? He bought three Bengal Tigers for millions of dollar. It took 1500 dollars a day to feed them all.
James Cameron – Walnut Farm – $20 Million
In 2013, celebrated film-maker and director James Cameron revealed he has been given permission by the New Zealand government. The permit was to buy and operate a Walnut farm called Pinnacle Grove in the country. Cameron hails from a long line of farmers so we are not surprised he would spend so much on this farm.
Kim Basinger -Her Very Own Private Town – $20 Million
Basinger takes the cake for the most stupid and outrageous celebrity purchase. Even though she is number two on this list, you will know soon enough why. Basinger bought most of Braselton, Georgia (1751 Acres) for a whopping sum of 20 Million. Her plan was to turn it into a theme park and film studio. She was later forced to sell it for a paltry sum of 1 Million. Now you know why.
Jay-Z – Racehorse – $55 Million
He is the only celebrity to be featured twice on this list. Jay-Z bought the champion racehorse – California Chrome in 2014. he paid 55 Million dollars for that animal. The horse won the Kentucky Derby so it is most likely a very good investment for Jay-Z. The costs of maintaining the horse are very high though.