Marvel has released a brand new episode of their "What If…?" series. Up until this point, all of the episodes had addressed serious turnovers. Nevertheless, this episode is a bit funny, and nobody dies in it. Marvel's "What If…? Thor was the only child?" tells the story of Thor if he was the only child that Odin raised. So here we are with 25 epic details from the Marvel's What If…? episode 7.
1. Let us begin our list of details from the Marvel's What If…? episode 7 with the scene where Odin falls into Odin Sleep. We saw the same thing in Thor (2011). However, in the original version, Loki tries to take the throne.
2. We see the Infinity Gauntlet in Odin's treasure room. We can see the same gauntlet in Thor: Ragnarok to which Hela refers to as fake.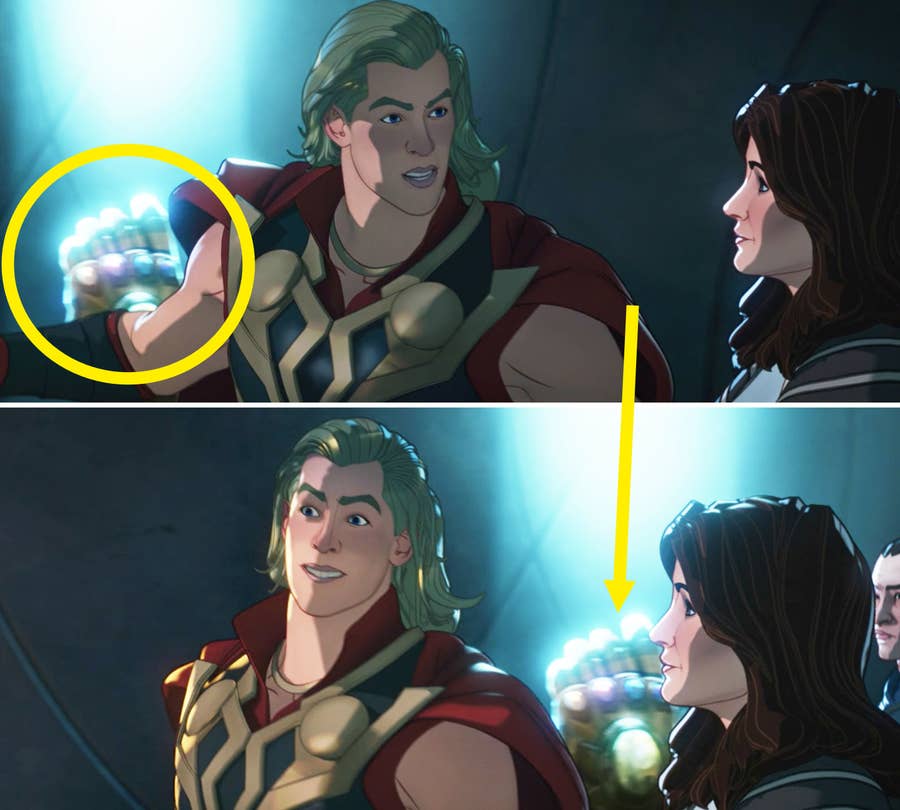 3. The pineapple shirt here may be a nod to Taika Waititi's pineapple shirt from Comic-Con. The shirt is also depicted in Avengers: Endgame on Korg. 
4. We see Grandmaster and Topaz enjoying a cake, and Topaz carries the Melting Stick from Thor: Ragnarok. 
5. When Thor offers Skurge a drink, he says that it will never end. This is a nod to the glass that Dr. Strange offers Thor in Thor: Ragnarok.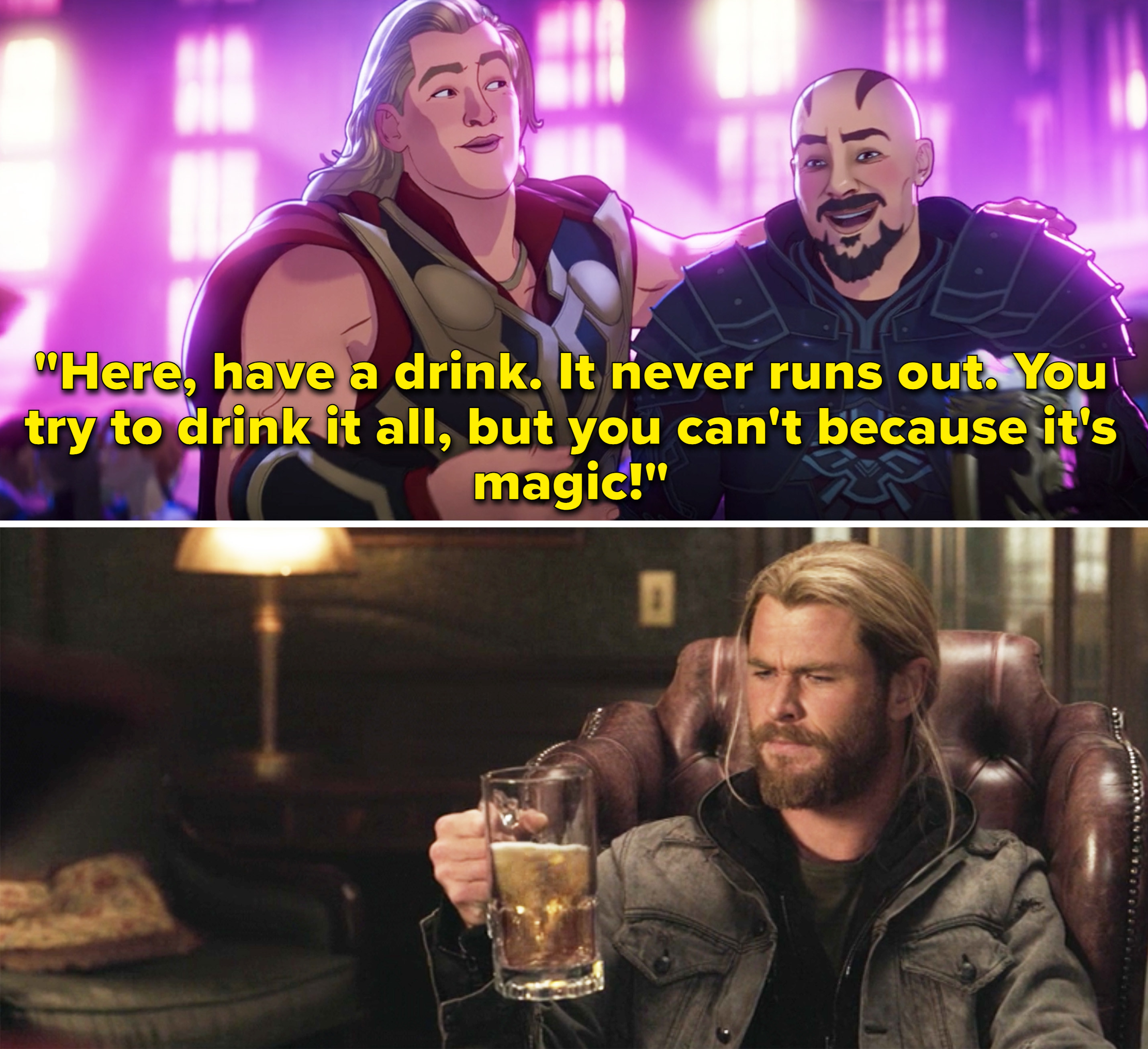 6. This scene flickers, but it's pretty evident that Valkyrie and Drax are hanging out at the party in Las Vegas.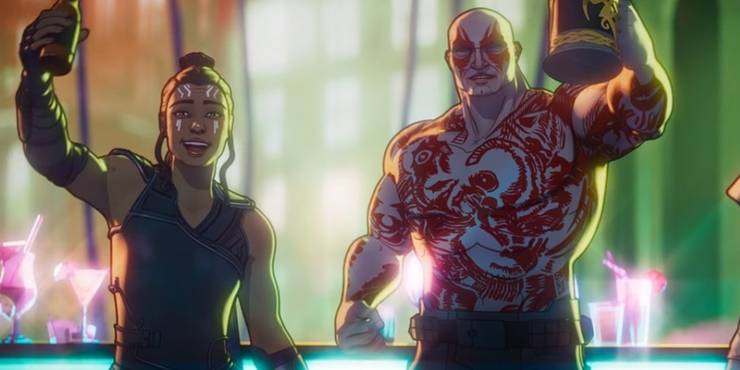 7. The book Elvis is reading out of when he's marrying Darcy and Howard the Duck states, "Love Me Tender," an Elvis song.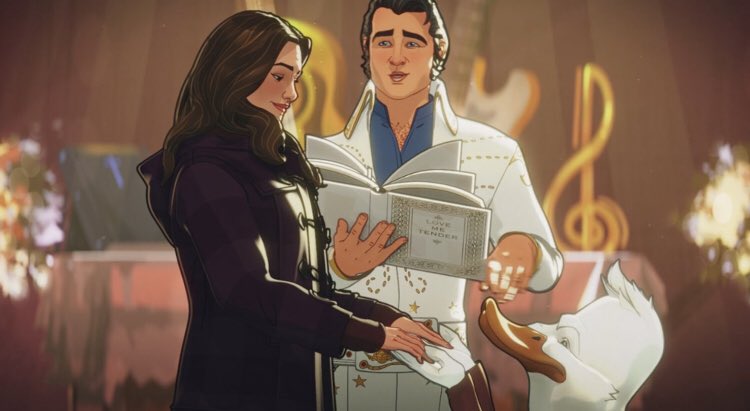 8. You can hear Thor talking about a rabbit in the sink when Jane talks to Maria Hill, and Jane spotted Rocket sleeping there earlier. It's just a great nod to Thor in Avengers: Infinity War and Endgame calling Rocket a rabbit.
9. Thor takes a selfie with two Sovereign members from Guardians of the Galaxy Vol. 2.
10. As he did to Loki in Thor, Thor pins Captain Marvel to the ground with his hammer at the end of their fight.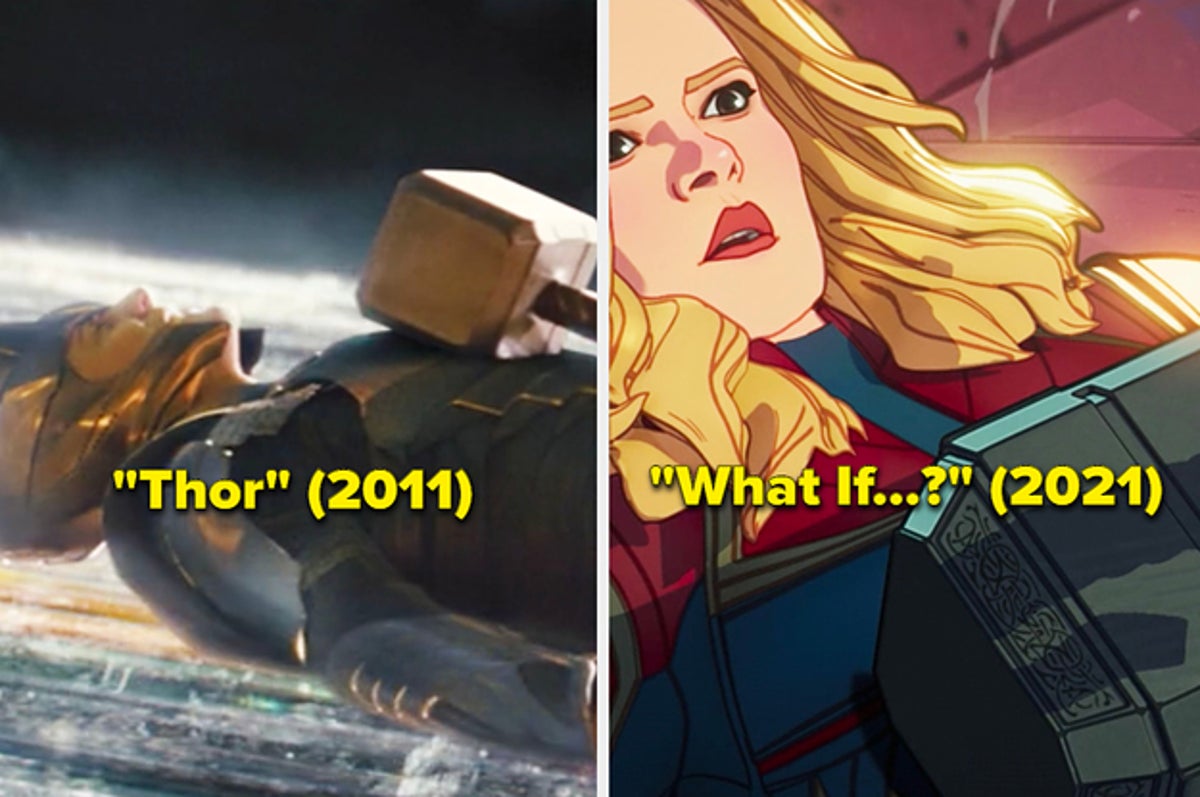 11. We can also see the Surtur from Thor: Ragnarok talking to the statue of liberty.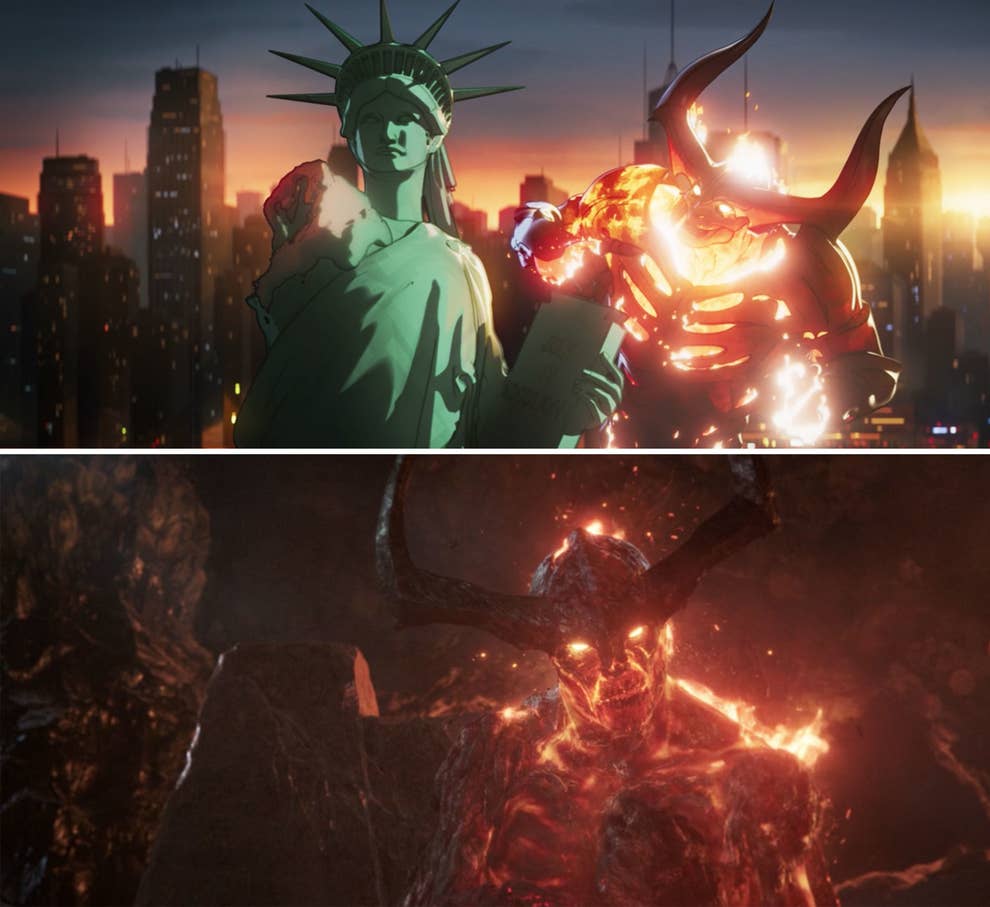 12. While talking to the Statue, Surtur says he has a crown that is a nod to the crown Thor was fetching in Thor: Ragnarok. 
13. Loki describes Thor as the son of a witch when he first arrives. Since Frigga helped Loki learn magic, it's sarcastically true.
14. Frost Giants used the Casket of Ancient Winters from Thor to make some ice sculptures on Mount Rushmore.
15. We can also spot Mantis dancing with Korg on the Sydney Harbour Bridge. 
16. When Thor throws his Mjollnir, it surprisingly hits Captain Marvel while coming back. Thor calls it a Hammerrang Technique. 
17. When the fight between Thor and Captain Marvel intensifies, Loki says, " Here we go, Here we go." This shows how excited he is for this fight. 
18. Thor spun his hammer so fast that it became difficult for the bystanders to hold their ground. 
19. Captain Marvel absorbed all the lightning by Thor's hammer. Energy absorption is one of the main powers of Captain Marvel. 
20. During Captain Marvel's search for Lawson's records, Fury and Carol are distracted by a cat, which also happens in this episode when Maria jokes about Captain Marvel being distracted by a cat.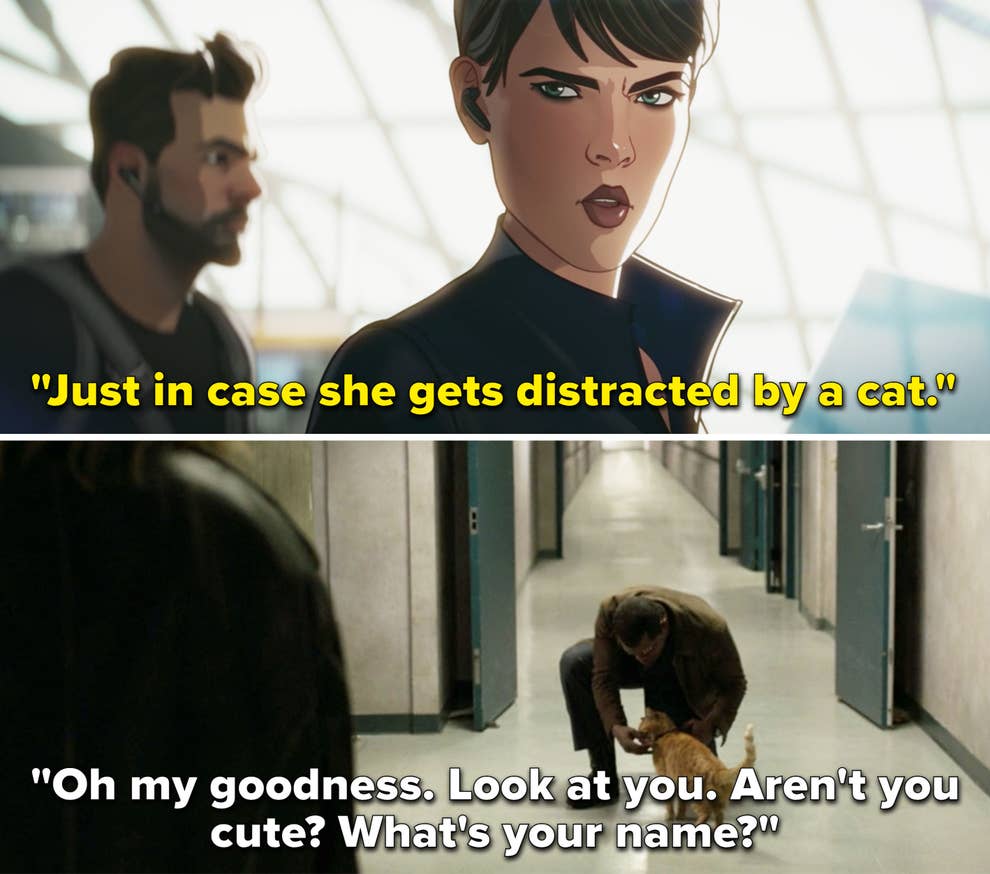 21. Thor tells Captain Marvel to smile while they are fighting on the mountain, a nod to the scene in Captain Marvel where the biker tells Carol to do the same, and then Carol steals his motorbike.
22. You can see Yondu standing next to Drax when Thor tells everyone they need to leave Earth.
23. We can also spot Nebula at the end of the party. 
24. At the end of the party, Nebula says that her dad is calling, which is a nod to Thanos. 
25. Thor straightens the leaning tower of Pisa, as Christopher Reeve's Superman did in "Superman III" while cleaning up the mess he caused.
So these were the 25 Easter Eggs from Marvel's What If..? Episode 7.
Also, watch the Teaser Trailer for Spider-Man: No Way home on our YouTube Channel: