The MCU is mostly fun and best known for Its epic battles, sloping story arcs but it has also shared its fair share of heartbreaking moments. The Infinity Saga takes away 23 movies of MCU. From Ironman to Avengers: Endgame, it has truly made its audience emotionally invested in this immense story arc. The film lineup of Infinite Saga is more like an emotional coaster that also includes Ironman's one of the saddest moments in the history of MCU. Along with other franchises, it had also shared some of the most heartbreaking quotes during its journey. Let's have a look at the most heartbreaking Infinite Saga quotes of MCU.
"I Don't Care. He Killed My Mom."- Tony Stark/ Captain America Civil War
Caption America: Civil War has featured one of the most tragic scenes in the entire Infinite Saga of MCU. The giant battle between Tony Stark, Bucky Barnes, and Steve Rogers took place during the final act of the movie. After discovering that Bucky killed his parents, as a response Tony's natural feelings were amplified. Even though Steve tried to console him, he was so overwhelmed at that moment. It's easily one of the most heart-breaking Infinity Saga quotes.
"Well, If I'm Wrong, Then…What More Could I Lose?"- Thor/Avengers: Infinity War
Being one of the most powerful heroes of MCU, Thor tried to take out Thanos. During Avengers: Infinity War, he is seen so determined to find the weapon that will help him to kill Thanos. Killing Thanos was his only purpose as he had been through a lot. He not only lost his family but also lost his best friend and his home. So if he fails to destroy Thanos, he is left with nothing.
"Come On, Spider-Man! Come On, Spider-Man!"- Peter Parker/Spider-Man: Homecoming
The Infinite Saga offered us deeply dramatic turning points that changed every single character in the franchise. Tom Holland's version of Peter Parker was much younger and overconfident. He handled the action-packed scenes with a sheer level of fear and panic. He said those words to cheer himself up when he got trapped under a pile of rubble.
"I Ignored My Destiny Once, I Cannot Do That Again, Even For You. I'm sorry, Little One."- Thanos/Avengers: Infinity War
The character of Thanos portrays consistency. He knew the Soul Stone would possibly cost him something hefty but he was okay to let go even of his closest things. He sacrificed his adopted daughter to earn the stone. However, he regretted his decision later and wished he'd have never let that happen. It was certainly an emotional quote of the saga.
"You Can Rest Now"- Pepper Potts/Avengers: Endgame
In the bittersweet ending scene of Endgame, both of them realized they are about to part ways for good and tried to console each other. After Tony successfully snapped Thanos and his army outta existence, he was brutally injured. At that moment the relationship between Pepper knew their relationship is going to end and both of them comforted each other so that Tony could finally rest in peace.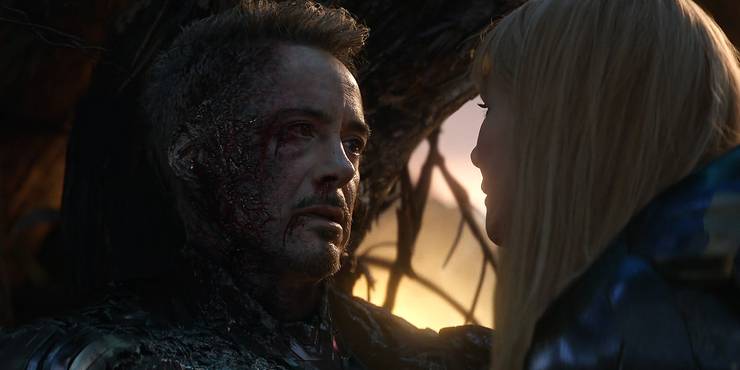 Tell us which one of these quotes made you cry.
Don't forget to subscribe to our Youtube Channel for more video content. Here's an attached link to one. Check it out: