2018 was a strange and wonderful year for movies. Blockbusters and Indies alike took big swings – this resulted in some impressively intelligent, personal, and resonant big-budget film-making. It also resulted in some unique smaller scale films. But, alas, with big swings inevitably comes some big misses. Usually I find myself agreeing with the bulk of critics when it comes to the year's awards darlings. By and large, they're up for awards for a reason; however, this year, with an excellent blockbuster season to measure up to, the big awards movies just haven't lived up in comparison.
That's not to take away from the quality of the films up for awards – quite the contrary. The quality of the (good) blockbusters of 2018 simply suggests that they should no longer be considered just "popcorn-selling entertainment for the masses" and be viewed as an equal form of art that stands shoulder-to-shoulder with the usual awards season "indies." Are we really going to be talking about the cultural impact of Green Book or The Favourite years from now? Or should we applaud and award bigger films for mixing spectacle with writing that doesn't talk down to an audience – essentially mixing the large scale effects with the gravitas of a smaller scale feature?
As you'll see by my Top 10 list below, I tend to lean towards the latter…So, here goes nothing:
1. Avengers: Infinity War
Yet again, Marvel Studios and the Russo Brothers manage to make compelling large-scale entertainment, taking an impossibly huge (and ever-expanding) list of characters and making all feel necessary and integral to the plot. That alone is worthy of praise, but the fact that they then took interesting chances and left fan expectations in a heap of ash is what makes it one of the most re-watchable and enjoyable films of 2018, despite a nearly 3 hour runtime. BRAVO, Russos! Bring on the Endgame!
2. Spider-Man: Into the Spider-Verse
I'm sure no one expected Spider-Man: Into the Spider-Verse to be anywhere near their top ten, and yet, here we are. Spider-Verse threads every needle it sets out to with ease and, in doing so, creates quite possibly the best Spider-Man movie ever. It's more personal, more colorful, more unique, and more heartfelt than any of its many predecessors by quite a margin.  Plus, dat cast…
3. Black Panther
Yes, this one is shattering all of the preconceived notions of what a blockbuster can be and is starting conversations left and right, but is it really that good? Upon first viewing, while I liked it a great deal, I wasn't sure. Upon multiple re-watches and discussions, it becomes more and more apparent how excellent it is and just how impactful Black Panther will be on film history. It, along with the above-mentioned Spider-Verse, also show how truly magnificent diversity in front of and behind the camera can be, even for a worldwide audience.
4. Mission: Impossible – Fallout
How are the Mission: Impossible movies still good?! Not only that, how are they improving?! How is Tom Cruise not dead from these movies?!! Apparently, the answer for all of those questions is long-time Cruise collaborator, writer/director, Christopher McQuarrie. Fallout is impossibly the biggest and most personal Mission yet. It's an astounding feat of technical wizardry and on-the-fly writing that only McQuarrie can deliver with such precision. Here's hoping McQuarrie is involved with the next Mission in  some way or another…
5. A Star Is Born
Bradley Cooper basically had nothing but reasons to NOT make A Star Is Born, and yet, he nailed it. The fact that this is Mr. Cooper's directorial debut makes it an even more impressive feat. Cooper and Lady Gaga's chemistry is off the charts, the music is outstanding, the cinematography is beautiful, and Cooper also manages to re-write this well-worn tale in a way that makes it contemporary and the best iteration of the story, by far.  So, yes, Bradley Cooper is a great writer, director, actor, singer – plus he's a gorgeous, hilarious man who dates supermodels. The nerve of this guy…
6. First Man
Despite a real lack of love this awards season, I can say with absolute certainty that director Damien Chazelle (Whiplash, La La Land) has made a film that stands shoulder-to-shoulder with not only his previous films, but any other space thriller of its ilk. Gosling is predictably fantastic as the quiet and internally combusting Neil Armstrong, but it's Chazelle's cinematographer, Linus Sandgren, and writer, Josh Singer, elevate the film from "just another space thriller" to an intense biopic that feels incredibly personal and real. It may have lost money, but it made a bigger fan out of me.
7. Deadpool 2
More people should be talking about how outstanding Deadpool 2 is. Part of the magic of the first Deadpool is how it caught people by surprise, so the sequel automatically had an uphill battle when it came to expectations. Even so, Deadpool 2 managed to gather impressive reviews and made nearly the same (insane) amount of money as the original. It was also one of the most hilarious theatrical experiences I've ever been a part of – granted, I caught an early screening full of fans, but it earned every laugh. Personally, I prefer it to the original, as it's more complex and takes bigger swings in all directions while maintaining the laughs people expect. Here's hoping Disney doesn't meddle with what's working.
8. The Incredibles 2
The Incredibles 2 is another sequel that deserves more credit. The first Incredibles came about before the big boom of superhero cinema, and, in turn, didn't have to deal with the baggage that came along with it. Either way, in many a fan's eyes, it became the gold standard of superhero team-up movies – animated or live-action. Brad Bird and Pixar returned to the franchise in a whole new world dominated by superhero films. On top of that, they had to compete with the original classic. What they delivered was a movie that earns its place among the new classic superhero films, while also feeling very much like a piece of the same pie that produced the first Incredibles movie. It's got the same great characters, charm, and heart, plus all of the benefits of recent animation advancements to make the action truly soar.
9. Bad Times at the El Royale
Writer/director Drew Goddard proves that the insanity, smarts, and style of Cabin in the Woods was no fluke. With Bad Times, he cements himself even more as a director with a very talented eye and sense of flair. I can't wait to see what Drew does with a bigger budget.
10. Hearts Beat Loud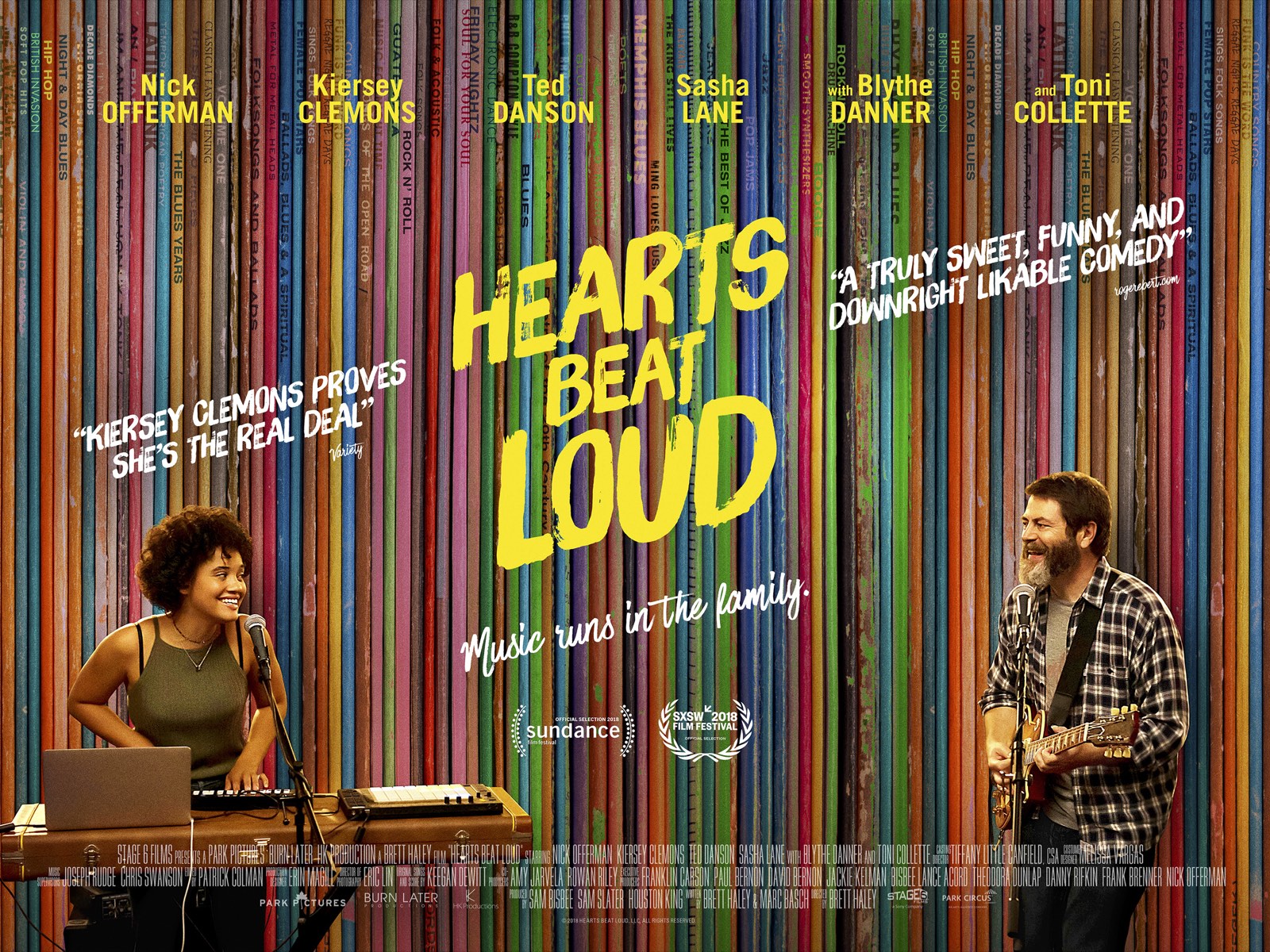 While I certainly could have named other movies that were equally as good to close out the list, Hearts Beat Loud needs a little love. Writer/director Bret Haley's little indie about an unlikely father/daughter songwriting team is full of heart, good tunes, and great performances from Nick Offerman, Toni Collette, Ted Danson, and Kiersey Clemons. If you like movies about musicians or the music-obsessed (High Fidelity, Once, Begin Again, Sing Street, Almost Famous), this one is worth tracking down.
Honorable Mentions: Leave No Trace, Ready Player One, Searching, Creed 2, Hereditary, A Quiet Place, Halloween, Blackkklansman, Eighth Grade, Won't You Be My Neighbor?, Aquaman, Love Simon, Juliet, Naked, You Were Never Really Here