For once a year every year, Hollywood and its billions of fans worldwide come to a standstill as the Academy of Motion Picture Arts and Sciences hands out its Academy Awards to deserving candidates across the fields of cinematography. The Academy Awards, popularly and officially known as the Oscars, serve as what many believe to be the top award in Hollywood.
The Oscars 2023 are being held at the Dolby Theatre in Los Angeles, with the entirety of Hollywood's who's who in attendance. Movies like Everything Everywhere All At Once, Top Gun: Maverick and The Banshees of Inisherin broke the Internet in 2022 and are nominated across categories at the Oscars. Everything Everywhere All At Once has bagged two Oscars already, in the form of Jamie Lee Curtis picked up the award for Best Supporting Actress, and Ke Huy Quan winning Best Supporting Actor.
Ke Huy Quan picks up first Oscar, sends an emotional message to mom and brother
Everything Everywhere All At Once received widespread critical acclaim as it portrayed new concepts of parallel universes and multiversal concepts outside of superhero franchises. Its refreshing take on the plot, cinematography, and direction earned it accolades at several prestigious award ceremonies already. Ke Huy Quan won Best Supporting Actor at the Oscars 2023 for his role as Waymond Wang, the husband of the lead character, in the movie, while Jamie Lee Curtis won Best Supporting Actress.
"Mom, I just won an Oscar!" Ke Huy Quan sobs as he accepts the #Oscar for Best Supporting Actor. https://t.co/ndiKiHfmID pic.twitter.com/92QIp3PRmS

— Variety (@Variety) March 13, 2023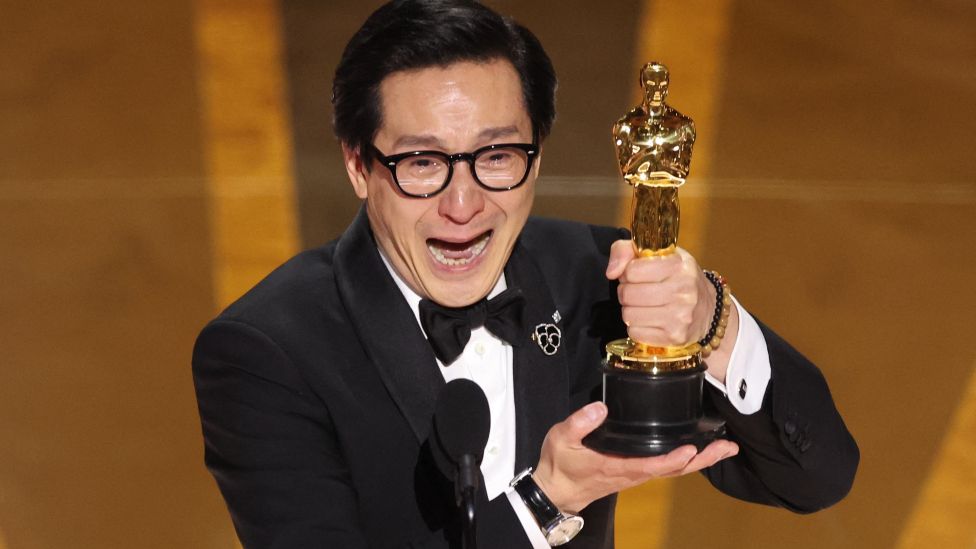 Know more: Academy Awards 2023 – When and Where to Watch Oscars Live?
Ke Huy Quan turned emotional upon receiving the award, and after taking a few moments to compose himself, sent a message to his 84-year-old mother.
"Thank you, thank you…my mom is 84 years old, and she is at home watching. Mom, I just won an Oscar!" cried an emotional Quan, causing the audience to cheer on the loving gesture. "…[Thank you] to my little brother, David, who calls me every day just to remind me to take care of myself. I love you, brother," added Quan.
'THIS IS THE AMERICAN DREAM'

Vietnamese-born actor Ke Huy Quan turns emotional while delivering his acceptance speech at the 95th Academy Awards. pic.twitter.com/Gfy3EH5UEt

— Inquirer (@inquirerdotnet) March 13, 2023
Quan spoke about how his life had started on a boat, and he had to spend a year in a refugee camp, only to wind up here on the biggest stage of Hollywood. He called it the 'Great American Dream' and reminded viewers to never give up on their dreams.
Everything Everywhere All At Once leading the room with eleven nominations
Everything Everywhere All At Once swept the SAG Awards earlier with a record-breaking four wins, to which fans reacted largely cryptically, saying that the SAG Awards were setting them up for an Oscar bust, as has been the case with most movies, although the sci-fi comedy-drama fully deserves to go the distance at the Oscars.
Read More: Why Everything Everywhere All At Once Is The Perfect Multiverse Movie (VIDEO)
At the moment, though, things look good for the movie, with it leading the pack with eleven nominations and two wins already, with a nomination each for Best Original Screenplay, Best Picture, and Best Actress – Michelle Yeoh – waiting in the wings. Even at the time of writing, fans across the world had their fingers crossed for a positive response from the Academy for the movie which won hearts globally.
Source: Twitter