Before the arrival of Disney's OTT platform, Marvel Entertainment on the TV side of things managed to achieve something unique with their offering of Marvel's Daredevil in partnership with Netflix. By bringing the story of the Devil of Hell's Kitchen to life, Netflix was able to attract a lot of viewers who wanted something apart from the crop of Marvel Studios' films at the time. And with its popularity surging higher with each episode, they also brought other superheroes from Marvel Comics to the screen.
Along with Daredevil, we saw the emergence of Jessica Jones, Luke Cage, and Danny Rand from the pages of Marvel Comics, each with their superhero alter egos ready to take on any threat to the world. But after the acquisition of Marvel Entertainment by Marvel Studios, the shows were canceled, which left us with the question of these characters' return. While we now know that Charlie Cox is part of the MCU, there might be a chance that Jessica Jones and Luke Cage might be making a comeback as well.
Luke Cage And Jessica Jones Might Be Making Their MCU Debut In Daredevil: Born Again
Along with Daredevil in Marvel Entertainment's arsenal, the existence of shows like Jessica Jones starring Krysten Ritter, and Luke Cage starring Mike Colter was introduced to lead up to a team-up of these characters to make The Defenders. But when Marvel Studios took over Marvel Entertainment, the future of the character's return was in doubt. But a recent Instagram story put out by Ritter has sparked rumors of Jessica Jones and Luke Cage making their MCU debut in the upcoming Daredevil: Born Again.
You may also like: "Don't think anyone should read into the name": Daredevil: Born Again Already Digressing From Comic Books, Charlie Cox Confirms Frank Miller Story Isn't the Blueprint
The story that was put out a couple of days ago by Ritter included herself as well as Mike Colter, who were seen hanging out together. Along with them, the caption 'Hey, Hey Power Man' was written. While the appearance of both of them has been noticed earlier on several different occasions, this appearance has seriously been hitting fans with doses of hope.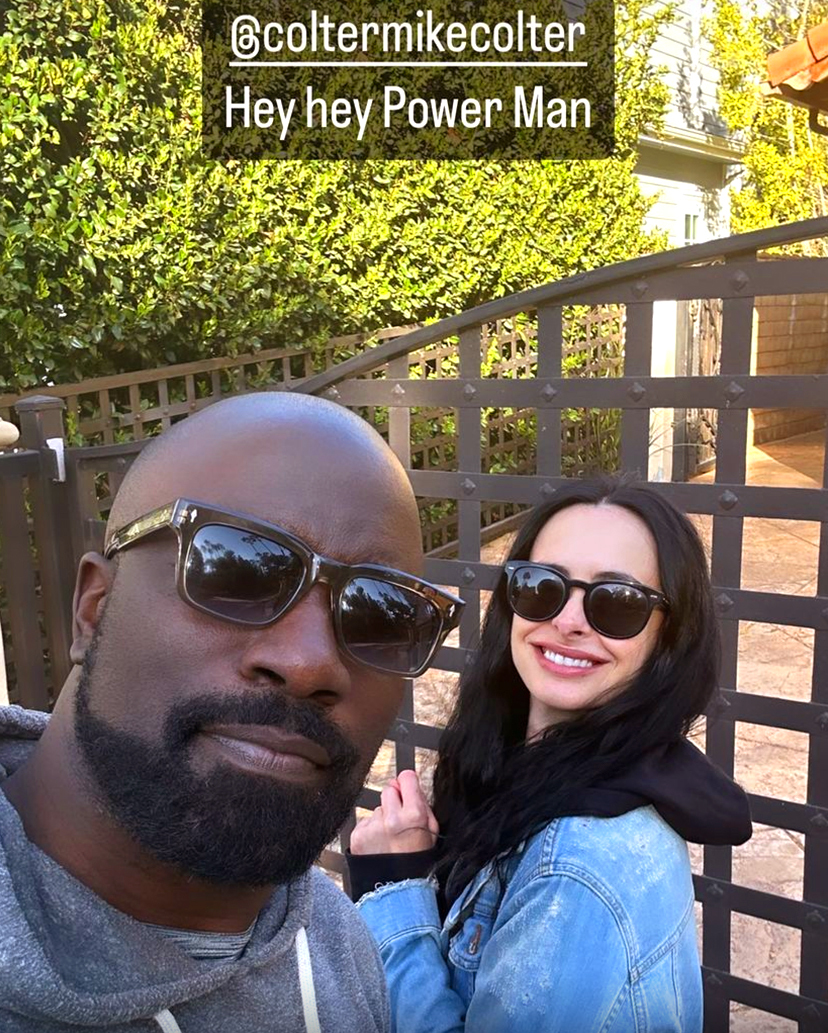 With the plan for bringing Charlie Cox back into the action on the MCU side of things as Matt Murdock in the upcoming Daredevil: Born Again, the return of these characters has been speculated for a long time, and this story became the center of that speculation as both were thought to be on the project filming together. While there still is no official news about them both being incorporated into the MCU, it's certainly a likely possibility for us to see them in a reunion in the future.
You may also like: "Now that door is wide open": Charlie Cox Hints Multiple Crossovers With MCU Heroes in 'Daredevil: Born Again'
What To Expect From Daredevil: Born Again?
After the announcement made by Marvel Studios' president Kevin Feige and the latest appearance of Charlie Cox as his superhero alter ego in She-Hulk: Attorney At Law, the hype for the upcoming solo outing in Daredevil: Born Again has reached new heights. And with his appearance in Spider-Man: No Way Home as Peter Parker's lawyer, the chances of him being seen with many other superheroes from the MCU have also rocketed, making it a show to look out for new stories and team-ups in the future.
You may also like: Krysten Ritter's Jessica Jones Reportedly Back in Full Force in MCU, To Get New Solo Series after Alleged 'Daredevil: Born Again' Cameo
Daredevil: Born Again will be streaming on Disney+ from 2024.
Source: @MCU_Direct