We've known there's a cheeky side to Chris Hemsworth since he offered that little wink to his mother in the first minutes of Thor, even if we don't always get to see it. We've seen Chris Hemsworth in humorous roles, serious roles, and even a charming cult leader role in Bad Times at the El Royale, but it looks like we're about to witness yet another side of him in Netflix's Spiderhead.
Spiderhead, Netflix's dystopian universe adapted from writer George Saunders' short story, has received its debut trailer, two years after it was announced. In the trailer, Chris Hemsworth, who is known for portraying physically demanding parts, takes on the role of 'Mad Scientist,' leading an experiment at the Spiderhead Penitentiary, where Miles Teller and Jurnee Smollett, who plays Jeff and Rachel, respectively, are kept. To cut their sentences, the two inmates volunteer to take emotion-altering drugs, which forces them to tackle their pasts.
What does the Spiderhead trailer reveal?
Teller portrays Jeff, an inmate at a state-of-the-art penitentiary managed by pharmaceutical scientist Steve Abnesti, portrayed by Hemsworth, in the thriller Spiderhead, which Netflix released the first trailer for. Teller and other subjects (including Jurnee Smollett of Birds of Prey) are exposed to drugs that "mess with your head," as Teller's character puts it.
"Beautiful people get away with too much – I say that having benefited myself from time to time," Hemsworth, 38, observes the test results from behind a window throughout the trailer. "This doesn't feel right," Teller admits to Hemsworth in another sequence, to which the Thor star simply replies, "The time to worry about crossing lines was a lot of lines ago."
Synopsis
Spiderhead is based on George Saunders' short story Escape From Spiderhead, which was published in The New Yorker in 2010. The story was set in a dystopian future and was noted for its concerns about mental health and societal despair, the latter of which is a recurring topic in Saunders' work.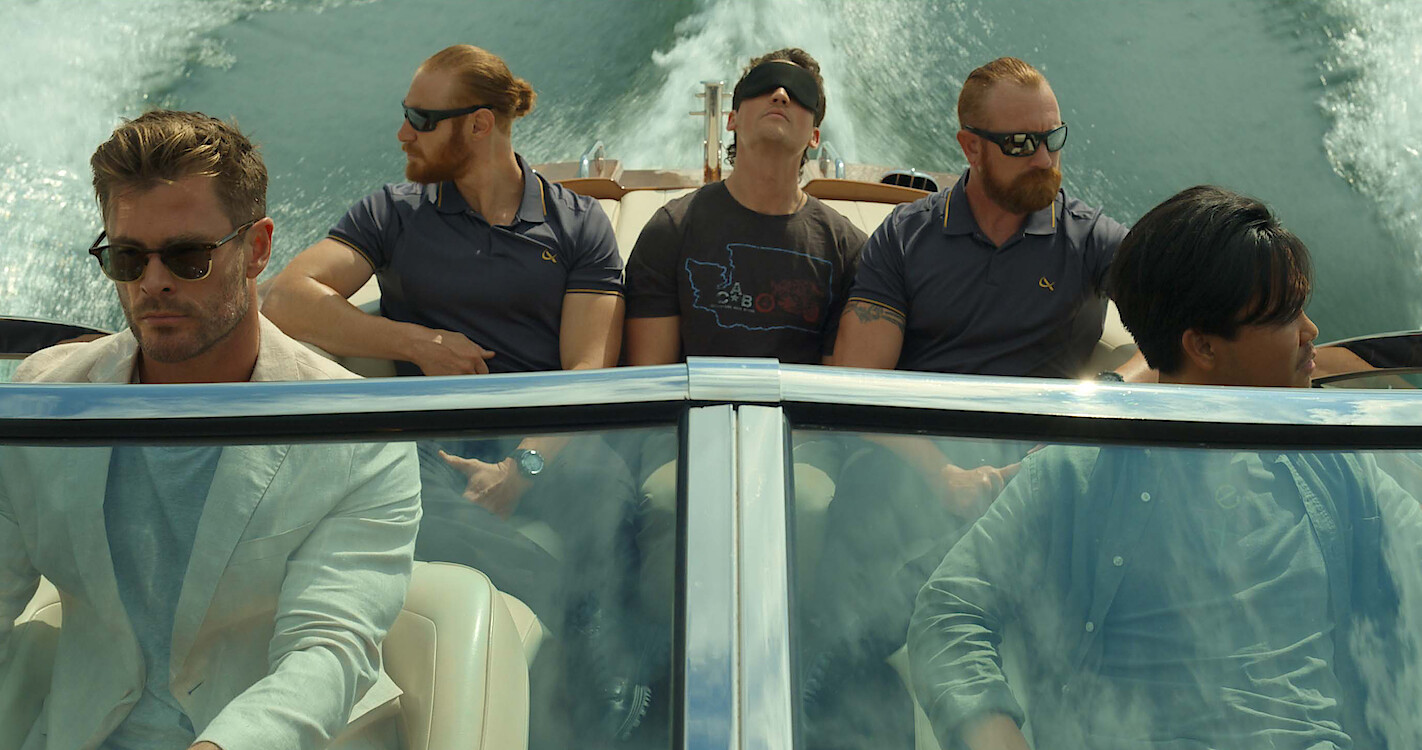 In a state-of-the-art penitentiary run by brilliant visionary Steve Abnesti (Chris Hemsworth), inmates wear a surgically attached device that administers dosages of mind-altering drugs in exchange for commuted sentences. There are no bars, no cells, or orange jumpsuits. In Spiderhead, incarcerated volunteers are free to be themselves. Until they're not. At times, they're a better version. Need to lighten up? There's a drug for that. At a loss for words? There's a drug for that, too. But when two subjects, Jeff (Miles Teller) and Lizzy (Jurnee Smollett), form a connection, their path to redemption takes a twistier turn, as Abnesti's experiments start to push the limits of free will altogether. Based on The New Yorker short story by George Saunders, SPIDERHEAD is a genre-bending and darkly funny psychological thriller directed by Joseph Kosinski (TRON: Legacy, Top Gun: Maverick) and written by Rhett Reese & Paul Wernick (Deadpool, Zombieland).

Chris Hemsworth in Spiderhead
Spiderhead is all set to hit Netflix on 17th June starring Chris Hemsworth, Miles Teller, and Jurnee Smollett in the lead roles.