You may like Quentin Tarantino for his ultra-violent contributions to Hollywood like Django Unchained, Reservoir Dogs, and Pulp Fiction. But for us, he is the one that gifted us with the perfect revenge action thriller the world has, is, and will ever see – Kill Bill Volume 1 and Volume 2. Tarantino was pushed to the international spotlight after the breakout success of this masterpiece that combined form, style, violence, and drama to give us a gem of a film. But Quentin Tarantino is not done yet. He wants to make another Kill Bill movie. Tarantino wants Uma Thurman's daughter in Kill Bill 3.
Quentin Tarantino is a man of a very niche taste. Like Steven Spielberg, he is very picky about the type of film project he agrees to spearhead. While on a recent interview, he was asked about details for the last and final movie he will do for the industry. He could be heard saying that even after his tenth and final movie, the only movie that would make him extend that deadline is Kill Bill 3.
Turns out, Tarantino has a soft spot for this movie series. And he is ready to postpone retirement if he is allowed to make Kill Bill 3. For this potential venture, he wants to rope in Maya Hawke, the daughter of Uma Thurman – the protagonist in the first two Kill Bill movies. Maya Hawke has garnered critical acclaim for her role in Netflix's Stranger Things.
What Tarantino Had To Say
Quentin Tarantino made an appearance in The Joe Rogan Experience. There he opened up about the possibilities of a Kill Bill 3 movie. He says and we quote:
"The only one I can imagine where it would be another epic, where I would need to out-do everything is if I did a Kill Bill 3,"  QuentinTarantino said, adding that "I've thought of it."
The film maker obviously wants to explore the real life mother-daughter connection Maya Hawke and Uma Thurman have. Maya Hawke is the daughter of veteran actors Uma Thurman and Ethan Hawke. In Kill Bill 3, they would probably play a mother and her daughter. The chemistry between the two could be badass. Kill Bill 3 could begin where Kill Bill Volume 2 left off. After living a quiet an peaceful life for over 20 years, Uma Thurman's character (The Bride aka Beatrice Kiddo) is pulled back into the world of assassins and hitmen along with her daughter.
Tarantino Explains why Kill Bill 3's So Close To His Heart
"I think it's just revisiting the characters, 20 years later, just imagining the Bride and her daughter B.B. having 20 years of peace," Tarantino said. "And then that peace is shattered. The Bride and B.B. are on the run. The idea of being able to cast Uma and her [real-life] daughter Maya would be f**king exciting."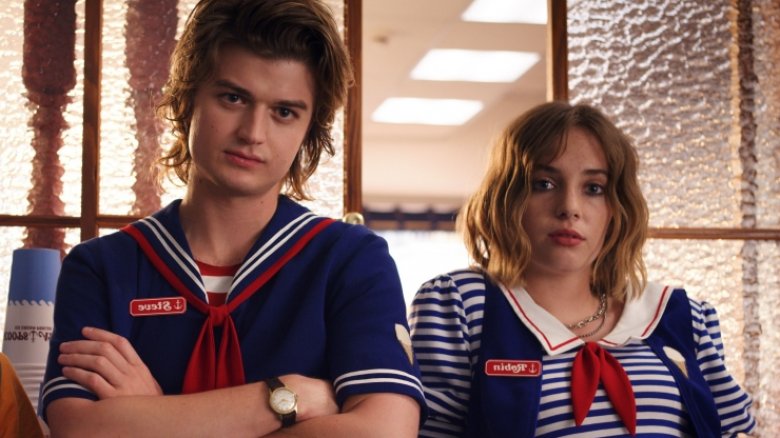 Maya Hawke has become somewhat of an overnight sensation lately. Her portrayal of Robin Buckley in Stranger Things had become a trend in social media. After her character came out as a smart and quick-witted LGBTQ+ woman, her fan base has only grown by leaps and bounds. she certainly has the chops to pull this off. If Kill Bill 3 ever happens, we would be dying to see the Bride and her reel and real life daughter in action once more.