"John Wick – Excommunicado." With those three words, John Wick: Chapter 2 ended seeing its titular hero cast out of his criminal underground with a 14 million dollar bounty on his head – in the middle of New York City, surrounded by fellow assassins. Things did not look good for ol' John boy. John Wick: Chapter 3 – Parabellum picks up directly where the previous chapter leaves off, kicking the movie instantly into the tense action and thrills that the franchise is known for.
Now, I'm a fan of the previous John Wick installments; however, I will say that Chapter 2, while bigger and more extravagant than its predecessor, spent too much time on the world of John Wick and not enough time on the man. Chapter 3 tries to rectify this with small glimpses into our hero's past, but, all in all, is very much an amped up version of Chapter 2 – warts and all.
With that said, plot and character have always been secondary to the ultimate treat of this franchise, the outstanding balletic action, most of which is performed by Keanu Reeves himself. Rest assured, John Wick fans, Chapter 3 does not drop the ball in this department. In fact, the film delivers several of Wick's best and most creative scenes & kills. Director Chad Stahelski and his stunt team at 87eleven almost hold a monopoly on inventive modern action, to the point where you'd think the Academy Awards would create some categories that could praise such artistry – no such luck…yet!
Chapter 3 also gives John some juicy characters to play off of, including returning favorites played by Lawrence Fishburne, Ian McShane, & Lance Reddick – almost all of which are given meatier roles this time around. They're joined by a slew of newcomers played by Halle Berry, Mark Dacascos, Asia Kate Dillon, Jerome Flynn, & Anjelica Huston. In fact, there's even more than that joining the cast, which is sort of a large issue with Chapter 3. Introducing these characters builds out Wick's stylized underground community even more, but pulls focus over and over again from John himself. Even so, the new characters are almost universally excellent thanks to the actors really biting into this heightened reality, namely Mark Dacasco's Zero and Halle Berry's Sofia, who unexpectedly delight in both the action scenes and the dramatic/comedic ones.
The biggest issue I have with Chapter 3 is that it's becoming a victim of the franchise's continued success. By that I mean the action scenes become more and more intricate and outrageous – don't get me wrong they're fun to watch, but John Wick, the man, is becoming a seemingly immortal character with some of the things that happen to him in this movie. Also, the amount of killing that happens in public view with passersby not even batting an eye is a bit befuddling, but again – we're not here for the realism are we, folks?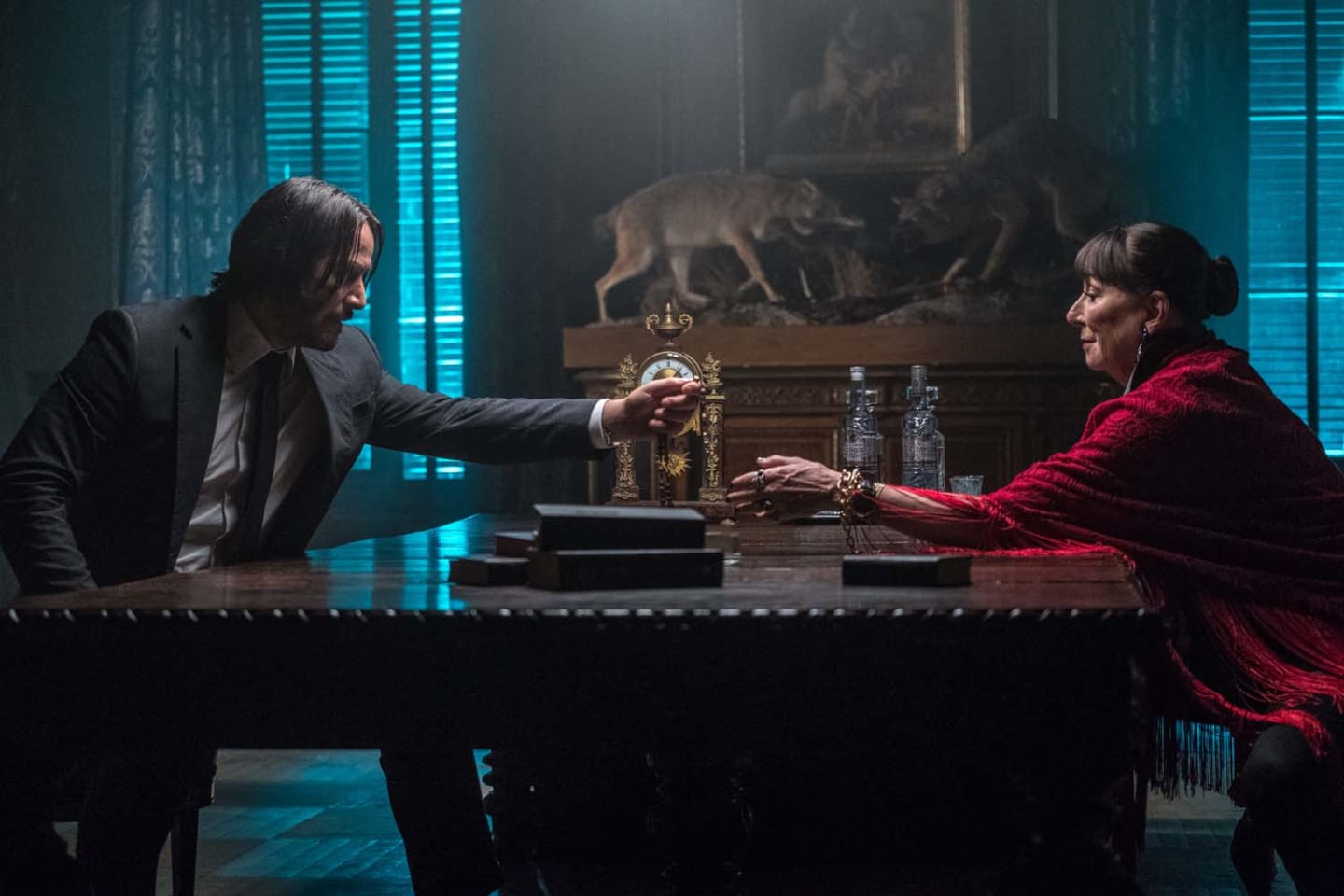 Really it comes down to this – did you like the first two John Wick movies? If so, John Wick: Chapter 3 – Parabellum will give you plenty to love and cringe/cheer over – especially in the first act. It's more colorful, more brutal, more jam-packed with strange underworld dwellers, and far more outrageous than ever before. Like its predecessors, it's worth seeing solely for the artistry of the action alone. So, is he back? Yeah…I'm thinking he's back.
OVERALL RATING: 3.5/5 stars