Director: Jake Kasdan | Distributed by: Sony| Rating: PG-13
Who could have possibly imagined that we'd be two years' removed from a sequel of which no one necessarily asked brought to fruition by a director best known for a string of middling comedies throughout the early-to-mid 2000s which somehow would up pleasantly surprising audiences and walking off with nearly a billion dollars lining the wallets of all those involved?
2017's Welcome to the Jungle, the Jake Kasdan-helmed follow-up to 1995's beloved Chris Van Allsburg page-to-screen adaptations Jumanji and the still-excellent 2005 spinoff Zathura is that particular film, updating the setting from a board game come to life to a video game that ensnares its players in something of a reversal of situations from the '95 original, with Dwayne Johnson, Jack Black, Kevin Hart and Karen Gillan taking on the roles of in-game avatars for their real-world participants (Alex Wolff, Morgan Turner, Ser'Darius Blain and Madison Iseman) as they attempt to figure out how to escape.  With The Next Level, we now find ourselves again staring down the barrel of another trip into the world of Jumanji, and though the outcome isn't likely to convert anyone who wasn't already a fan of the series, still has a fair amount of redeeming moments stuffed within.
Let's be honest-unless you've grown up with a nostalgic attachment to the Robin Williams-starring franchise kickoff from nearly 25 years prior, it's safe to say Jumanji hasn't aged very well in a number of areas from acting to the screenplay itself, despite competent direction from Joe Johnston and a memorable score courtesy of the late James Horner. Welcome to the Jungle may have been precisely what was needed with regards to something of an about-face, and while The Next Level might not offer anything new or exciting for those expecting precisely that, it's at least entertaining enough to warrant the demise of 123 minutes of your precious time, even if a healthy amount of said minutes could've found their way to the cutting room floor.
The gimmick of Real People Inhabiting Bodies In Opposition Of Their True Personas doubles down time and time again within the confines of The Next Level, as the film picks up with our intrepid four main characters having moved on with their lives following the events of Welcome to the Jungle, with the exception of Alex Wolff's Spencer, now struggling to find himself amidst college & a breakup with Morgan Turner's Martha and believing that another trip back into the world of Jumanji may be exactly what he needs.
However, when his friends learn of his repair of the original film's once-destroyed Jumanji game console and subsequent return to the traumatic game itself, their only choice is to dive back in themselves, only this time the process doesn't allow them to select their respective avatars. Additionally, Spencer's cantankerous grandfather Eddie (Danny DeVito) and Eddie's estranged friend Milo (Danny Glover) have been inadvertently pulled in as well, with Madison Iseman's Bethany left behind for reasons yet unknown.
It's now that the film's comedy can at long last unfold, as with the exception of Martha again placed within the body of Karen Gillan's Ruby Roundhouse, all the other characters now occupy different digital identities-Ser'Darius Blain finds himself within Jack Black's Sheldon "Shelly" Oberon, Eddie now resides in Spencer's former avatar Smolder Bravestone (Johnson) and Milo has been situated inside Kevin Hart's Franklin "Mouse" Finbar.
The premise from this point forward becomes increasingly useless, lacking in direction and tremendously scattershot as the film tends to slog along-various side plots involving Spencer & Martha's shaky relationship lead to scenes as awkward as the horrendous campfire conversation in 2017's Power Rangers, while a repeatedly revisited thread about Eddie & Milo's former partnership in a restaurant and why that once came to an end drifts from engaging to sleep-inducing more than once, even if a surprisingly emotional undercurrent exists within and does wrap up nicely during The Next Level's third act.
Additionally, the core premise of what exactly needs to be done to complete this new Jumanji quest actually winds up as hard to follow, almost possessing the feel of a complete disregard for the screenplay and an insistence by the cast & crew that such details shall be improvised entirely on the spot. There's no need to even try and discuss the film's villain, played by Rory McCann-to paraphrase Homer Simpson, I've already forgotten his character's name.
The real strength should ultimately lie in the acting chops of the leads, with Kevin Hart a standout in taking on the personality of the legendary Danny Glover-somehow, the delivery of every line is enough to warrant a genuine laugh, perfectly emulating the man who still manages to personally induce a tear or two every time I watch Angels in the Outfield, and the chemistry he shares with frequent collaborator Johnson is just as genuine as it's been in every film which the two have starred.
That said, Johnson's attempt at emulating DeVito simply does not work-though not a complete loss and still in possession of numerous chuckle-worthy moments throughout, his DeVito-Esque accent couldn't be more off, almost oddly British-sounding at more than one point which I know was unintentional but nevertheless feels very strange.
Luckily, Awkwafina's second act introduction as the new character in which Spencer's been placed sees the Farewell standout nailing every scene, every line, and serving as another showcase of how unbelievably talented she truly is-furthermore, if you thought her inclusion in the film couldn't somehow get any better when a recurring magical body of water causes Spencer and DeVito to switch characters and paving way to Awkwafina's spot-on DeVito impression, it clearly shows how much Johnson could have taken from her interpretation and an arc I wished could've lasted much, much longer. Hollywood, I must insist-cast this woman in everything. I beg of you, make it so.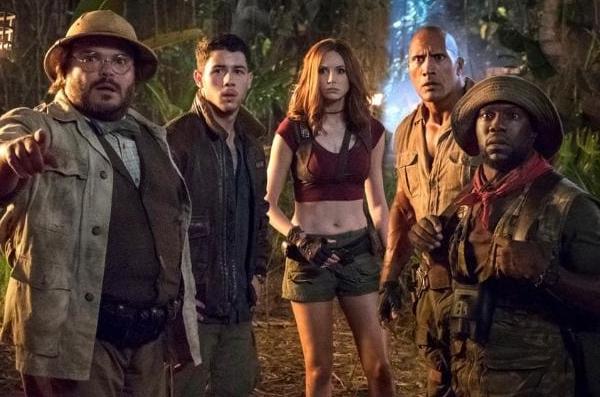 It's a shame, as Johnson's natural charisma appears nowhere to be found despite a few intentional winks to the audience that teeter between eye-rolling and fan-servicey more than once-luckily, Nick Jonas is back to offer another middle-of-the-road performance in reprising his Alan Parrish-lite Jefferson "Seaplane" McDonough, with Colin Hanks similarly doing just as average a job as the aforementioned auteur who played one of many terrible characters in Midway, and though he might not appear as a member of the shaky cast, Henry Jackman's usually reliable work as score composer sounds like nothing more than leftovers from the 2017 predecessor. I expected more from the man. Maybe that's just me. Probably.
At the end of the day, however, is The Next Level ultimately a decent way to spend some treasured time at the movies? Luckily, the heavy lifting by Hart and Awkwafina hold things together in ways I can't describe, and there's no denying the main cast work well as a team there's a strange, infectious energy to whatever's happening when they're onscreen at the same time, a true hallmark of some fine work by whomever initially assembled the quartet two years ago.
The cinematography and effects, while somewhat too reliant on the trusty green screen and copious amounts of average CG, isn't a total wash, and the well-balanced action does indeed keep the pace moving along. It must be stated once more how desperately the film could have benefited from a final edit so as to shed a large chunk of content, whatever that may be-when one finds themselves drifting between drowsiness and a tendency to repeated check the time, there's an undeniable problem.
The Next Level isn't without its share of enjoyment, but the cons balance out the pros in a manner that never once allows it to advance on the irrefutable, unexpected promise of its predecessor. I don't believe for an instant than another entry is at all necessary, and I look forward to revisiting this review when the inevitable third sequel finds its way into our collective consciousness before we all know it.
SIGH.
AVERAGE
---
Jumanji: The Next Level isn't without its share of enjoyment, but the cons balance out the pros in a manner that never once allows it to advance on the irrefutable promise of its predecessor.