There's no denying the influence much-admired author J.R.R. Tolkien has had on literature over the past century or so, having crafted such legendary works as The Hobbit & The Lord of the Rings that both went on to spawn multi-billion dollar film franchises of their own.  The story of how Tolkien conjured up these bibliographic ideas seemed tailor made for a live-action adaptation, and trailers for said biopic, lazily named Tolkien, seemed to indicate a mix between Dead Poets Society, The Theory of Everything and Saving Private Ryan-plus, with a cast that includes fine actors in Nicholas Hoult as the titular character & Lily Collins as Tolkien's longtime love Edith, how could a movie like this skew from the prototypical to the good?
Tolkien falls somewhere in between, a film packed with all the hallmarks we've seen in the aforementioned titles with a healthy dose of Finding Neverland added to the mix.  From a childhood marred by tragedy, Tolkien sees the eponymous boy grew into a young man fascinated by language who finds companionship in the company of several boarding school classmates, all of whom share similar artistic passions and all of whom seem destined for future occupations firmly set in place by the strict, old school mentality of their elders.  Meanwhile, a budding romance with a talented pianist, Edith Bratt (Lily Collins) becomes threatened by the presence of Father Morgan (Colm Meany), Tolkien's legal guardian who wishes nothing more than for the then-failing college student to excel in his academics, but when World War I breaks out, Tolkien soon find himself, and his beloved schoolmates, torn apart by the horrors on the front and the destruction of his relationship with Edith.  Will he one day find himself?  Will these experiences influence his later literary work?  Exactly how many liberties will director Dome Karukoski and his two screenwriters take with Tolkien's life story, and how many times will key phrases such as "Middle-earth" be uttered before someone generously winks to the audience?
Were it not for the cast and beautiful setpieces, Tolkien would be as forgettable as any number of background characters running about in any of the author's novels, with a pace that's far too slow, even during the rare moments of intensity, and a movie that surprisingly lacks in references to the stories J.R.R. Tolkien would one day bring to life outside of the film's last several minutes.  Sure, it's neat to see Tolkien interact with his companion Sam in the heat of battle, an obvious nod to Samwise Gamgee, as well as the moments where explicit taps on the shoulder occur every time a ring is mentioned, or when the camera holds on Tolkien's face as he breathlessly intones "Middle-earth" that couldn't be more clear were he to leap from the screen were this a misguided sequel to Last Action Hero.  Parallels between key events in Tolkien's life and the adventures of his books are drawn throughout the film, but none are hammered home quite like the aforementioned moments.  Tolkien is also rich in numerous scenes that serve no other purpose than as one-off detours, usually amongst Tolkien and his band of brothers, and which some are executed better than others, said moments are never referenced again and profusely litter the film's near-two hour runtime.
The cast, however, saves the film, with Nicholas Hoult again demonstrating his incredible range of emotions and continued growth as an actor.  With the ability to tell a story through a look, subtle gesture or the way he delivers his lines, he's either born to play the role of the late author or is simply far too chameleonlike in his acting prowess for his own good.  Lily Collins similarly commands every scene she shares with Hoult and holds her own well, in the process creating excellent chemistry with the leading man that rivals a classic onscreen romance of old.  Colm Meany attempts to make the most of his limited screentime, even if his scenes usually see him sternly lecturing Tolkien or a similar act, and Derek Jacobi as the professor who influenced Tolkien's educational pursuits-and eventual books-does a similarly fine job, but much like Meany his one-track acting moments capture him spouting off nonsensical gibberish, which I'm sure was meant to come off as insightful but tends to drift into a somewhat inane territory with every line that can't help but make one wonder if his character was that odd in real life.  Additionally, the three friends Tolkien befriends from youth into adulthood nail their respective parts, with an added bonus being the casting of young actors who uncannily resemble their grownup counterparts in both physical appearance and personality, however it's Anthony Boyle as Tolkien's best friend Geoffrey who tends to steal the show with an understated, sincere performance that successfully crafts a beautiful rapport between the two men.
Unfortunately, further shortcomings can be found in areas beyond the pace and which only serve to further highlight what the film gets right.  Every scene set in early 1900s-era England is a demonstration of how to effectively utilize your cinematographer, with every building and wooded area looking less like the work of a modern day location scout and more like if Karukoski had access to some sort of time machine with which to capture the actual time period on film, however when Tolkien takes to the battlefields of World War I it dips into the world of cliché, with a Wonder Woman-style look and feel that's similar to every war film that's preceded it and rich in Tolkien's tendency to imagine the enemies on the other side of the line as the monsters occupying Middle-earth.  The effects used to bring these hallucinations to life work to a point, but sadly have a tendency to eventually descend into a mess of CG, all backed by iconic score composer Thomas Newman, who frequently provides Tolkien with a theme centered around a light guitar motif that's regrettably one of his weaker efforts.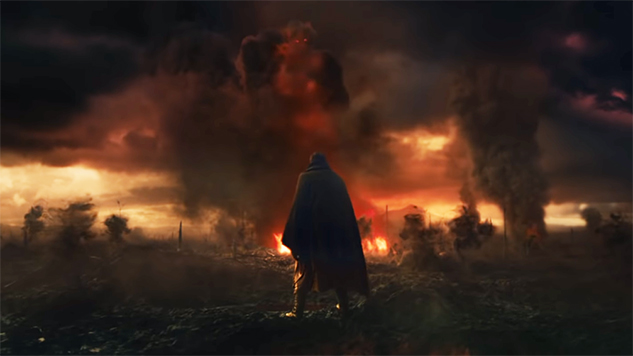 It's been said that the Tolkien estate has disowned this film entirely, which could make one take pause and wonder exactly how much has been exaggerated.  However, if you're looking for an example of some exceptional acting and photography, one may find the ability to forgive Tolkien's shortcomings, of which there exist many chiefly in terms of the film's terrible pace.  It may be worth a watch, but don't expect to come away with any shocking revelations of how Bilbo, Frodo or The Fellowship of the Ring came together.  Instead, take the time to watch the films that clearly influenced Tolkien, all of which I've mentioned above and all of which do the job substantially better.  For a movie about some of history's most unforgettable stories, Tolkien is as forgettable as it gets.