She-Hulk has had quite a colorful love life in Marvel Comics. Let's take a look at the best of the lot from the diary of the She-Hulk.
Juggernaut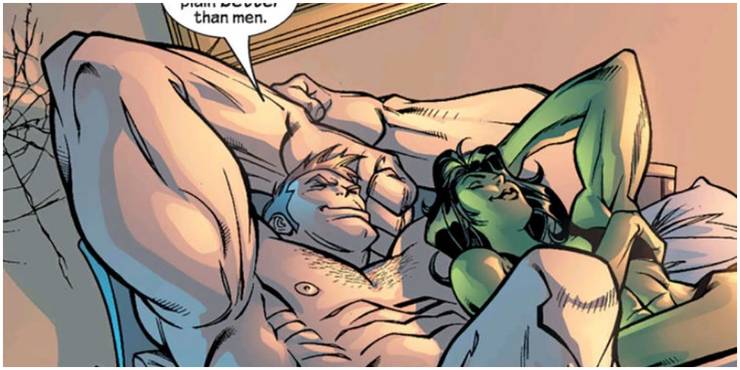 She-Hulk is known to have a very bad taste in men. Take her fling with the X-Men villain Juggernaut for example. That romance has ended up becoming a running gag that has tarnished the character's image. In fact, She-Hulk's love life faced major consequences because of her romance with Juggernaut. When Jennifer Walters tried to make her moves on Wolverine, the latter stopped her, saying he didn't want "Juggernaut's sloppy seconds". Marvel was so embarrassed that they later ret-conned the entire thing. It was revealed a parallel reality She-Hulk was the one who slept with him.
Iron Man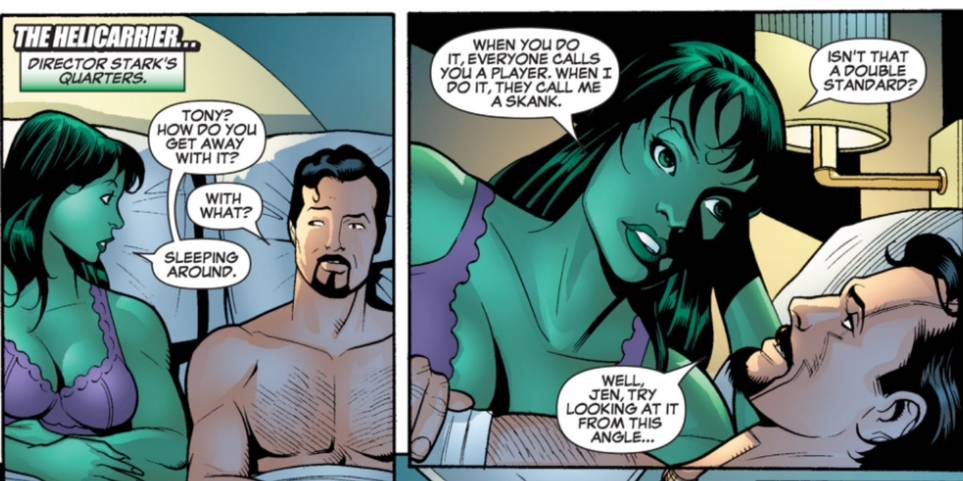 Iron Man is one of the biggest and infamous womanizers in the history of comic books. And he managed to bag the Shulkie with his 'pelvic sorcery' too. A sexually active woman like She-Hulk was infamous for hooking up with more villains than actual heroes back then. Luckily She-Hulk #17 intended to change that. Walters and Iron Man's post hook-up conversation perfectly defines society's double standards. Iron man sleeping around makes him a play boy. But somehow people call She-Hulk a "skank" for doing the same.
Luke Cage
Luke Cage is now a family man. He leads a happily married life with his wife Jessica Jones. The couple now have a child and make marriage and family-life look easy. But before Power Man settled down, he was an urban mercenary who would help anyone for money. In Heroes For Hire 317, Luke Cage made a bet with She-Hulk. If he won, She-Hulk would have to go on a date with him. And Power Man never makes a bet he isn't sure he would win.
Hercules
That's right! Even the Gods are vulnerable to the jaded charm of She-Hulk! Of all the men on this list, Jennifer Walters always considered Hercules to be her dream man. In the Sensational She-Hulk issues, Walters spent a lot of time dreaming up sexual fantasies that involved her and the Greek God of Strength. In Sensational She-Hulk #25, the two heroes meet. But you know what they say – never meet your heroes in real life. Hercules turned out to be a sexist prick but She-Hulk still had a sexual relationship with him.
Clay Quartermain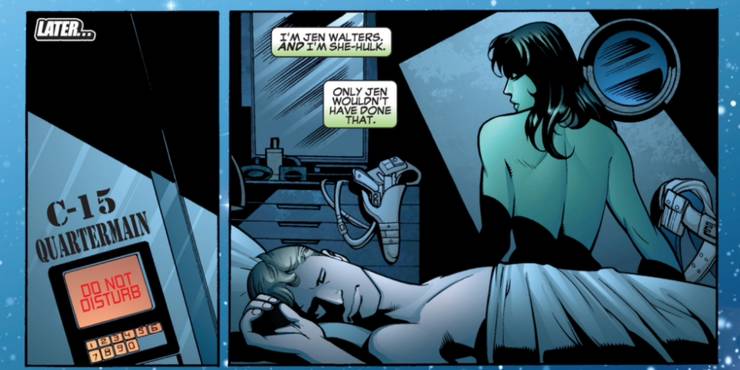 The supporting Marvel Comics character is best known for his prominent role in SHIELD's Hulkbuster unit. He would then team up with the Hulk and Rick Jones to thwart a terrorist attack, making him a national hero. Post that, SHIELD rehired him into a new Hulkbuster unit that had members like Agent Cheesecake, Agent Crimson, and She-Hulk. She-Hulk and Clay Quartermain hooked up during that time. Even Jennifer Walters regrets making that decision to this day. When Tony Stark started hitting on She-Hulk, Clay went total nuts after becoming jealous.
Starfox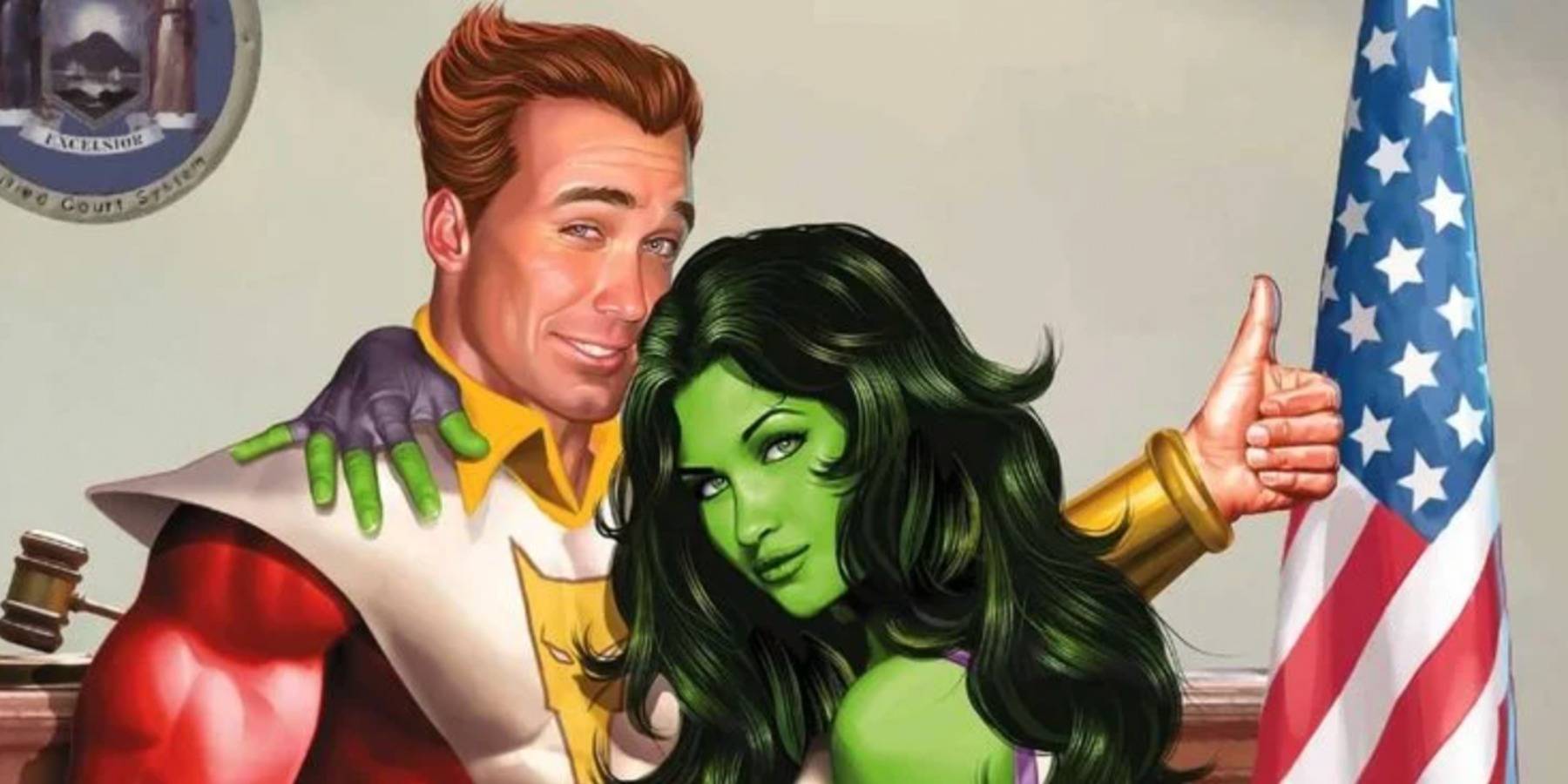 He is probably one of THE most hated Eternals and Avengers member. His powers allow him to manipulate people and make them love him. Jennifer Walters was also a victim of his manipulation. The icing on the cake was She-Hulk was Starfox's lawyer for a sexual assault case against Eros. This revelation broke Jennifer Walters. It is later revealed that she never slept with Starfox because of his powers. Eros never used them on her to make her sleep with him. She-Hulk did that of her own accord.
Man-Wolf
John Jameson III, the son of J Jonah Jameson, became the superhero Man-Wolf after being exposed to some moon rocks. During Civil War, the two hooked up and eventually got married. John Jameson then became the Stargod and their marriage ended when Walters found out that Eros manipulated her into developing feelings for Man-Wolf.