Hollywood has an unlimited supply of superhero actors right now. So some superhero actors from the hay-day of the genre get sidelined. Thankfully the genre found a way to bring back these superhero actors in reboots.
Terence Stamp – General Zod, Jor-El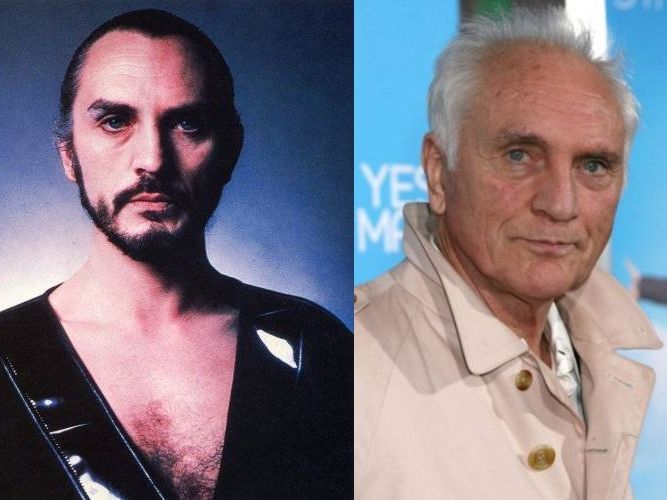 Stamp seems to have a back and forth relationship with Warner Brothers' Superman lore. He first appeared as General Zod in the first Superman movie. In Superman II, Terence Stamp appeared again as the character, exacting his revenge on the last son of Krypton.
The actor appeared once more as a Kryptonian in the Smallville series. There he voiced the character of Jor-El, Kal-El's father. In the Superman movies, Stamp's menacing portrayal of Zod was trumped by the benevolent and nurturing persona of the El patriarch. The actor's voice is claimed to be the voice of Jor-El laced into an AI.
Terri Hatcher – Lois Lane, Rhea

The actor is best known for her work in Lois & Clark. In that show, Teri hatcher portrayed Superman's love interest for its entire 4 season run. Hatcher's Lois was fearless and defiant to a fault, always seeking the truth no matter what. Her career only moved up after she starred in the James Bond film – Tomorrow Never Dies and then had a long career in Desperate Housewives.
Hatcher then found herself back in the DC small screen universe when she portrayed Lois' mother in Smallville. But that was not the end of it. She was also roped in to play Reha, Queen of Daxam in Supergirl. Rhea ended up being a recurring character.
Dean Cain – Superman, Jeremiah Danvers

Cain was the lead star of the show Lois & Clark: The New Adventures of Superman. The show took a detour from regular superhero shows. It gave the romantic angel between Lois and Clark just as much screen time as Superman's adventures.
The actor has also appeared as Curtis Knox in Smallville. Knox was an immortal doctor who illegally harvested the organs of metahumans exposed to Kryptonite. After Smallville, Knox made DC's acquaintance once again as Jeremiah Danvers, Kara's adoptive father in Supergirl.
Lou Ferrigno – The Hulk, MCU Hulk's Voice
Back in 1977, CGI and special effects were nowhere near as great as they are today. So TV shows and movies had to make do with whatever they got. CBS, just like the rest of the world back in the 70s, did not have access to motion capture suits. So they hired a bodybuilder and covered him in green paint to portray the Hulk. Lou Ferrigno portrayed the Hulk for five seasons and three TV movies. And he did a pretty good job.
In the 2003 Hulk film, Lou Ferrigno appears as a security guard. In the MCU, Ferrigno has had two roles. He did appear as a security guard in those movies. But he also voiced Bruce Banner when he is all hulked out in many films, including Thor: Ragnarok.
Mark Hamill – The Trickster
For comic book fans, Mark Hamill is well-known for voicing the Joker. But he also portrayed another clown like supervillain in the DC universe. James Jesse is the world's most lethal prankster (and somewhat of a Joker knock-off). A Flash villain, he first debuted in 1960. Mark Hamill portrayed every TV appearance of James Jesse thus far, including the 1990 Flash series.
That was not the end of the road for Mark Hamill's Trickster though. DC has a hard time letting go of good Superhero Actors like Hamill. So they brought him in once again to voice the Trickster in Justice League Unlimited. In CW's The Flash, Hamill returned to play the live action Trickster in the episode "Tricksters".