Halfway through in July and we are just a few weeks away from the theatrical/streaming release of James Gunn's The Suicide Squad. While the first movie wasn't exactly a big hit with critics, Gunn's style of action, humor, heart, and violent gore managed to win them over! The first social media reactions for the upcoming soft reboot/sequel made their on Twitter last night! No spoilers obviously but right down below you can see what each critic has to say.
The Suicide Squad Reactions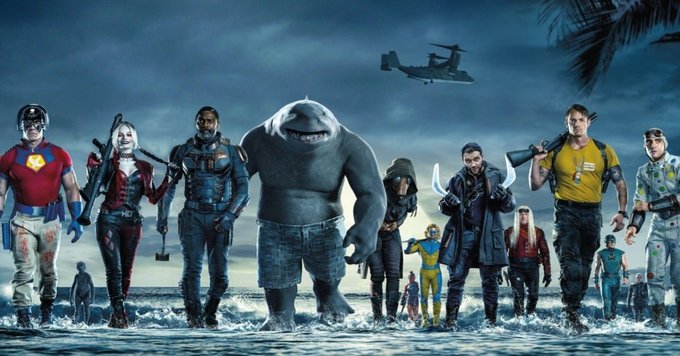 Erik Davis- Fandango
Idris Elba's Bloodsport & David Dastmalchian's Polka-Dot Man are major stand-outs for me (Bloodsport has the coolest weapons, btw). I also thought this was the best we've seen of Margot Robbie's Harley Quinn. Her journey in this film is actually quite lovely… and quite bloody! pic.twitter.com/UaeWzU4P5X

— Erik Davis (@ErikDavis) July 15, 2021
Brandon Davis- Comicbook.com
#TheSuicideSquad is absolutely insane. Violent as hell, raunchy, unforgiving.

James Gunn is fully unleashed. It's sometimes overwhelming. It has moments of heart, humor, action, emotion… all of it. Relentless.

There's nothing like it. Damn! pic.twitter.com/GTTMR3EOJD

— BD (@BrandonDavisBD) July 15, 2021
#TheSuicideSquad brings some awesome new characters and cast to this world.

John Cena, Idris Elba, Daniela Melchior, David Dastmalchian, Margot Robbie, Joel Kinnaman… all fantastic. Everybody will have a different favorite character.

Ratcatcher-2 really stands out! pic.twitter.com/2Y2HORjjpx

— BD (@BrandonDavisBD) July 15, 2021
Fico- CineXpress
#TheSuicideSquad is fantastic! A no holds barred, superhero/comics bonanza. Unpredictable in story, unique in style & full of risks. It's also violent & hilarious. Action set pieces are insane. Idris Elba, Margot Robbie & rest of cast are awesome. @JamesGunn has done it again. pic.twitter.com/7aLiMLPPf5

— Fico (@FicoCangiano) July 15, 2021
Steven Weintraub- Collider.com
Absolutely loved #thesuicidesquad. The movie is super violent, extremely funny, and a huge home fun for @JamesGunn and #DC. Tons of surprises and things I wasn't expecting. Just a great movie. pic.twitter.com/sTchKRvU4Y

— Steven Weintraub (@colliderfrosty) July 15, 2021
Gabriela- FilmPosers
#TheSuicideSquad is a gory & explosive time that perfectly encaptures the chaos & violence of the source material. The cast is excellent together and there's never a dull moment. Unexpected & fun, one of DC's best. pic.twitter.com/4LXhNjBo7m

— Film Poser™️ Gabriela???? (@gaby_burgos27) July 15, 2021
Ian Sandwell- Digital Spy
Any doubts you might have over #TheSuicideSquad will vanish after the outrageous opening. It's a violent, hilarious and unpredictable blockbuster, and everyone will have their own favourite from the terrific cast. It's just so entertaining that you'll want to see again instantly. pic.twitter.com/kI8YjqZdsw

— Ian Sandwell (@ian_sandwell) July 15, 2021
Kara Warner- People Magazine
Everyone is insanely fun to watch in this, but Margot's Harley & Daniela's Ratcatcher 2 are my faves. Idris and Cena's banter = 3rd place, not to mention a rockin' soundtrack.

— Kara Warner (@karawarner) July 15, 2021
Eric Goldman- Fandom
Yeah, I loved #TheSuicideSquad. Just delightfully, gleefully goes all out with mayhem, gore, profanity and naughtiness but then has some really heartfelt moments that you can invest in. And I loved the whole cast a whole lot.

— Eric Goldman (@TheEricGoldman) July 15, 2021
Germain Laussier- Gizmodo
The Suicide Squad is as funny, irreverent and violent as promised.
What I liked best, though, was its heart. Gunn really balances the silly and the serious in a way that the two compliment each other really well. I dug it. Also? King Shark RULES. pic.twitter.com/QgzSqwxY8C

— Germain Lussier (@GermainLussier) July 15, 2021
Dorian Parks- Geeks of Color
#TheSuicideSquad is an epic all out war movie that demands to be seen on the big screen. Gunn does it again with a hilarious cast of oddballs and under used comic characters.

Big laughs, bigger action. DC has another winner on its hand. pic.twitter.com/zogxvQAZo3

— Dorian Parks (@DorianParksnRec) July 15, 2021
Drew Taylor- The Playlist
.@JamesGunn's #TheSuicideSquad is gloriously insane and so, so fun. (After watching it, you'll think you might have dreamed it.) Everyone is excellent and deeply committed to the material and its singular mood and wild ass aesthetic. Can't wait to ride this rollercoaster again.???? pic.twitter.com/rRhvH3A75k

— Drew Taylor (@DrewTailored) July 15, 2021
Plot Synopsis:
In The Suicide Squad, welcome to hell — a.k.a. Belle Reve, the prison with the highest mortality rate in the US of A. Where the worst Super-Villains are kept and where they will do anything to get out — even join the super-secret, super-shady Task Force X. Today's do-or-die assignment? Assemble a collection of cons, including Bloodsport, Peacemaker, Captain Boomerang, Ratcatcher 2, Savant, King Shark, Blackguard, Javelin, and everyone's favorite psycho, Harley Quinn. Then arm them heavily and drop them (literally) on the remote, enemy-infused island of Corto Maltese.
This massive ensemble cast stars Viola Davis, Margot Robbie, Idris Elba, Jai Courtney, Sylvester Stallone as the voice of King Shark, John Cena, Joel Kinnaman, Peter Capaldi, David Dastmalchian, Daniela Melchior, Michael Rooker, Alice Braga, Pete Davidson, Nathan Fillion, Sean Gunn, Flula Borg, and Mayling Ng. The Suicide Squad hits theaters and on HBO Max on August 6th, with select theaters hosting early screenings a day prior.
Tell us in the comments below if you're excited for the movie! Which member of the team is your favorite?