One of the reasons why Naruto is considered to be one of the best shonen anime is that the characters keep improving their skills and power throughout the series. All that new "jutsu" keeps us hooked, be it Naruto's Rasen-shuriken or Kakashi's Chidori. Once Naruto learned how to conjure the nine-tailed's power, the show arguably became one of the best animes. But, there are still some things we don't know about the tailed beast, like why Naruto's tailed-beast form is so different from the others. His "kyubi form" raised some eyebrows earlier, but now it makes sense; let's see why. 
So, the root of this issue dates back to the moment when Eight-Tails and Naruto fought Obito and Madara during the climax of the great ninja war in 
Shippuden
. In this picture, we see eight-tailed's jinchuriki, Killer Bee, completely metamorphosed as the eight-tailed. But, on the other hand, we see Naruto engulfed by the nine tail's chakra and not his body. Nobody pointed out why Naruto's "kyubi form" is a glowing yellow hologram type thing and not, you know, a beast. Even if it didn't make sense then, it does now; read along!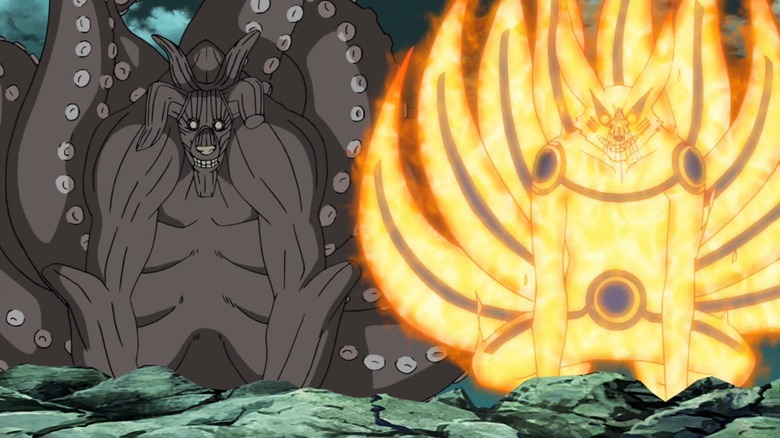 It raised a debate on Reddit too. But, Naruto's form is different because he is different from the rest, simple! We were equally dazzled and confused about Naruto's form when we were kids. However, we couldn't look past the fact that Naruto actually looks badass in the form and the glowing yellow is a great touch. He is the protagonist who has been relatively weaker to everyone during the entire first part of the show. So, the creators had to do something extraordinary to make him look the coolest.
Why is Naruto surrounded by Kurama's chakra wheras Killer Bee is surrounded by the actual 8 tails? Is it because Naruto doesn't trust Kurama enough to fully release him? from Naruto
There doesn't seem to be a deeper meaning behind it; it's just something we have understood as we grew older and watched more animes. Because let's admit it, back then, we were just watching Naruto on account of the lack of shonen anime coming out of Japan. Not to forget, he can throw a tailed beast bomb with his hand, shield his team inside the glowing chakra of kyubi, and give his charka to others just by touching him, unlike others jinchurikis.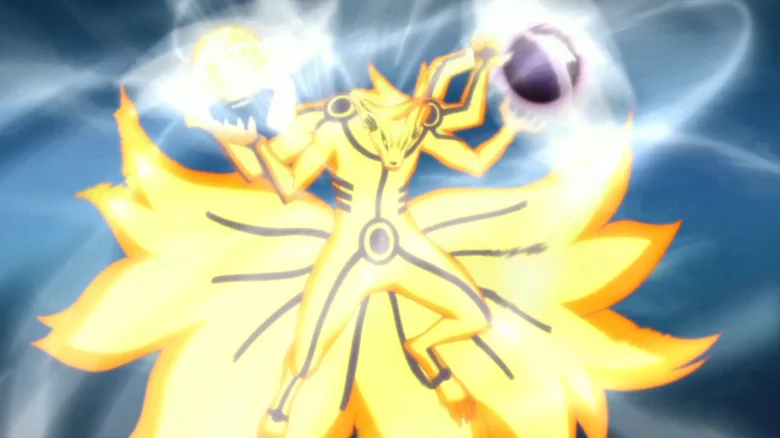 It seems like he knows it himself that it'll be challenging to manage him once he comes out completely. We can't forget that he has actually found his home inside Naruto and doesn't really like to be out about on his own. We saw that when Madara extracted Kurama out of Naruto, he felt lost without his jinchuriki. So, by not giving himself out to the world completely, he can still make sure that nobody else would snatch him out of Naruto.
Another question that fans have is why Minato's Kurama is Orange and Naruto's is Yellow. This is also easy to answer- Naruto's Kurama has no hate in him, and hate was always shown to be darker in Naruto; remember his counterpart from the waterfall?
Have you seen the latest episodes of Boruto? No spoilers, but what do you think about Naruto's and Kurama's relation now?