2018's Venom received an unexpected response and love from the audience. After Venom first appeared in Spider-Man 3 (2007), Sony decided to develop a spin-off film based on the character. And, this was one of the best decisions they made. Tom Hardy starred as Eddie Brock/Venom. Moreover, he also assisted in writing the script. The actor won lots of praise for his performance. Venom was a box-office success and became the seventh-highest-grossing film of 2018. All this is enough for Sony to come up with Venom's sequel! Venom: Let There Be Carnage explores more of Venom and other characters. Tom Hardy is back with his character, with Woody Harrelson as Carnage. The one thing that is exciting to the audience is its mid-credits scene. Know why!
WARNING: SPOILERS AHEAD!!!
Venom 2: Mid-Credits Scene Shakes Up Sony's Universe
Everybody was speculative about what might happen in the end moments of Venom 2. And, the revelation is here! In the mid-credit scene, Venom and Eddie were trying to escape when they were interrupted by Venom's revelation. He wanted to share his '80 billion light-years' of knowledge with his human half. But the two of them end up being relocated to…we don't know yet. It is a mystery. But the on-screen cameo by J. Jonah Jameson hints towards the fact that Venom might be a part of the MCU through December's Spider-Man: No Way Home.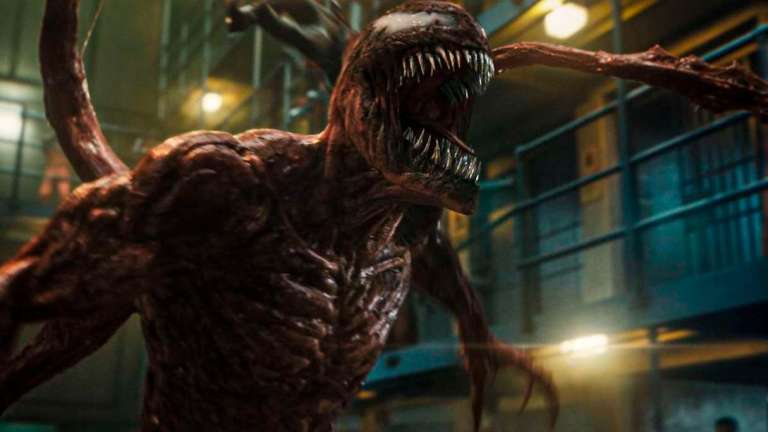 Well, even though it was exciting, it wasn't surprising at all. Both the characters have an extensive history in Marvel comics. Moreover, Venom got his debut in one of Spider-Man's comic storylines. In fact, Venom started off as Spider-Man's costume. As far as the production is concerned, they're both products of Columbia Pictures. Previously, director Andy Serkis wanted to explore more of Venom as a character. So, it looks like this is the perfect time for Venom to enter the MCU.