Brie Larson became prey to false tweets that flooded Twitter about the new Wednesday star Jenna Ortega. The Hollywood star certainly lacks at catching up with all the memes and trends that float through social media sites. One such incident was when a false Twitter user tweeted that Jenna Ortega considers Captain Marvel her favorite superhero character. She is obsessed with the figure after finding out about the actual person.
Twitter is where misinformation spreads like the flu and catches people's attention. Many people usually fall for these kind of things, and now that list includes Brie Larson. After viewing the tweet, Larson invited the Wednesday star on her Youtube channel to teach her some dance moves.
Read More: "She doesn't want or need you": Captain Marvel Fans Defend Brie Larson From Endless Criticism Over Her MCU Debut
Brie Larson falls for a Twitter trend, trolled by fans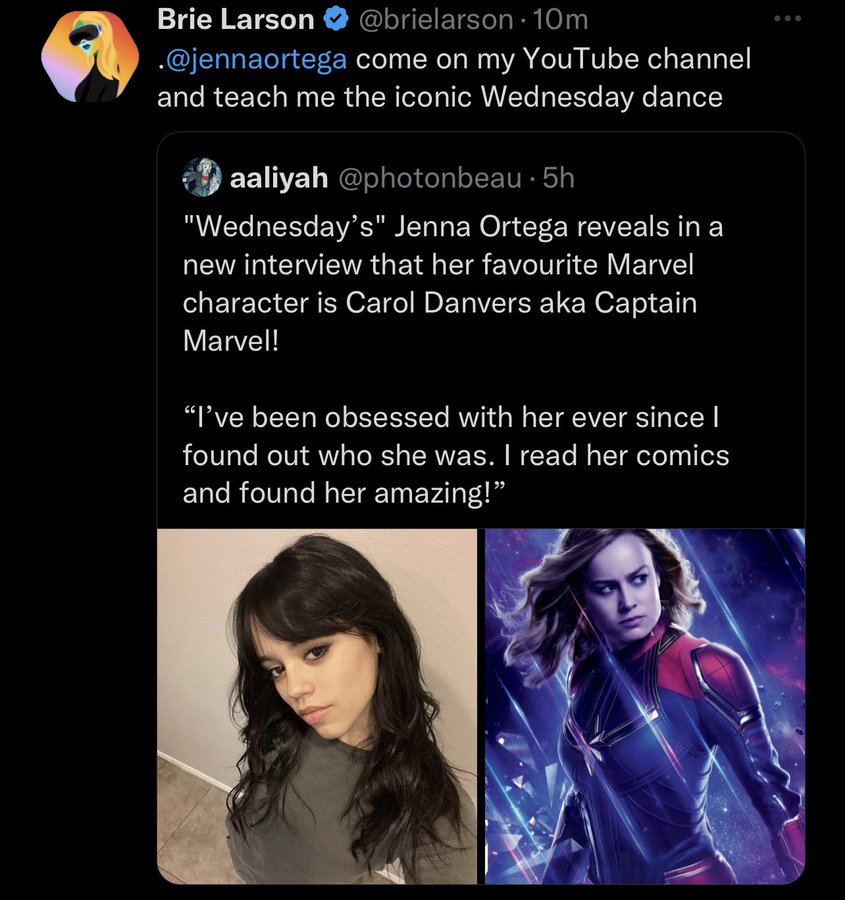 A spree of tweets are spreading on Twitter whenever searched, "Jenna Ortega reveals in a new interview." There have been many bizarre, fantastic, and unique headcanons regarding Ortega created by people to gain attention on the platform. One such fake tweet was about Jenna Ortega's favorite marvel character being Captain Marvel.
Brie Larson, who played the role of Captain Marvel in the MCU fell for the tweet and replied, pinning the Wednesday star to come on her YouTube channel and give her some dance lessons. The fans were shocked and had mixed emotions regarding the 32-year-old who lacked trend and meme knowledge. Some of them roasted the Marvel star for falling for a tweet. The fans took to Twitter and posted their reply.
One person wrote, "poor girl just wants to be noticed." While another commented, "Don't know what's more embarrassing. The tweet or her having an nft."
Don't know what's more embarrassing. The tweet or her having an nft

— nathan (@n4thhann) December 5, 2022
Brie need to retire after this

— Wilder's Durag (@Alabamaaslammer) December 5, 2022
Brie Larson won an Oscar for Room and then just continued to stay in that room playing Fortnite.

— Femmephibian (@femmephibian) December 5, 2022
Brie didn't even check if the acc was verified💀

— ユーロ (@lesyeuxdenini_e) December 5, 2022
why does brie always do shit like this

— matteo (@matteoswift) December 5, 2022
Read More: "I am a secret Billionaire"- MCU Star Brie Larson Responds To How Much Money She Made From $1.1 Billion Captain Marvel Movie
Brie Larson hints at leaving Marvel Universe
Brie Larson entered the MCU with its movie Captain Marvel, which came out in 2016. With her debut in the MCU, Larson received both love and hate for her character and herself. The Oscar-winning star has been targeted on various social media platforms by people who disagree with her character. In an interview with Variety, the actress hinted about leaving the MCU after receiving a brutal amount of backlash. Larson stated,
"I don't know, I don't know — does anyone want me to do it again?" she remarked. "I don't know, I really don't know. I don't have the answer to that."
While Larson mostly avoids the internet, it is still a fact that the public have rated her character negatively. She has been criticized continuously and thinks the audience doesn't wish to see her portray the character.
Read More: "She needs help": The Marvels Star Brie Larson Promises Captain Marvel Won't Be the Solo Know-it-all She Was in the First Movie
Source: Twitter