Here's why Red Guardian's Captain America lie in Black Widow might be true after all. One of the many interesting aspects of the movie was Alexei Shostakov, aka Red Guardian. Well, he was Russia's first super-soldier, and throughout the film, he was clearly fixated on Captain America. So much so, that even when Nat and Yelena rescued him from prison, his first topic of conversation was Steve Rogers. This somewhat provokes us to actually think whether he fought Captain America or not. Now, there's a reason why his lie might just be actually true. Check it out!
Red Guardian's Captain America Lie Might Be True In Black Widow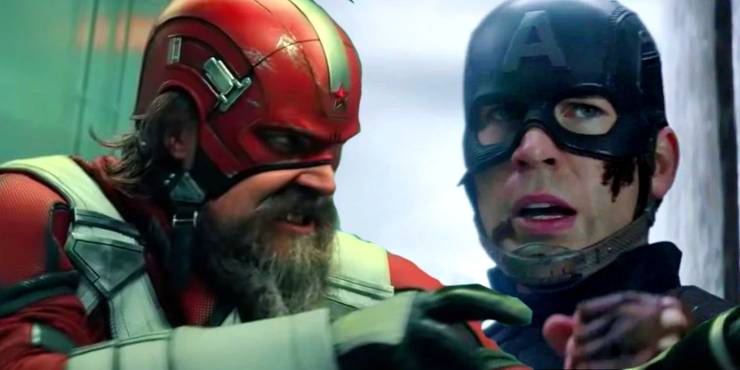 One of the main reasons why no one believed that Alexei fought Captain America is because he claims it happened in the 80s. Now, this is a well-known fact that during this time, Cap is lying somewhere frozen in ice. So obviously, how can he fight him? This is immediately ruled out by simply considering his tale of lies so that he appears cool in front of his inmates.
However, it seems like Red Guardian wasn't lying after all, and the credit goes to The Falcon and The Winter Soldier. In this particular Disney+ series, it is told that Steve Rogers wasn't the first super-soldier after all. It's Isaiah Bradley who was the victim of America's desperate attempt to recreate Erskine's super-soldier serum. Moreover, he was even sent on missions in secret. So, this tells us that Captain America's origins might have been changed and Red Guardian simply assumed someone else to be Steve Rogers.
Other Captain Americas In Marvel Comics
One thing that holds serious weightage is that it's possible Alexei never fought any of the Caps mentioned above. In the comics, when Steve was frozen in ice or left the title up for grabs, other people took the lead. Some of them were William Burnside, Bob Russo, Roscoe Simons, Scar Turpin, and Jeffrey Mace. They all suited up as Captain America. Moreover, it could be revealed in the MCU that other people too were told to be Cap.
Check it out:
Source: ScreenRant