The spooky season is around the corner and we're here to help you if you're seeking ideas for a costume!
Ignite your inner demons with this Lil Nas X devil look
Buy these green jumpsuits and become a Squid Game player
Or maybe guard the game by becoming one of the pink soldiers.
You can even dress up as the creepy killer doll from the 'Red light, Green light' game
Nothing's scarier than the gas prices these days. Become a fuel pump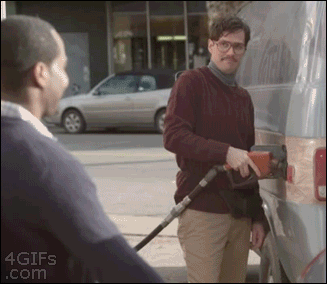 Become vicious as you dress up like Cruella De Vil from Cruella
Borris Johnson running around in his Bermudas will definitely crack up people around you

Stay safe as you dress up like a COVID vaccine

Become a dementor from Harry Potter or maybe just Kim Kardashian from the Met Gala

Dress abstract like Dan Levy from the Met Gala

Try this Troye Sivan fit from the Met Gala if you think you can pull it off well

Everyone in the party would want to invest in you if you become a Dogecoin

An unshowered Jake Gyllenhaal

Ted Cruz on his way to catch the next flight to Cancun will surely be a scary sight for many

Facing Lucille Bluth from Arrested Development is a nightmare for many

Any character from the Marvel shows and movies that we got this year would do wonders

Dressing up as celebrity bakers Prue Leith and Paul Hollywood will intimidate many

If you have no experience in Football, you've got to dress up as Tred Lasso this year

This PopCorn salad scared the hell out of us. It'll surely scare others too!
I wish a bitch would bring that shit out ???????????????????????? pic.twitter.com/iKF6ahMIIW

— FO Kerin! (@AudVisuals) April 11, 2021
Dress bold with this Eurovision outfit worn by TIX

Harley Quinn is definitely back this year after the success of The Suicide Squad.

You'll never go out of 'Style" with this outfit

Pheobe Bridgers gave us Halloween ideas when she showed up at the Grammys.

Enter as humans and leave as sea monsters when you dress up as Luca and Alberto from Luca.

A pregnant James Charles will definitely have heads turning around you

Olivia Rodrigo's Sour album cover is going to be one of the top picks for outfits this year

Become furry like Laura Dern at the Oscars

Or maybe
Alan S. Kim at the Oscars

H.E.R at the Oscars had a pretty dope fit if you wanna consider

Be the last one to leave the party when you dress up as that ship that stuck in Suez Canal

Rami Malek's look of Lyutsifer Safin from No Time To Die will be a hit this year 

When Pete Davidson dressed up as a Weed Gummy Bear, he was giving us ideas for a Halloween costume

Avoid crashing into people if you dress up as the iceberg from Titanic

Pete Davidson and Timothée Chalamet as Guaplord and SmokeCheddaThaAssGetta from SNL

If you got them chicken legs, you've got to dress up as 'Doja ~Chicken~ Cat'

Mabel Mora from Only Murders In The Building

If you can then why not Megan Fox from the VMAs

Knitwear era Tom Daley

Old Evan from Dear Evan Hansen

Just get your blue shirt out and become a Free Guy

And finally, distribute candies as the Candyman

Follow us for more updates on entertainment and celebrities on Facebook, Twitter, Instagram, and Letterboxd.