While it's true that whenever someone brings up the name of Dwayne Johnson, a.k.a The Rock, the first image that comes to mind is of a big, buff, absolute unit of a man with an electrifying persona and a badass attitude that you don't want to be messing around with. But with his films in the recent past, he has also established himself as a man that is like a Hawaiian coconut, hard on the outside, and soft on the inside.
But along with that softness that he possesses, he also has the wits and the sense of humor that can go toe to toe with his best friend and legendary comedian Kevin Hart, something that people have just started to know in recent years. Thus, whenever there was a comical line of his character, people thought it was scripted, until they came to know about one of his improvisations that almost choked Ludacris on his own drink.
Dwayne Johnson's Comeback Made Ludacris Spit His Drink On Set
During his career in Hollywood, Dwayne Johnson has been a part of many super-successful cinematic franchises, even starting his career with the superhit franchise The Scorpion King. Thus, it's always a surprise for his fans about what else he might bring to the table. So, when we see The Rock being a comedy star in his films, it's always a breath of fresh air that also proves that the star isn't a one-dimensional actor.
You may also like: "I have goosebumps now thinking about it": Dwayne Johnson Reveals One Time He Misbehaved With Fans That Made Him Change His Attitude
And most of the time, those laugh riots aren't scripted. During his role as Agent Luke Hobbs in Fast and Furious 6, there was a scene where his co-star Tyrese Gibson was supposed to make a joke about his character, saying "You better hid your baby oil" mocking his excessive use of oil, the Rampage star improvises a dialogue at the moment and reverts with a "You better hide that big a** forehead" To mock Gibson's big forehead.
This line was so completely off-script and hilarious that Ludacris couldn't stop but spit out his beer in order to control his laughter. Just goes to show that you don't mess with The Rock, both physically and verbally.
You may also like: "Oh, well you know, meow!": Dwayne Johnson Flirted With Megan Fox Before She Started Dating Machine Gun Kelly
What's Next For The Rock?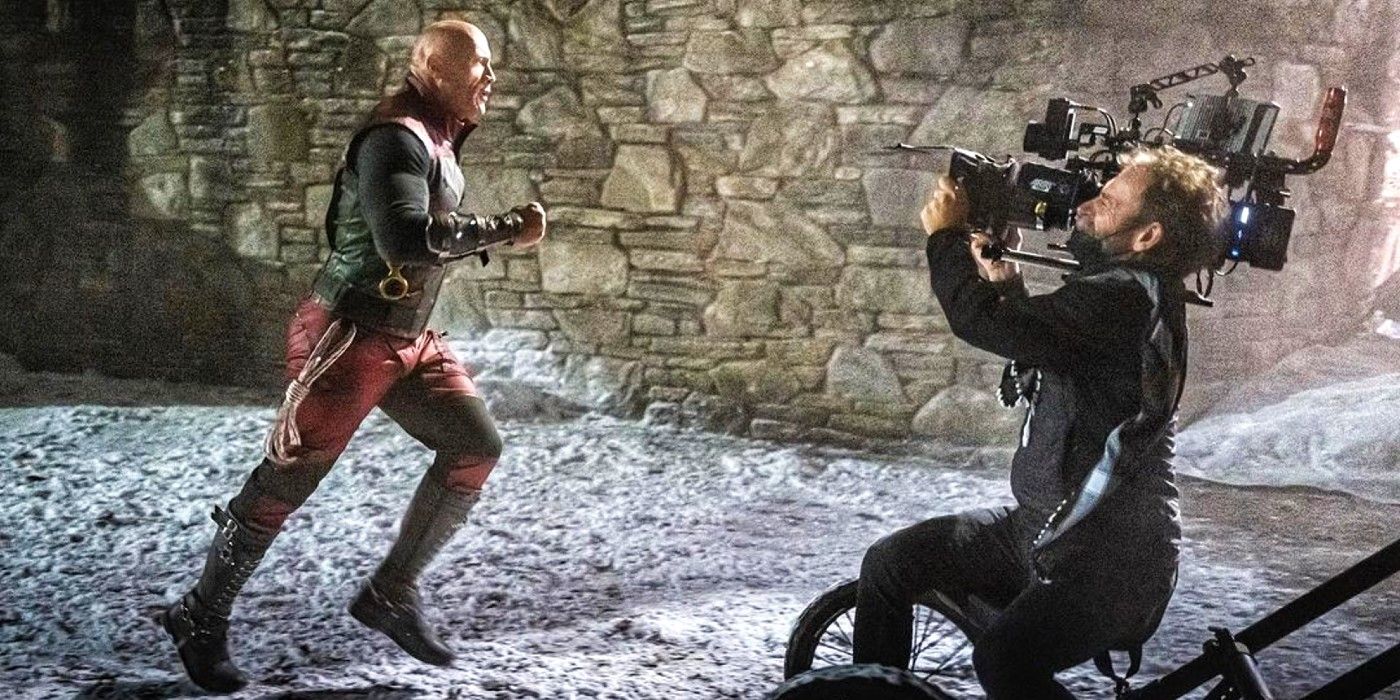 It has been a while since Johnson has been dropping teasers through BTS images and other media of the crew behind his upcoming Christmas Special Red One, which will also feature MCU star, Chris Evans. Apart from this, the star has also announced that his production company Seven Bucks Productions will be working with him to bring the live-action adaptation film of the popular video game It Takes Two, though details are not specified as of yet.
You may also like: "One of the most badass games… One I've played for years": Dwayne Johnson Starring in Mortal Kombat 2 To Compensate For Butchering DCU With Black Adam? Rumor Explained
Red One, releasing on Prime Video on Christmas 2023
Source: AllanTsai