It is evident from the variety of roles we see on the big screens about the kind of efforts actors and actresses put into the role to make it look more appealing. Be it a particular body type, hairstyle, uncomfortable costumes and masks, or heavy makeup. Yet, they carry them so gracefully that it looks effortless to us. So we have made a compilation of experiences of actors who shaved their heads for different roles.
1. Demi Moore shaved her head for her character in
G.I. Joe, 
who underwent military training. Not only did she do that, but she also did it in front of us on-screen. Her kids used to ask their friends if they wanted to see their mother's head. 
2. John Travolta shaved his head for a movie,
From Paris With Love, 
and he loved his new look so much that he decided to keep it after the movie too. He only said that people's reactions were such that he became the "leading story."
3. We saw Natalie Portman and her bald head in
V for Vendetta. While
 talking about her experience in an interview, she said that she doesn't really have any personal experience with it as she was very focused. Although, she added that the look made her more recognizable.
4. Karen Gillian's look made her more appealing as Nebula. However, when she talked about her experiences about shaving her head, she said that people misidentified her as a man. Although she was happy with her look, this was the only downside to it.
5. Stranger Things' Eleven made her first impression and actually enhanced her character's appeal by her look. When Millie Bobby Brown took to Twitter to talk about her experience, she said it made her feel empowered.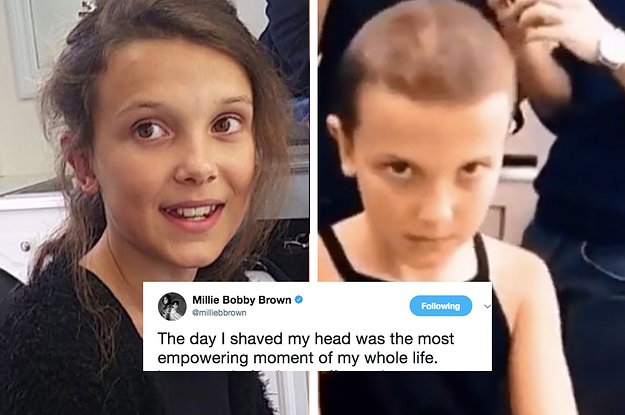 6. We have seen Christian Bale transform his physique for the roles a lot. He shaved his head for his role in
American Hustle 
and said that shaving his head was a slow process and wasn't a big deal for him.
7. Do you remember Lex Luthor from
Smallville? 
And do you remember seeing hair on his head? That's right, Michael Rosenbaum not only had to shave it once but keep it that way until he played the role. He revealed that at first, he was hesitant and feared that shaving might show defects on his head.
8. Cynthia Nixon shaved her head as her character in
Wit
, a college professor, was diagnosed with cancer. The act had a special meaning to her since she herself is a survivor of cancer. However, she had to shave her head every day to maintain the look.
9. Matt Damon had shaved his head for his role in
Elysium. 
While talking about bald heads, he said that he envied actors who shaved their heads and had "beautiful round heads". He also said that the experience was liberating for him but only felt troublesome when he forgot to put sunscreen on in the summer.
10. Cara Delevingne, a supermodel and actress, decided to shave her head for her role as a cancer patient in
Life In A Year. 
Even though she wasn't required to shave it all off, she said she wanted to know what it feels like with no hair. She added that it felt amazing and that it is essential to feel beautiful no matter what.