Our favorite stars of Hollywood have been entertaining us for a long time by presenting us with larger-than-life characters. However, the real heroes are those actors who take up unusual roles that require them to don atypical costumes. Wearing bulky superhero suits or elaborate creature makeup for hours a day isn't always a pleasant experience. You end up being drenched in your own sweat with unbearable heat and itching.
Here are some A-listers who have put on costumes that they didn't particularly enjoy doing so
Jennifer Lawrence – Mystique
Each day required Lawrence to sit patiently for 8 hours to get her makeup completed.
Rory McCann – The Hound, Game of Thrones
It would take the makeup artist nearly 4 hours to put all the burn scars on his McCann's face.
Val Kilmer – Batman
It would take an hour for Kimer to get inside the Bat-suit that had no earholes. He was practically deaf in the suit.
Tim Curry – The Lord of Darkness, Legend
The five-and-a-half-hour makeup would require Curry to be covered in a cast that could be removed only after soaking him in a bath for an hour.
Anthony Daniels – C-3PO
The suit took Anthony 2 hours to put on and restricted him from sitting. The shots were filmed in a Tunisian desert with temperatures as high as 100°
Doug Jones  – Amphibian Man, The Shape of Water
3 hours after finally putting on the suit, Doug Jones had to control his nature's call for up to 18 hrs as he had no option in his Amphibian suit.
Peter Mayhew – Chewbacca
Mayhew's costume was made up of real yak and mohair. He would sweat so much that his mask would fall off.
Johansson's costume was so tight that she couldn't even wear underwear inside.
The Turtles – Teenage Mutant Ninja Turtles (1990)
The 60-pound costume made each actor lose significant weight during filming.
Robert John Burke – RoboCop
The Robocop costumes were 150 pounds of fiberglass and steel which Burke described as a "torture chamber".
Bill the Pony – Lord of the Rings
There were 2 men inside the Pony who could barely see where they're going on the terrain
Arnold Schwarzenegger – Mr. Freeze
A team of 11 people took about 6 hours to put Mr. Freeze's costume on Arnold's body
Jim Carrey – The Grinch
It took 8 hours to apply Jim's full-body makeup, costume, and prosthetics. He described the process as "being buried alive each day."
Tom Holland – Spider-Man
One version of Holland's Spider-Man suit was a single piece without a removable mask that refrained him from using the washroom for hours.
Robert Downey, Jr. – Iron Man
Robert Downey admits to peeing inside his Iron Man suit as the suit didn't hold noticeable water stains.
Ralph Fiennes – Voldemort
Fiennes claims that he will never take a role in the future that would require him to wear special makeup.
Jeff Goldblum – The Fly
It took 5 hours to put on a full rubber bodysuit and extensive facial prosthetics to make Goldblum into a human insect.
Anne Hathaway – Catwoman
Hathaway went to the gym for 10 months straight before getting into Catwoman's suit.
Gary Oldman – Dracula
Gary Oldman shaved his own hairline in order to apply his "Old Dracula" makeup.
Kevin Peter Hall – The Predator
For nearly three months, Kevin had to walk through lakes and the humid Mexican jungle while wearing a giant rubber suit that soaked up water and sweat.
Michelle Pfieffer – Catwoman
Pfieffer had to cover herself in powder just to fit into Catwoman's vinyl costumes, which was then vacuum-sealed around her.
Paul Bettany – Vision, The Avengers
It used to take Paul Bettany 4 hours to get dressed in Vision's suit and a minute to rip it off.
Robin Williams – Popeye
The fake forearms would cut off the blood circulation in Robin's arm. He would have to stop and get his blood circulating again.
Gwyneth Paltrow – Rosemary, Shallow Hal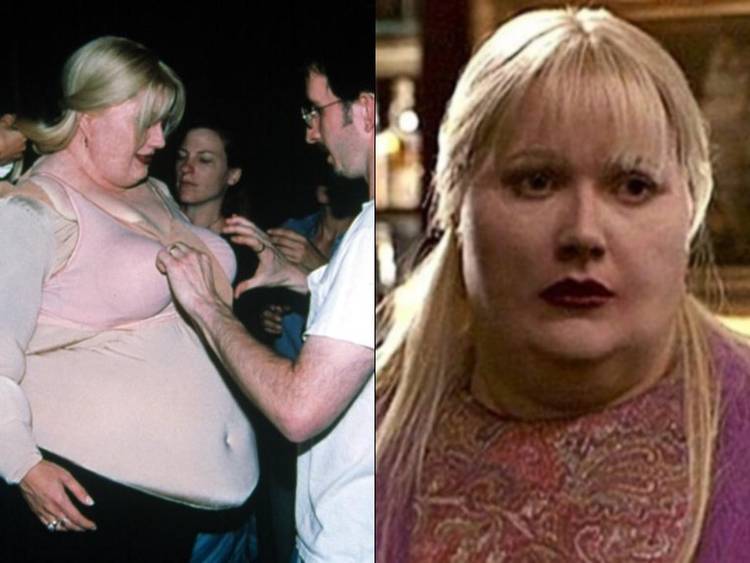 The 25-pound fat suit was not only difficult to put on but also required Paltrow to wear layers of foam and spandex.
Buddy Ebsen  – The Tin Man, The Wizard of Oz
Ebsen wore makeup that contained toxic aluminum dust. After inhaling too much of the dust, Ebsen had to be hospitalized.
Ron Perlman – Hellboy
The process of getting Perlman ready took four hours each day, and he endured it 86 times while filming the first Hellboy.
Malin Akerman – Silk Spectre, Watchmen
Akerman commented on her latex costumes of Watchmen, saying "When you take it off, it smells like a human condom."
Oscar Isaac – Apocalypse
Issac's 40-pound Apocalypse costume was so difficult for him that he used a wheelchair for mobility
Michael Jai White – Spawn
White claims that his Spawn costume had to be glued to his body through a process that took 2-4 hours
John Matuszak – Sloth, The Goonies
Matuszak wore 15 layers of prosthetics on his face each day for up to 5 hours.
Follow us for more updates on entertainment and celebrities on Facebook, Twitter, Instagram, and Letterboxd