Everyone knows the legendary actor Willem Dafoe. It's a given fact; a movie that features Willem is obviously set for success. However, it's also convincing to say that the entertainment industry has not done justice to his work and his incomparable skills. The American actor deserves a lot more credit than what he is usually given for his parts. Even though Willem has given multiple classics over the years, here are some of his best works ranked for you to check out.
9.

Clear And Present Danger

(1994) features Willem as John Clark. Anyone who hasn't heard of Dafoe will sure recognize him as Clark. That's the magnificence of his work. The movie primarily revolves around Jack Ryan, the new CIA deputy director of Intelligence. He has to solve a murder involving drug cartels, all the while fighting against some corrupt government members.
8.

Light Sleeper
 (1992) is about a drug dealer named John LeTour who faces some ethical conflicts with his work. He needs to deliver at his job while figuring out what he wants in life. To add some extra toppings, there have been some killings in the city that has some involvement of drugs.
7.

Shadow Of The Vampire
 (2000) gives a remarkable makeover to the actor. The film is about the production of a German movie, "Nosferatu-Eine Symphonie des Grauens". Apparently, a lot of the crew members disappeared during its production. Willem's movie tries to reason with it while portraying the feud between its director and the leading actor.
6.

To Live And Die In LA
(1985) introduces Willem as a villain (Eric Masters). Eric killed a secret agent who was becoming a threat to him. Little did he know that he had invited his partner on a hell-bent mission to bring Eric down.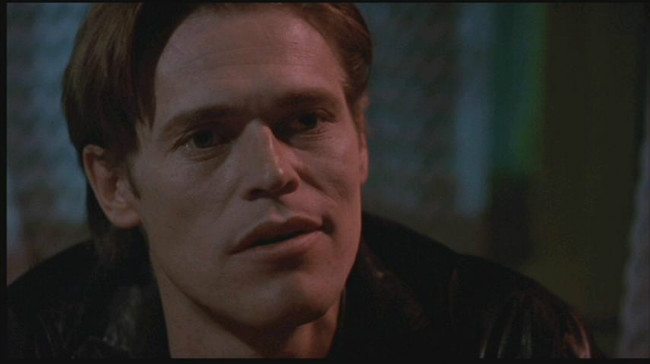 5.

The English Patient
 (1996) is set during the time of World War Two, where the protagonist is injured due to severe burns. His life unfolds in flashbacks as a nurse is tending to him. His story consists of a woman that he loved and a series of events that led him to his deathbed.
4.

The Last Temptation of Christ
 (1988) is a brilliant novel adaptation. Willem, as the protagonist, plays the role of Christ. The movie shows his journey through life and his struggles during the final moments when he had to decide if he wanted a decent human's regular life.
3.

The Florida Project
 (2017) is the story of a six-year-old discovering life in a motel. Due to lack of money, she and her mother live in a rented motel room. Her mother is an unsocial unmannered woman who alienates herself from anyone who may be a support to her.
2.

Spider-Man
(2002) is an MCU classic that features Willem as a villain. After a genetically modified spider bites a teenage boy, he develops spider-like abilities. The shy nerd now becomes a superhero saving the world from evils.
1.

Platoon
 (1986) is a movie about wartime. The protagonist finds himself strung in the conflicts of his platoon. He can't decide whether to work with the ethical and safe men or the psychopathic and ill-tempered ones.
This was it for the best movies by William Dafoe ranging in the past few decades. Let us know if you enjoy watching them; and for similar suggestions, check out our YouTube videos.